Best Places to Invest in Canberra: 6 Options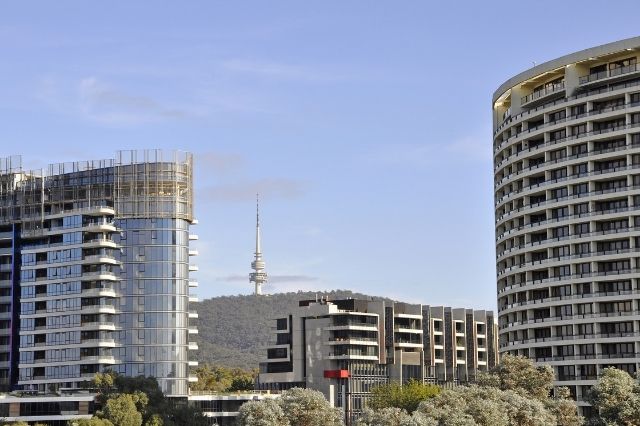 Canberra is one of the most beautiful places in Australia. It's also a great place to invest in real estate. Canberra's residential property price index has risen by 25.5 per cent since 2021.
The market is stable, and there are many different options for investors. This article will discuss six of the best places to invest in Canberra. It will detail each location and explain why it's a great investment opportunity. So if you're thinking about investing in this city, read on.
1. Belconnen
Belconnen is a great place to invest in Canberra. It's located in the north of the city and has over 100,000 people. The median price for houses in Belconnen is $650,000, which is higher than the median for Canberra as a whole. But it's still lower than many other parts of the country.
Belconnen is known for being one of Canberra's most affordable suburbs. It was recently ranked second in Domain'slist of top places to invest in Australia. The suburb has been identified as an up-and-coming area with lots of potential for growth and development over time.
2. Gungahlin
Gungahlin is another excellent place to invest in Canberra. It's located in the north of the city and has over 60,000 people. It is well-known for its shopping facilities and restaurants.
Gungahlin has been identified as one of Australia's best suburbs to live in or invest in real estate. It boasts excellent schools and has a good selection of amenities and restaurants. It's also close to the airport, convenient for renters who commute into Canberra regularly.
3. Weston
Weston is a suburb located in the Weston Creek district of Canberra. It has a population of over 16,000 people. Weston is well-known for its beautiful surroundings and easy access to the city centre.
The suburb has been identified as one of Australia's best locations to settle down or invest in a property. It has an outstanding education system and a decent range of services and eateries. It's also near the airport, making it ideal for people who work there.
4. Kaleen
Kaleen is a popular suburb in the Belconnen district of Canberra. It has a population of over 12,000 people.
Kaleen is known for its affordability and its excellent schools. You can find a range of properties in Kaleen, from apartments to family homes. It's a great place to invest if you're looking for a good return on your investment.
It is well-known for its beautiful surroundings and easy access to the city centre. You can see some of the best architecture in Canberra here.
You can find a range of properties in Kaleen, from apartments to family homes. The real estate market is stable, and it is one of the best places to invest in Canberra.
5. Deakin
Deakin is a suburb in the Canberra district of Woden Valley. It has a population of about 11,000 people. Deakin is known for the famous Australian National University (ANU).
The university is one of Australia's leading academic institutions.
Deakin is also a great place to invest in Canberra because it has excellent infrastructure and transport links. Transportation is quick and easy, thanks to the nearby Tuggeranong Parkway. You can see some of the best architecture and museums like the National Gallery of Australia here. It's also close to various shops and restaurants, making it ideal for renters who commute into Canberra regularly.
6. Forde
Forde is a suburb in the Gungahlin district of Canberra. It has a population of over 11,000 people.
Forde is known for its excellent schools and its convenient location.
Forde has been identified as one of the best places to invest in Canberra. It has the best rental properties like apartments and townhouses, making it ideal for renters.
Investors can make money with the current median house price at $560,000.
Conclusion
Canberra has increased in the last decade, and its population is expected to continue growing as more people move here. The city is an excellent place to live in.
Before You Buy Bullion, Look for These Four Warning Signs in a Dealer
People dive into the world of bullion for many reasons. They may be unsatisfied with flagging stocks and bonds and want to add an element of diversity to their financial portfolios. They may want to hedge against rising inflation. Others appreciate the economic stability of precious metals but are also interested in developing an impressive collection of gold or silver coins.
No matter what's driving their decision, those interested in buying gold, silver, or platinum need to look for a trusted source for bullion to ensure transparency, authenticity, and a fair deal. If this sounds like you, here are four things to watch for as you forge this important new relationship.
Numismatic Coins Are Great, but Are They for You?
Looking for bullion as an investment — as a way to diversify your portfolio and stay secure through market unpredictability? Then don't get talked into purchasing collectible coins: a category that includes numismatic coins, which appeal to collectors for their rarity or irregularity, and commemorative coins, celebrating or honoring an event of cultural or national significance. Stick instead with bullion coins with a higher precious metal value than the mint or authority's stamped nominal value.
This is not to say numismatic and commemorative coins aren't worthwhile investments; they just might not be appropriate for your goals.
Don't Bow from Pressure to Buy Immediately
Don't bow to scare tactics meant to intimidate you into a rash decision with your money. Some buyers or sellers might refer to a weak dollar, the imminent collapse of banks or fiat currencies, skyrocketing inflation, or other insider information. They'll do this to pressure you into selling or buying right now (often with a threat that you'll miss out on a once-in-a-lifetime opportunity or something equally ridiculous). A professional bullion supplier will never do this to you.
Don't Fall for Weirdly Low Asking Prices
Another word of warning: a trustworthy seller will also not post ridiculously low ask prices. Gold is a liquid asset since it can be easily exchanged without losing value. It's also fungible, in that one troy ounce is worth the same as any other in the same condition and with the same purity.
Why would a seller have a blow-out sale when dealing with this kind of investment? If you see one, walk away.
Sorry — You Can't Get Rich Quick
Gold bullion is a wise long-term investment to protect your portfolio against market volatility. When fiat currencies take a dive — and when global events become unstable through a war or a pandemic, for example — gold trucks along with a negative (or asymmetric) correlation to the general market.
And while some years over the past five decades have seen tremendous gains and losses, gold is a largely non-volatile asset with a steady upward trajectory. So don't believe a gold bullion buyer or seller who tricks you into thinking that gold won't behave much like it's done for the past 40 or 50 years.
What's your long-term goal? If you've got a clear vision for your financial future, and bullion is an important interlocking element of that state, then don't take shortcuts when finding a reputable dealer. Keep your wits about you, think critically, and do your research, and you'll find a trustworthy and transparent buyer and seller of gold and silver in your area who has your best interests at heart.
5 Most Googled Auto Stocks in India
India's auto sector has been booming for years, and investors are taking notice. The automotive business offers several profitable career paths, from automakers to component manufacturers.
To help you get started, we've compiled a list of the top 5 most googled auto stocks in India for online share trading. Let's find out which companies made the cut and get insight into the auto sector as an investment prospect.
1. Tata Motors
Tata Motors is the biggest bus, truck, tractor, and vehicle manufacturer. Ratan Tata founded the company in 1945. The company has been in operation for approximately 75 years.
Tata Motors' key brands include Jaguar Land Rover (JLR), Land Rover, Jaguar, Range Rover and Daewoo Commercial Vehicles Co Ltd (DCVL), and Tata Daewoo Auto Ltd.
The company manufactures not only standard automobiles but also buses and trucks, among other commercial and heavy-duty vehicles.
Their range of automobiles is tailored to suit a wide range of customers. Whether it is passenger cars, commercial vehicles, or heavy-duty vehicles, Tata Motors has something for everyone.
2. Maruti Suzuki
Maruti Suzuki dominates the Indian vehicle market with over 50% share. It's India's most popular automobile brand, offering models for every need and taste.Maruti Suzuki is constantly growing its manufacturing facilities and production capacity.
To address demand in Indonesia and Vietnam, the company is launching new models. Maruti Suzuki sells millions of cheap, dependable automobiles every year, making it the top choice for affordable automotive buyers. This corporation has risen dramatically in recent years and seems likely to dominate the Indian automobile sector for years to come.
Maruti Share Price as of April 2023: ₹8,450+
Market Cap: ₹2.57 trillion
3. Ashok Leyland
Ashok Leyland Ltd., situated in Chennai, India, was founded in 1948. This automotive powerhouse makes trucks, buses, and other heavy-duty vehicles. This firm has led India's automobile sector since its founding and is recognized for its reliable goods and services.
Investors and potential purchasers search the internet for information about Ashok Leyland, one of India's most prominent automakers. Ashok Leyland is one of the most googled auto stocks in India, with investors and potential buyers alike turning to the internet to learn more about this popular Indian automaker.
Share Price as of April 2023: ₹140+
Market Cap: ₹414.15 billion
4. Eicher Motors Ltd
Eicher Motors Limited (EML) is one of the largest car companies in India. It makes both industrial and personal service vehicles. Their portfolio consists of the Royal Enfield motorcycle and other products like passenger vehicles, all-terrain vehicles, and construction equipment.
Eicher Motors has an impressive 1Y return of 22.09%. It also has a high profitability rating of 7.5 and positive analyst recommendations. All this shows that the stock is rising in the market and may be a good choice for diversifying investors.
Eicher Motors Share Price as of April 2023: ₹3240+
Market Cap: ₹889.01 billion
5. Bajaj Auto
Bajaj Auto is India's second-largest two-wheeler manufacturer. It was established by Jamnalal Bajaj in 1884. It became a listed company on the Bombay Stock Exchange and National Stock Exchange in 2000.
The company makes bikes and motorcycles under the Pulsar and Discover brands, respectively. Bajaj Autohas over 80 years of automotive experience and is one of India's most sought-after companies.
Bajaj Auto Share Price as of April 2023: ₹4,300+
Market Cap: ₹1.22 billion
Conclusion
The Indian automotive sector has garnered strong interest among investors, as reflected in the top 5 most Googled auto stocks in India. With the Indian economy's projected growth, these auto stocks could potentially provide diversification options in the auto sector. Nonetheless, making informed decisions based on careful analysis of the market and individual stocks is critical for minimizing risks and maximizing returns.
Building Wealth Through Real Estate TIC Properties: Your Guide to Profitable Co-Investment
Real estate has long been recognized as a stable and lucrative investment opportunity. Traditional real estate ownership, however, can come with its fair share of challenges and responsibilities. Enter Tenant-In-Common (TIC) properties, a unique and innovative investment strategy that allows individuals to pool their resources and invest in real estate together.
This listicle will explore how TIC Real Estate can be a pathway to building wealth and provide a comprehensive guide to profitable co-investment.
Understanding TIC Properties
TIC properties are a form of real estate co-ownership where multiple investors purchase and manage a property as partners. Each investor holds a fractional ownership interest, which grants them a share of the property's income, appreciation, and expenses. TIC properties can range from commercial buildings and residential complexes to retail centers and industrial spaces.
Diversification and Risk Mitigation
One of the key advantages of investing in TIC properties is the ability to diversify your investment portfolio. Co-investing with others can spread your risk across multiple properties and geographical locations. This diversification helps protect against the potential pitfalls of investing in a single property and reduces the impact of market fluctuations.
Passive Income and Cash Flow
TIC properties offer investors an attractive opportunity to generate passive income and cash flow. As a co-owner, you are entitled to a portion of the rental earnings generated by the real estate property. This regular income stream can provide a reliable source of cash flow, which can be reinvested or used to supplement your existing income.
Professional Property Management
Unlike traditional real estate investments, TIC properties are typically managed by professional property management firms. These experienced professionals handle day-to-day operations, tenant relations, maintenance, and property upkeep. By delegating these responsibilities to experts, investors can save time and effort while ensuring their investment is well-maintained and profitable.
Tax Advantages and 1031 Exchanges
Investing in TIC properties also offers significant tax advantages. Through a 1031 exchange, investors can defer capital gains taxes by reinvesting their proceeds from selling a property into another like-kind property. This allows investors to grow their wealth faster by deferring tax payments and reinvesting more money into a TIC property.
Exit Strategies and Liquidity
While investing in TIC properties is a long-term commitment, it's essential to consider exit strategies and liquidity options. TIC properties typically have a predetermined holding period, after which investors can sell their ownership interest. Additionally, secondary markets and exchanges may provide liquidity options for investors who wish to exit their investments before the holding period expires.
Considerations and Due Diligence
Before diving into TIC property investments, it is crucial to conduct thorough due diligence. Research potential properties, examine the financials, and assess the reputation and track record of the real estate property management firm. Reviewing the TIC agreement carefully is also advisable, understanding the rights, responsibilities, and restrictions associated with co-ownership.
Conclusion
Investing in TIC Real Estate can be lucrative and rewarding, offering the opportunity to build wealth through real estate co-investment. With the ability to diversify risk, generate passive income, and benefit from professional property management, TIC properties provide an attractive alternative to traditional real estate ownership.
By understanding the intricacies of TIC investments, leveraging tax advantages, and conducting due diligence, investors can embark on a profitable journey toward building wealth through real estate.