Build the Best Skincare Routine with Some Basic Tips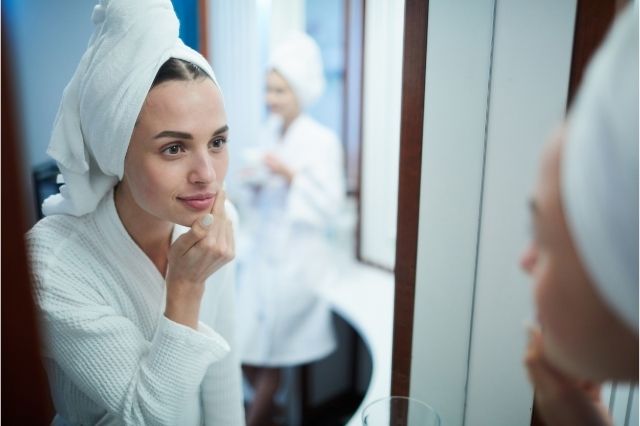 A skincare routine refers to the process of taking care of the skin. It includes cleaning, moisturizing, applying sunscreen, and other beauty products.
The microbiome is a diverse population of bacteria that live in and on the human body. The skin is home to trillions of microbes, and these microbes play a major role in keeping our skin healthy and beautiful.
A microbiome skincare routine is a skincare routine that focuses on restoring balance to the skin's microbiome by using products with probiotics or prebiotics.
Here is a list of things to be considered before trying any skincare routine.
Tips for caring combination skin
You may have mixed skin if your skin is oily and dry in various areas or at different times.
Get to know your skin. For example, have an oily T-zone and dry cheeks? It's possible that you'll need various supplies for each area.
Choose moderate products that will not irritate your skin. Choose hydrating items that are alcohol-free.
Gently exfoliate. While weekly exfoliation is beneficial for oily skin, it may aggravate dry patches. Take it lightly and, if necessary, space exfoliation sessions out.
Tips for caring for normal skin
Skin that is "normal" is neither excessively oily nor excessively dry.
Instead of using a gel moisturizer at night, use a lotion or cream.
Don't get too excited about new skincare products. Normal skin usually requires less upkeep. Adding needless steps can irritate people.
Maintain a consistent skincare routine that contains SPF 30 or higher.
Tips for caring for dry skin
Working with dry skin can be challenging. To keep your skin hydrated, follow these guidelines:
Hot water should be avoided.
Caffeine and salt should be avoided; they can aggravate dry skin.
Always keep a lip balm on hand. Throughout the day, your lips will most likely become dry.
Once a week, use a face mask and moisturizer to hydrate your skin.
Your best friend is a facial oil, which you should use every night after your moisturizer.
Tips for caring for oily skin
Oily skin can be inconvenient and even humiliating. Here are some expert ways to avoid shine.
Face masks and other drying preparations should be used sparingly.
Do exfoliation once or twice on a weekly basis.
Avoid lotion-based moisturizers. Try cream moisturizer as an alternative. Otherwise, a lighter gel is preferable.
Make use of a mattifying primer or foundation.
Niacinamide serums can aid in the reduction of oil.
Treat your skin gently
Hot water on your skin can strip it of its natural oils, leaving it dry. Use lukewarm water for bathing. Avoid hot showers. Harsh soaps or cleansers can remove natural oils from the skin and dehydrate it after you've washed or bathed, pat, or blot your skin lightly. Thereby moisture remains on the skin.
A balanced diet
Consuming a good diet consisting of fruits, vegetables, whole grains, and lean proteins make you healthy and beautiful. Fish oil or fish oil supplements, as well as a diet low in harmful fats and refined or processed carbohydrates, may help to produce younger-looking skin. Keeping your skin hydrated is as simple as drinking plenty of water.
Stress and Sleep
Immense stress causes difficulties and sensitivity to the skin. Getting enough sleep is highly essential to attain great skin and a healthy mind. Natural Skin repair occurs during sleeping. To get these benefits, it is highly recommended to get at least 8 hours of peaceful sleep.
Skin protection from the sun
Skin protection from the sun's rays is the foremost step in getting spotless skin. Excessive exposure to the sun causes wrinkles, dark spots, and skin cancer to the extreme level. Use sunscreen with at least 15 SPF while going out. Wear a hat to keep yourself away from harmful radiation. Sunglasses are also equally important.
Your clothing has the same significance as far as protecting your skin. When you are about to go out during extremely sunny days, wear shirts with long sleeves, long pants, and skirts. Tightly woven fabrics are great in protection. Avoid clothes with holes and nets. Dresses and hats with dark colors are more beneficial in protecting the sun. Avoid outings without prior preparations and clothing.
How Does Sophim, A Natural Ingredients Supplier Supports the Cosmetic Industry?
Sophim: your cosmetic ingredients supplier of today, tailored for tomorrow's needs
Born in Provence (southeastern France) in 1996, started as a family adventure and has continued as such, ever-growing, as an independent group. The company's main ambition has always been to support the industry's transition towards a more sustainable and natural approach to beauty. It has now been doing so across 60 countries, around the world.
"Products designed from Nature", by Sophim, for the People
The company specialises in the manufacturing of products made from Phytosqualan®, an olive-based squalane. It is a molecule that can be found in nature, specifically in our skin, which makes it highly biocompatible with the latter and noncomedogenic.
Sophim invests in the future
Sophim cares about quality and makes Innovation and Investment its top priorities: its core business is founded on the expertise of innovative esterification, hydrogenation and distillation processes. Moreover, its compliance with the seven principles of the ISO 9001 certification has improved operational processes throughout the organisation, leading to a wide range of benefits and efficiency gains, by providing customers reassurance that a Quality Management System has been established. The cosmetic ingredients supplier has filed and obtained 4 patents over 20 years. In fact, its French plant, in Peyruis, was even awarded the Pierre Potier Prize for its respect of the Green Chemistry and Sustainable Development principles.
The company makes sure the raw squalane, as an organic product, is entirely traceable and sourced next door – in Spain, Italy, Greece, Turkey, Tunisia, Morocco – as to minimise transport-related costs and save economic and energetic resources. That, altogether, makes the whole process a lot more efficient, sustainable. It supports the industry as a whole by ensuring sanitary security and price stability.
Today, Sophim, a cosmetic ingredients supplier generates 80% of its cosmetics and pharmaceutical products' sales from exports, not only within Europe, but also all the way to Asia. An intense R&D investment strategy, commitment, and attention to detail are what enable Sophim to reach broader markets, making it the European leader in the manufacture of vegetable squalene.
Sophim invests in you
These innovations, in turn, help the pharmaceutical, cosmetics and personal care industries to enhance their competitiveness and support the European economy: they contribute to future prosperity by creating new fields, thus new jobs and opportunities. In fact, the cosmetic ingredients supplier already hires about 40 experts working daily in its French facility, and 18 in its Spanish affiliate little sister Sophim Iberia – which, by the way, received the 2019 Silver Sponsorship medal for supporting the CAIXA program for vaccination and fighting against infant mortality around the globe.
People use cosmetic and personal care products daily to enhance their well-being, protect their health, and boost their self-esteem: they play an essential role in all the different stages of our lives, which is why each one of Sophim's products is tailored to specific needs and wants. The aim is to make you feel good, and the majority of the items are COSMOS certified.
In an attempt to federate a community and spread knowledge, Sophim attends conventions (such as the in-cosmetics 2022 Paris exhibition) and publishes educational articles to be found on the cosmetic ingredients supplier's website.
Conclusion
The invaluable experience that this family business has gathered since the late 1990s will help the whole industry develop new technologies and work with new material and ingredients. Sophim was built around passion for the field, for the people, and for the world hosting them. Sophim is an ode to Nature.
Benefits of Hydrolyzed Collagen for Your Skin
You might have heard a lot about collagen supplements. 
You might also have seen collagen hydrolysate or hydrolyzed collagen in the ingredient list of several skin care products. A lot of people are putting collagen supplements in their smoothies, coffee, juices, and everywhere else, wherever it dissolves. 
Although more clinical research is still required, a lot of users have stated that they have experienced significant health benefits after using collagen supplements. 
Collagen is a particular type of protein that is manufactured naturally in our bodies. It is found in skin, connective tissue, bone, and cartilage. 
Collagen is responsible for maintaining the hydration and elasticity of our skin. With aging, our body stops producing collagen, and this is the reason why we get dry skin, wrinkles, and fine lines. 
Users and a number of studies have found that hydrolyzed collagen can help in improving our health along with providing several skin benefits. Here, we will talk about that. But before jumping into the main topic, let's know what hydrolyzed collagen actually is. 
What Is Hydrolyzed Collagen? 
We have already been told what collagen is. 
Now, collagen is being hydrolyzed by the hydrolysis process. This particular chemical process breaks proteins down into their smaller parts, like peptides or amino acids. That means hydrolyzed collagen is a much simpler form of protein. 
That is why it gets dissolved really easily, and your body also can easily digest hydrolyzed collagen or collagen peptides. 
Benefits of Hydrolyzed Collagen for Your Skin
As we have mentioned earlier, you might have heard the name hydrolyzed collagen in almost every skin product commercial. In order to reduce the signs of aging, like saggy skin, wrinkles and fine lines, and uneven skin tone, this essential protein is necessary. 
Here we will talk about some of the skin benefits of hydrolyzed collagen. 
Benefit No. 1: Diminish Wrinkles and Fine Lines
As a result of exposure to pollution, sun, poor health choices, and obviously aging, the collagen levels in the skin decreases. And, when the collagen level decreases, your skin will start to show some signs, like wrinkles around your eyes and mouth.  
Hydrolyzed collagen or collagen peptides can assist you in preventing all these signs of aging, along with keeping your skin smooth and supple for longer. 
Benefit No. 2: Improve Skin Tone
Collagen is an amino acid chain. These amino acids that are found in collagen can help in keeping your skin looking healthy, even, and smooth. In order to improve an uneven complexion, there is nothing more effective than collagen. 
We all know that with aging, our skin starts to become dull and uneven. But what we do not know is the reduced production of collagen can be the reason for that, and hydrolyzed collagen can significantly improve skin tone. 
Benefit No. 3: Moisturize
Whether it is environmental factors or aging, the loss of collagen can make your skin feel dry and flaky. We have mentioned at the start collagen locks the skin's hydration. So, when you give your skin the much-needed collagen, it will also get the hydration it needs. 
So…
No more dry skin. 
Your skin will become smoother and softer and will appear more radiant. 
Benefit No. 4: Firm and Tone Skin
You will find a lot of creams and skin care products that contain collagen, which helps in improving the outer layer of the skin. But what about the inner layers/ 
This is when hydrolyzed collagen comes into action. 
Collagen peptides will increase the collagen level on a deeper level of the skin in the dermis. Now, the dermis plays a crucial role in keeping the skin tight and firm. It means the more collagen will reach the dermis your skin will look better. 
Benefit No. 5: Minimize Scars
Again, the amino acids that are present in collagen come into action. They can help mitigate the appearance of dark spots and scars that are the result of a scene or any other skin issues. 
It has been found that collagen supplements can promote healthy tissue formation. It eventually speeds up the entire whaling process, and as a result, your skin becomes capable of repairing itself naturally. 
Final Verdict
So, you see, hydrolyzed collagen can do this much for your skin. Users have reported several skin improvements and benefits of collagen peptides. You just need to ensure that you are picking one of the best-hydrolyzed collagen or collagen supplements. 
Only this way will you be able to get all the benefits of hydrolyzed collagen and get smoother, moisturized, healthier, wrinkle-free skin. 
The What, Where, When, and Why of Nail Art
There's something about summer nail designs that make all of our hearts soar. The excitement summer brings to people of all ages is something so unique. School's out, the weather gets warm, ice cream is the number one choice for breakfast and lunch, long beach days are ahead and vacation is just on the brink. There's just nothing like the feeling of joy that encapsulates us when summer arrives. However, the joy of summer doesn't have to stop at dull nails. You can do them yourself or get them professionally done after exploring our tips and tricks to conquering summer nails. Also, be sure to check out nail design ideas in the photo gallery of theYou, a one-stop-shop for all things about beauty (nails included).
Nail Trends to Spice up Your Summer Look
Summer is the best time for bright, bold nail design colors. Where spring was a time for pastels and light shades, summer brings the more solid and experimental hues. Spring also can bleed into summer when considering that pastel nails serve for cute colors too. So, in reality, the world is your oyster when it comes to nail designs in the summer.
We frequently see lots of trends pop up for the summer.
A huge trend we can see frequently and associate with summer is mix and match and different designs for every nail.
Various colored tips are also common during this season.
You can also never go wrong with the classic "French tip".
These trends are frequent among the younger generation and are also seen also in the likes of various celebrities from Kylie Jenner to Bad Bunny. The best part about these trends is the diversity that they can bring, ranging from the likes of short nails to long acrylic nails alike.
Other nail design trends include
Gel polish with outstanding hues and neon patterns to light up the night like the Fourth of July.
Lots of stickers and text can make a huge statement. Be sure to consult the latest trend on any social media app to add the funniest and most eye-catching memes to your nails.
And for that extra touch of creativity, be sure to add glitter nail designs or make them holographic so they can shine in that summer sun.
Applying the Color Theory to Your Summer Nail Designs
Colors and the color theory can be a bit tricky at times, especially when choosing the perfect nail designs. The theory covers how to complement shades with each other. For example, primary colors: red, yellow, and blue go perfectly with one another. Secondary ones: orange, green, and violet also blend in together well nicely. Also, be sure to keep an eye out for opposing colors, like red and green, yellow and violet, and orange and blue.
We hope that these tips and design ideas will help you find the perfect summer nail design for you. Get inspired, get creative, and let yourself shine!