Top Five Reasons Why a Lot of Businesses Fail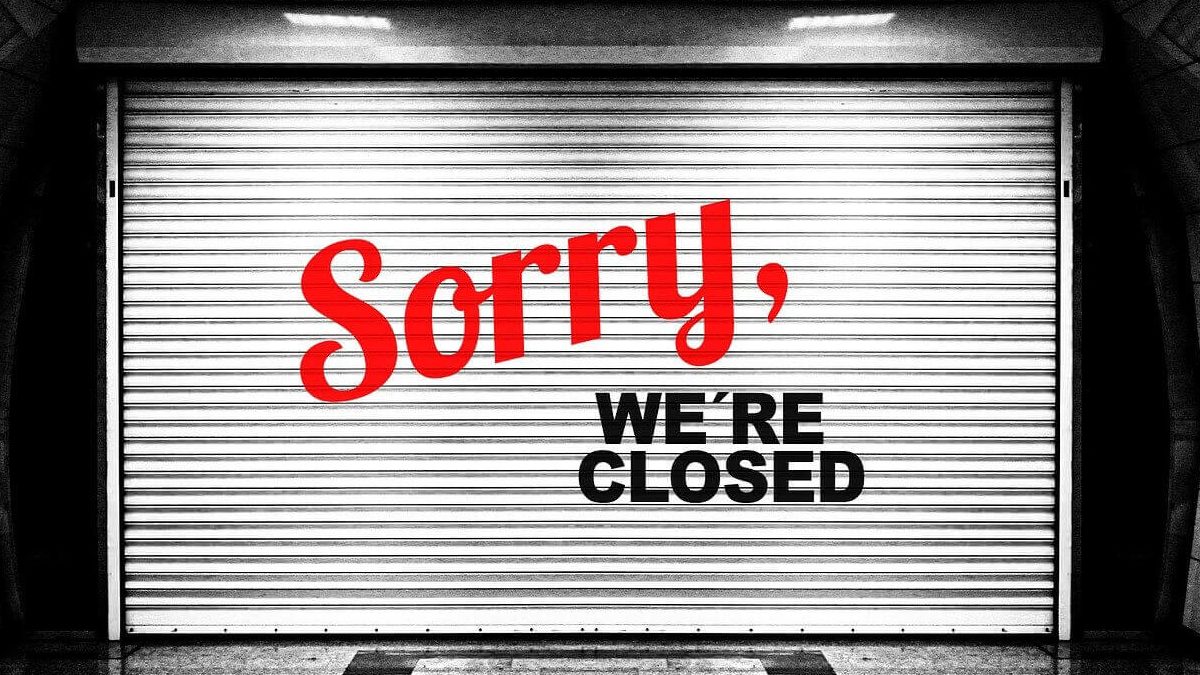 Being an entrepreneur and running a business is not for a faint-hearted. Entrepreneurship is a risky venture. Every successful business owner probably sees success because he can mitigate the risks while simultaneously providing the customers with a product or a service, which meets and exceeds their demands.  
Even though there is a myriad of small businesses in this broad spectrum of industry who perform exceedingly well and are profitable repeatedly, year after year, there is still a large number of companies that fail. 
Following a leading study by the SBA, approximately one-tenth of the small businesses fail in the first year itself, half of them fail by the end of five years, and less than one-third of them survive longer than a decade. To secure an established or a new business, it is vital to gauge the reasons that can lead a company to the path of failure. Further, you need to understand and seek ways to overcome the obstacles. Here, in this article, we will discuss some of the common reasons why a business fails. Let us address these reasons one by one.  
Failure to Deliver Value
For a business to be successful, it needs to deliver a certain value to the customers. Danny, an educator who offers assignment help Melbourne services, comments that the most successful business in the world are those that provide maximum value. Well, yes, as simple and straightforward it can get, it is 100% true. So, as an entrepreneur, your constant effort should be to over-deliver and under-promise. Regardless of how bad the situation is, always over-deliver. Trust us when we say this, whoever starts a business to make quick money is on the pathway of failure. At all times, your focus should be on the value proposition. If you fail to offer your customers as much, 
or more value than the competitors, you need to work on your approach because you will not have any competitive edge if you do not give your customer's enough value.
Now you may ask how you can add value? Firstly, the right value creates the right buzz. Let us try to understand this with an example. 
You receive a phenomenal product and service, won't that make you happy? There is a good chance that you will share this experience with your friends or family members. More so, if it came at a pocket-friendly price, you will go gaga about the company and their product. Why? It is because you have found a true value-deliverer. Hence, bear in mind, there is nothing superior to the value. 
Failure to Engage the Audience
Firstly, you need to know who your target audience is, then you need to know the right way to target your audience. If you fail to engage your customers, you do not quite understand your customer's desires or needs. More so, it also shows your obliviousness of being aware of the best way to help your customers. 
Before you start a business, you need to know: 
Who are your customers?
What do they need? 
Is it the same as what they want? 
Does this need help them achieve a certain status in society? 
Is it to invoke emotion? 
Will your product solve their problems? 
Bill, who offers engineering assignment help services, comments that as a business, if you fail to address your customer's needs and desires, you do not know your customer enough. Additionally, you will not be able to sell your product or service if you fail to give your customer what they truly need. So, how can you find this out? Conduct market surveys, campaigns, or research the market to know your target audience. Find out what they need, and ensure that what you offer helps them overcome their pain-points. It is one sure-shot way to prevent your business from failing. 
No Transparency and Authenticity
Businesses that are not transparent and lack authenticity will certainly fail. If not today, they maybe tomorrow. If you do not cater to your customers' needs and continually focus on the wrong things, you will soon lose your customer's trust. To ensure that this does not happen, you need to focus on being authentic and transparent with your customers. Always try to provide more than a customer can take or expects. Honestly, it is a rare thing for a business to do, but it is one thing that will never let you fail.
Failing to Optimize the Conversions
At times, an entrepreneur is a charge of more things that they can manage. Consequently, they end up ignoring the most pivotal things. One such thing is the failure to optimize the conversions. If there are not enough conversions, regardless of what the business does, it will be hard for it to survive in the long run, comments Stevie, an online java tutor. We agree with Stevie, but this is particularly important when the business's burn rate is high. In this case, trying to save the business by pitching in more money will do nothing. It would be best if you addressed the conversions early on to ensure that there is a positive ROI. It is pivotal for business sustainability.
Also, please bear in mind that you cannot solely rely on organic methods, such as SEO, as sans conversion optimization, you are only wasting your time. Even the big businesses need to work towards income-generation and continually work towards the different conversion-optimizing activities while simultaneously establishing a solid customer base. If you fail to do so, it is only a matter of time for you. There is a good chance that you won't survive after all your money runs out. 
Inability to Device an Efficient Sales Funnel
For every business owner, the primary goal is to work on building an effective sales funnel. Automated selling machines lower the friction during the whole sales process and put most of the business processes on autopilot. It helps the business owners boost things, such as traffic sources, and educate them via webinars or eBooks.
Sales funnel is one of the ideal ways for a business to establish a relationship with the customer via email warming campaigns. If truth be told, it is challenging to sell something to a cold audience. The audience needs proof that you have served others before, and those people have been happy with your services. For this, your customer testimonials and reviews will come in handy.
In this case, the more prominent brands will have it easy. It is because they have been in the market for a while and are trusted. Overall, a sales funnel helps develop a relationship of the business with their customer. As part of this relationship, a customer can relate to your journey and story. 
So, these are the top five reasons why a lot of businesses fail. If you have any more reasons or suggestions to add to the list, or have any questions, please let us know in the comment box below.
The 4 Factors to Understand for A Medical Malpractice Lawsuit
When you believe that you or a loved one has suffered as a result of medical negligence, you may be considering a medical malpractice lawsuit. However, it is important to understand that medical malpractice cases can be complex and difficult to prove. There are several factors that must be present in order for a medical malpractice claim to be successful.
If you believe that you have been the victim of medical malpractice, it is important to speak with a qualified medical malpractice law firm such as Lamber Goodnow lawyers for personal injuries as soon as possible. An attorney can review your case and advise you on your legal options. In this article, we will go over some of the essentials to understand when bringing up a medical malpractice lawsuit.
1. Duty of care
Duty of care is a legal obligation that requires individuals and organizations to act in a responsible manner to prevent harmful practices from happening. When it comes to medical treatment, a healthcare provider has a duty of care to their patients. This means that they are required to provide medical treatment that meets the accepted standard of care in the medical community.
The standard of care may vary depending on the specific circumstances of the case and the specific medical condition being treated. If a healthcare provider fails to meet the standard of care and their patient is injured or suffers harm as a result, the healthcare provider may be found to have breached their duty of care and may be liable for medical malpractice.
2. Breach of duty
A breach of duty occurs when an individual or organization fails to meet the standard of care that is required by law. In the context of medical treatment, a healthcare provider has a duty of care to their patients.
For example, if a doctor fails to diagnose a patient's medical condition that a competent doctor would have diagnosed, the doctor may be found to have breached their duty of care. Similarly, if a nurse administers the wrong medication to a patient, they may be found to have breached their duty of care. In order to succeed in a medical malpractice lawsuit, the plaintiff must be able to show that the healthcare provider breached their duty of care and that this breach caused the patient injury or harm.
3. Causation
Causation refers to the relationship between an action or event (the cause) and an injury or harm (the effect). In the context of a medical malpractice lawsuit, causation refers to the relationship between the healthcare provider's breach of duty and the patient's injury or harm. In order to prove your case in a medical malpractice lawsuit, as the plaintiff you must be able to show that the healthcare provider's breach of duty caused your injury.
Establishing causation is the most difficult part of a medical malpractice case. There are two factors at play to establish causation. Factual causation and legal causation.
Factual causation refers to the question of whether the healthcare provider's breach of duty was the actual cause of the patient's injury or harm. In other words, did the healthcare provider's actions (or inaction) directly cause the patient injury or harm?
Legal causation refers to the question of whether the healthcare provider's breach of duty was a legally sufficient cause of the patient's injury or harm. This can be more complex and may involve considerations such as whether the patient would have suffered the same injury or harm even if the healthcare provider had not breached their duty of care.
4. Damages
In the context of a medical malpractice lawsuit, damages refer to the harm or injury that the patient has suffered as a result of the healthcare provider's breach of duty. In order to succeed in a medical malpractice lawsuit, the plaintiff must be able to show that they have suffered actual damages.
The amount of damages that may be available in a medical malpractice case will depend on the specific circumstances of the case, including the severity of the patient's injuries and the extent of the damages suffered. It is important to speak with a qualified medical malpractice attorney if you believe that you or a loved one has been the victim of medical malpractice.
Conclusion
Having been injured by a doctor or medical professional can be a traumatic event in addition to the physical harm that happened. Going through the process of a lawsuit can be even more stressful. This is why it's important to understand the process.
Start of the Working Year: How to Motivate Your Teams Based on Well-Being?
The beginning of a new work year is an opportunity to set new objectives and reinforce the sense of belonging to a given work group. At the same time, it is one of the best ways to strengthen the motivation of your company's human talent.
Indeed, the beginning of the work year invites people to rethink the results of the previous year in order to face the next work period with greater enthusiasm.
But what are the main strategies that can be used at the beginning of a new work year? What are the positive effects of motivating your work groups?
If you want to know all about the importance of the beginning of a work year, keep reading this blog post. And consequently, you will know how to take advantage of the beginning of a new year to boost the union of your teams and their well-being and achieve the performance you need.
Have a work year kick-off meeting
First of all, at a good start of the work year, it is essential to meet with the work team to set new goals and talk about the organizational challenges to be met.
Communication is fundamental to motivating work teams at all times in all types of work, from big tech companies to small but just wow essays service teams. And an individual or group meeting context is one of the most effective alternatives to do so.
Therefore, in order for you to know which are the elements to take into account in a meeting at the beginning of the working year and to increase the levels of well-being, we detail them below:
Plan the start-of-the-year meeting
Take some time to organize your kick-off meeting. Prepare a guide in which you detail the timing of each of the activities to be carried out during the meeting.
And also, in planning your kick-off meeting, do not forget to detail who will be the participants to attend, along with the teammates who will lead the meeting.
Create a dialogue space where team members can express their expectations for the new work year. In this way, you can strengthen the organizational culture and achieve higher performance.
Apply creativity
Try to have a creative meeting to motivate people in your work groups. In fact, you can make your kick-off meetings more dynamic through playful presentation activities.
One idea for your start-of-the-year meeting is to make a presentation with cards containing questions to get to know the new talents joining the teams. At the same time, answer questions related to tastes, hobbies, etc., in order to relax the atmosphere.
Another option is to transmit a message at the beginning of the work year in an original way. For example, you can include your welcome messages in a corporate gift that is useful for your teams.
Carry out gamification dynamics
On the other hand, during the beginning of the work year, gamification strategies can be implemented to relax tensions and improve the bonds between people in the work teams.
In fact, by means of this type of game that you can play at the beginning of the work year, you will obtain the following benefits:
Detect certain job profiles
Indeed, through gamification dynamics at the beginning of the work cycle, you will be able to identify specific roles. This will be useful in case you need to establish new tasks or set leadership positions.
Reduce stress
Applying start-up activities at work is an advantageous motivational technique to provide a moment of relaxation before presenting your talent with the objectives to be achieved in the new work period.
Encourage a good working environment
Gamification at the beginning of the work year promotes the generation of healthy work relationships. At the same time, it is a motivational method that contributes to an adequate organizational climate. Consequently, it improves performance, and a higher productive output can be obtained.
It offers an emotional wellness program
Finally, to develop a positive start to the work year, you can incorporate the benefits of a comprehensive wellness plan into the emotional salary of your teams.
According to a report by the International Labor Organization (ILO), in different countries, the number of early retirements has increased as a consequence of the increase in mental health pathologies, which incapacitate people and prevent them from fulfilling their responsibilities at work.
To counteract this disadvantageous context, offering a program at the beginning of the working year that seeks the well-being of the teams can be an effective alternative to achieve motivation due to the following reasons:
It includes psychotherapy
A good emotional wellness plan offers the possibility of psychological therapy if needed. Some companies even offer the option of having psychotherapeutic meetings online.
In this regard, an article by the World Health Organization (WHO) states that every year some 12,000 million working days are lost due to mental health complications, such as depression and anxiety. This represents an economic loss of around one trillion dollars annually.
Thus, offering a therapeutic space at the beginning of the work year improves the emotional health of the people who make up the work groups and optimizes the organization's motivation and performance levels.
Emotional and corporate coaching
On the other hand, if you want to strengthen psychological security at work at the beginning of the working year, it is essential to give your teams the opportunity to participate in emotional and corporate coaching sessions.
Within this type of meeting, people can set goals to achieve within the personal and work environment. All to improve their quality of life. And a good level of emotional health will positively impact the performance level of work teams at the beginning of the working year and throughout the period.
Yoga
At the same time, you can give your team members a wellness plan with yoga classes. This ancient discipline is beneficial from a physical, emotional, and mental perspective.
So, whether your teams work in person or remotely, you can give them the option of taking yoga classes at the beginning of the work year.
This way, they will have more resources to handle stressful situations and apply breathing and meditation techniques on each of the working days.
In summary, the beginning of the work year is an ideal alternative to design and present motivation and wellness strategies for your work teams. And at the same time, the start of work in organizations is an indirect way to strengthen people's level of engagement towards the company, with the aim of further strengthening its corporate culture.
So, take advantage of the start of the new year to unite your work groups. Show a real interest in their well-being. And this way, you will be able to have a new work start with the maximum motivation to achieve all the goals you set.
How Is Government Authority Approaching Cryptocurrency Regulation?
As cryptocurrencies continue to center stage, the government could radically alter the global regulatory landscape. The website will assist traders in their bitcoin journey with the best trading tools, fast payouts, and phenomenal customer support. The post discusses how various governments and financial regulators are approaching cryptocurrency regulation.
Banks in Russia have placed strict controls on crypto transactions, while China orders Beijing Financial Street to halt all crypto trading. Meanwhile, some European countries are heavily promoting blockchain technology as an alternative to current models within government administration and digital systems. You may Trade Crypto at a recommended trading platform and improve your trading skills.
As of 2022, the global cryptocurrency market has skyrocketed from $100 billion to over $2 trillion. 2021 was also the year Bitcoin returned to the spotlight, with crucial news outlets such as CNBC and Fox Business contributing to help push Bitcoin far into the spotlight. In addition, blockchain technology has created many altcoins in recent years. As a result, many governments have started monitoring cryptocurrencies for their potential use for illicit activities such as money laundering.
Although no authority controls cryptocurrency regulation worldwide, each country has its laws regarding this new emerging technology. Below is a breakdown of how various governments are approaching cryptocurrency regulation.
Why is the Government Wary of cryptocurrencies?
Defining what constitutes cryptocurrency regulation can be a complicated and convoluted process. Moreover, the definition of cryptocurrency regulation is highly subjective; thus, deviations in interpretation and application occur. Nevertheless, Japan has taken measures meant to increase transparency, reduce risks, and promote the use of digital currency, even though it is currently not considered a legal tender.
Japan is moving to restrict crypto purchases for minors to curb the crypto market from attracting new investors under the age of 20. Children are not allowed to trade or use cryptocurrencies for commercial transactions. Furthermore, Japan has mandated exchanges must have insurance coverage to protect users if they get hacked, or hackers steal their funds.
Countries like US and Canada have commoditized bitcoin:
In the US and Canada, cryptocurrency can be classified as a "commodity" or "asset," but this still leaves room for government oversight. Cryptocurrency is also not considered financial, as opposed to fiat currency which is redeemable for money or value from a state's central bank. The US Treasury has issued rules which enable cryptocurrencies to be regulated under anti-money laundering and counter-terrorist financing guidelines. These regulations allow companies like Coinbase to conduct business in the country. These rules are also based on specific federal laws that apply to securities trading and money laundering.
European countries taking a positive stance towards cryptocurrency:
The European Union (EU) has taken an extremely positive stance toward innovation and blockchain technology. Certain EU countries have attempted to make cryptocurrency regulations more progressive, while others have outright banned crypto. Gibraltar, a British overseas territory in the south of Spain, has emerged as a hub for cryptocurrency and blockchain firms like Coinbase, both of which are based in the US.
The advantage of this approach is that it provides a level of sovereignty and allows companies to be approved by local regulators who may have different agendas. In addition, the EU has shown strong leadership in embracing blockchain technology in recent years, which will likely lead the way in determining what will be considered legal tender in the future.
Some have even argued that the EU could become a "crypto-state" where decentralization and freedom of market choice are taken to their fullest extent. Member countries in the EU have been taking steps to create a single digital currency that would replace national currencies in around 2023. As of now, however, it remains to be seen whether or not people will achieve this. In addition, the EU has begun levying duties on foreign digital currency exchanges like Binance, which could drive up transaction fees for customers outside the country.
India's strict taxation scheme on cryptocurrency transactions: 30% TAX:
The Indian government has recently made headlines for placing a 30% tax on cryptocurrency transactions. The government aims to protect India's people and prevent crypto-money laundering. Still, they are also concerned about the rising interest by people in this "virtual currency," which was not recognized as a legal tender in India. Therefore, the Indian government regulates cryptocurrency exchange and trading operations through the Reserve Bank of India (RBI) to combat money laundering and other criminal activities.
Some exchanges do not follow the RBI rules but can still conduct business in India since 2013. The RBI will determine which companies can be licensed to operate as exchange or wallet service providers. In addition, the RBI has been educating the public and other government agencies about the risks of cryptocurrencies.
In Argentina, cryptocurrency exchanges were declared illegal in 2018:
In 2018, the government of Argentina made some very controversial and revolutionary moves regarding cryptocurrency. On March 13th, 2018, Argentina's Central Bank banned all domestic cryptocurrency trading platforms. Furthermore, financial institutions are prohibited from servicing any person or business involved in using cryptocurrencies, so the government is not allowing citizens to use online exchanges based overseas. In addition, cryptocurrency is banned for transactions between peers or services rendered where cash is transacted in exchange for crypto.