Hidden Gems for PS4: Uncovering Underrated Games Worth Playing in Australia
The PlayStation 4 not only addressed the challenges faced by developers on the PlayStation 3 but also found the perfect price point, making it the second-best selling home console of all time, just behind the PS2. With a lifespan of over seven years, the console has seen a multitude of game releases, making it impossible to keep up with all the noteworthy titles.
With its new advancement, you can now easily get HBO Max on PS4 along with other gaming and streaming services in Australia.
While Sony ensures that gamers are well-informed about its major first-party releases and popular franchises like Assassin's Creed, Call of Duty, and annual sports titles, there are many other remarkable games on the PS4 that often go unnoticed by the wider gaming community. These hidden gems, loved by passionate fans, may not receive much buzz or recognition.
If you're interested in discovering some of these overlooked or unheard-of titles for the PS4, we have compiled a list of the best ones.
Next Machina
Throughout the lifecycle of the PS4, Housemarque stood out as a developer dedicated to delivering high-quality arcade titles. They gained recognition through games like Super Stardust HD on the PS3 and Resogun, which is widely regarded as one of the best launch titles on the PS4. Among their notable releases is Nex Machina, which came out in 2017. While it doesn't introduce revolutionary gameplay, Nex Machina offers an immensely enjoyable experience.
Nex Machina is a top-down shooter featuring vibrant colors, bite-sized levels, and fast-paced action. Its primary focus is on delivering pure fun. There's no intricate storyline or complex character development; instead, it's all about you facing off against hordes of enemies, utilizing strafing, dodging, shooting, and bombing to chase that ever-elusive high score.
The game's arsenal of awesome power-ups enhances the experience, and the visuals truly come to life when the action intensifies. Each playthrough leaves you craving for that "one more run" feeling, making Nex Machina highly addictive.
Hohokum
Hohokum faced an uphill battle right from the start in establishing its identity. Not only does it bear a difficult-to-market and easy-to-forget title, but the game itself defies straightforward description.
While it can be categorized as an adventure game, it feels more like an interactive journey through a series of delightful art pieces. Hohokum appeals to those who seek an experience without the pressure of completing objectives or following a checklist.
If you're in the mood for a tranquil and unhurried exploration, where the focus is on discovering interactive elements at your own pace, you'll quickly find yourself captivated by this vibrant and immersive world. Hohokum invites players to let go of expectations and immerse themselves in a colorful and enchanting adventure unlike any other.
Tearaway Unfolded
Tearaway Unfolded, originally released on the PlayStation Vita before finding a new home on the PS4, is an absolutely delightful game that captures hearts with its adorable charm. This unique experience, reminiscent of titles like Paper Mario and Yoshi's Crafted World, showcases a mesmerizing papercraft aesthetic that rivals the best in the genre. Exploring the world of Tearaway Unfolded is a pure joy, as each new environment showcases the remarkable versatility of the paper art style.
Beyond its visual appeal, Tearaway Unfolded goes beyond surface-level aesthetics. It invites Australians to actively contribute to its world in surprising and exhilarating ways, creating an interactive experience that keeps you engaged from start to finish. Without giving too much away, the game cleverly incorporates the paper art style into its gameplay mechanics, allowing you to shape the world around you in ways that are both imaginative and captivating
Gravity Rush Remastered
Gravity Rush Remastered is an often-overlooked gem, originally a Vita port, that offers a unique and thrilling gravity-bending action-adventure experience. Players control Kat, a woman with amnesia but extraordinary gravity-manipulating powers, in a floating city setting. By utilizing these abilities, Australians can soar through the skies, overcome obstacles, and engage in combat from unconventional angles.
The game's captivating story unfolds through visually striking comic book-style scenes, complemented by a nonsensical language that adds to its charm. With a compelling mystery, side quests, challenges, and skill progression, Gravity Rush Remastered presents an adventure like no other, offering a rush of excitement and a world that begs to be explored.
Bad North
Don't let the terms "real-time tactics" and "roguelite" scare you away from this game. It's actually much simpler and more approachable than it may sound. In the game, you're in charge of a group of islanders in the North, trying to escape from Vikings. You'll defend your islands by strategically placing troops, earning gold, and upgrading your troops and commanders.
The game features procedurally generated islands, so each playthrough feels fresh and different. The visuals are simple and easy to understand once you get the hang of it. It's one of the best tactical games available on consoles, offering a rewarding experience that you can enjoy repeatedly for a new adventure every time you play.
Bottom Line
While popular games often dominate the gaming landscape, it's essential not to overlook the hidden gems that offer unique and memorable experiences. In Australia, gamers have the opportunity to discover and appreciate these underrated titles on the PlayStation 4.
From the emotionally charged "Tearaway Unfolded" to the visually stunning "Bad North," these games deserve recognition for their artistry, storytelling, and gameplay. So, grab your controller, immerse yourself in these hidden gems, and let the magic of gaming transport you to extraordinary worlds.
5 Tips on How to Be Better on Table Games
Losing on a game that you love playing can be stressful. Everyone wants to be better at playing their favorite game and improve their skills to increase their chance of winning. Some table game players think what they're doing is enough, but little do they know, they still have room to improve.
One way of improving your skills and being better at playing your favorite table games is to read up on some tips. So, if you're ready to up your game and be the best, here are five tips to consider following.
Learn the Game's Rules
The first thing that you must do before playing a table game is to understand its rules. Learning the rules by heart will also help you improve at that particular game. You need to keep in mind that knowing and understanding the rules of a game is the best way to increase your chance of winning it.
It also helps you learn the game's mechanics, which is important in creating an effective strategy to increase your chance of winning. If you also know how the game works, you will determine if it's the right game for you.
When you examine the rules of the game, one of the things that you will figure out is the Return to Player Percentage or RTP. It indicates the amount that you can get if you win the game. If you think the RTP is too small, consider skipping the game and look for another to try out.
Practice Makes Perfect
After learning the game's rules, the next tip you must follow is to practice the game. Like with any other game or sport, constantly practicing will help you strengthen the pattern you discover as you play the game.
You can familiarize yourself with the game even more, which is a huge help when you want to design a strategy that could help you win. Additionally, by practicing, you will also find the mistakes in what you're doing and can correct them.
The more you practice, the more you see and eliminate the mistakes, leaving you with a seamless pattern and strategy that increases your chance of winning. You can play table games like blackjack online and make it your practice session. Online table games offer bonuses to players that can be used to play and practice any table game you want to learn.
Establish a Strategy
The next thing that will help you become better at table games is to have a strategy. A strategy will prepare you to counter your opponent's move and maximize your resources, leading to winning the game.
One way that a strategy can help you win is that it'll always make you one step ahead of your opponents. Moreover, a good strategy can help in decreasing the house edge and increasing your chances of winning.
Even if it's just a basic strategy, it will significantly impact the outcome of each game you play. So, before you start playing you must create a strategy first to increase your chance of winning the game you're about to play.
Avoid Chasing Losses
If you had a streak of bad luck, it's best that you stop playing. Many people tend to bet more and play more to chase their losses which is a big "no-no" in table games. If you chase losses, you will only exhaust your bankroll, which in the end, will make your finances suffer.
Most players who chase their losses are desperate. So don't be like them, and learn when to stop. It's one of the vital things that you must always keep in mind if you want to be a better table game player.
Be a responsible gamer, and stop playing when you feel like you're becoming desperate to win after losing continuously. The reason behind this is that your judgment will be clouded by your losses, so you can't make a good decision that affects your game negatively. As a result, you will experience more losses and more frustrations.
Take a Break
The last tip you should always remember is to take a break. Playing a table game can be stressful as you must use your mind throughout the game to win. Therefore, it's not bad to stop and give yourself a break before continuing.
It doesn't matter if you're playing online or in real life, but playing any game is mentally and physically exhausting. If you're playing for too long, your concentration and decision-making might not be as reliable as when the game started.
Moreover, taking a break occasionally will also help you stretch your bankroll and time spent playing. You can always go back to the table and play the game again after you have rested for a while. Grab a snack or a drink and relax your mind, then you're ready to play again.
Bottomline
If you want to improve at your favorite table game, consider these five tips above. Stop what you've been doing and consider changing your ways to increase your chance of winning any table games you play.
The Ashes' Urn: The Story Behind One of Sport's Most Iconic Trophies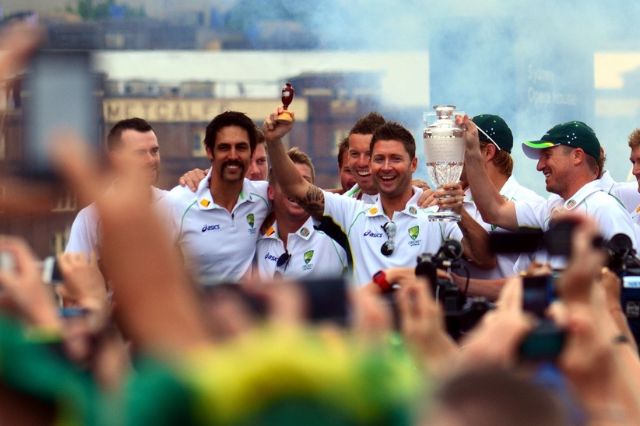 When you think about some of the most iconic prizes in the world of sport, the FIFA World Cup trophy, the Wimbledon Gentlemen's and Ladies' Single titles, the Super Bowl's Lombardi Trophy, the Open's Claret Jug and the Masters' Green Jacket are some of the accolades that initially spring to mind.
Many will argue though that the urn awarded to the victor of the Ashes deserves a spot on that list. While it is only contested between two nations and might not be the official trophy given to the winner of the Series, nor is it as glitzy and glamorous as some of the aforementioned pieces of silverware, the four-inch accolade still has huge significance.
With England currently hosting Australia in this year's renewal of the competition, which the visitors are now heavily favoured to win in the Ashes odds 2023 as they hold a 2-1 advantage over Brendon McCullum's side with two Tests left to play, now seems like the perfect time to take a look at the origins of the urn and how it has become the centrepiece of one of sport's greatest rivalries.
Australia win in England for the first time
The urn and the term 'the Ashes' actually both originate from a newspaper report following Australia's victory over England at the Oval in August 1882. It was the first time the hosts had been beaten by the Aussies on home soil and British paper The Sporting Times wrote an obituary, saying: "In affectionate remembrance of English Cricket, which died at the Oval", later adding: "The body will be cremated and the ashes taken to Australia."
England presented with the urn
Not long after the mockery, England travelled Down Under for a tour of Australia and the visiting captain Ivo Bligh vowed to return home with the ashes. While playing a match in Melbourne, he was gifted the terracotta urn — which different legends claim either had the ashes of a burnt bail, ball or stump inside — by Lady Janet Clarke and it remained in his personal possession for many years before his wife gave it to the Marylebone Cricket Club (MCC) upon Bligh's death. It is now found in the museum at Lord's.
Replica urns
The original urn is extremely delicate. In fact, to preserve it and ensure it survives the trials and tribulations of time, it has visited Australia just three times since Bligh brought it back to England — once in 1988, again in 2006 and then as recently as 2020. Therefore, it should come as no surprise that the urn hoisted aloft by the winner of the Ashes every two years is merely a replica.
The official trophy
Believe it or not, there wasn't an official trophy given to the winner of an Ashes Series until the late 1990s. The MCC were aware of the need for a physical piece of silverware and commissioned a Waterford Crystal trophy in the shape of the original urn. The stunning and elegant trophy was first presented upon the conclusion of the 1998-99 Series, with Australia captain Mark Taylor the first man to get his hands on the prize.
Roy Hodgson: The Transformation of Crystal Palace Culture
Crystal Palace Football Club has enjoyed a highly successful transformation under the stewardship of Roy Hodgson. In 2017, Hodgson started working with the team. He made them feel good and excited about playing football again. He gave them the ambition to try their hardest and make their dreams come true.
The First Steps Towards Success 
When Hodgson took over at Crystal Palace, he inherited a squad that was struggling on the pitch. The team did not do well and finished 16th in the English Premier League. This made the players feel unhappy, and they were not sure what to expect from their new manager.
Hodgson quickly set about changing this by bringing in his own staff to help implement his ideas and philosophies. He also began making small changes to encourage players to remain focused on achieving success.
Hodgson's approach has enabled Crystal Palace to create a more positive atmosphere. The team is acting more confident and professional. They are also showing respect for each other. This has made the team do better in their games since Hodgson joined the club.
With Hodgson's leadership, there is optimism that Crystal Palace can continue to improve in the coming seasons. The team has been doing better for the past two years. They have an experienced coach now, and they are ready to keep doing well and even do better. Supporters are encouraged to visit 1xbet site for more updates on their progress. 
The manager is a good example for the players. He knows how to win and he has lots of experience managing different teams. This helps the younger players learn and do better in matches.
Roy Hodgson has made a big change at Crystal Palace. He helps the players do their best and gave them the tools to do well in future seasons.
The Impact of Hodgson's Leadership
Coach Hodgson made sure that everyone was treated with respect. Everyone felt important, and this made them work together to reach a goal. This created trust in the team, and it helped them play better on the field.
Hodgson helped the team work together. He told everyone what was expected of them both while playing and not playing. His philosophy was to work hard and be skilled. This has made Crystal Palace one of England's most successful teams since he joined.
A New Hope at Selhurst Park 
Perhaps even more important than any tactical or technical adjustments made by Roy Hodgson, however, is how he has bolstered belief within the dressing room at Crystal Palace – both amongst players and supporters alike. It is now commonplace for fans to chant "Come On, You Eagles!" as they witness their side challenging for European qualification year after year, something which would have seemed inconceivable prior to Hodgson's arrival at Selhurst Park Stadium back in 2017.  
Under Mr. Hodgson's leadership, Crystal Palace became only the second team in Premier League history to win seven games in a row away from home. This is something that would not have happened without Mr. Hodgson's strong leadership. He changed the attitudes of the team and pushed them to do more than anyone ever expected they could do.
Conclusion: The Legacy That Continues Today 
Roy Hodgson made a big difference at Crystal Palace. He helped change the culture and performance of the team. People will remember him for a long time after he leaves. His influence still matters today and will stay important in the future. He is an example for other managers who want to learn from his legacy – it should never be forgotten!