Start of the Working Year: How to Motivate Your Teams Based on Well-Being?
The beginning of a new work year is an opportunity to set new objectives and reinforce the sense of belonging to a given work group. At the same time, it is one of the best ways to strengthen the motivation of your company's human talent.
Indeed, the beginning of the work year invites people to rethink the results of the previous year in order to face the next work period with greater enthusiasm.
But what are the main strategies that can be used at the beginning of a new work year? What are the positive effects of motivating your work groups?
If you want to know all about the importance of the beginning of a work year, keep reading this blog post. And consequently, you will know how to take advantage of the beginning of a new year to boost the union of your teams and their well-being and achieve the performance you need.
Have a work year kick-off meeting
First of all, at a good start of the work year, it is essential to meet with the work team to set new goals and talk about the organizational challenges to be met.
Communication is fundamental to motivating work teams at all times in all types of work, from big tech companies to small but just wow essays service teams. And an individual or group meeting context is one of the most effective alternatives to do so.
Therefore, in order for you to know which are the elements to take into account in a meeting at the beginning of the working year and to increase the levels of well-being, we detail them below:
Plan the start-of-the-year meeting
Take some time to organize your kick-off meeting. Prepare a guide in which you detail the timing of each of the activities to be carried out during the meeting.
And also, in planning your kick-off meeting, do not forget to detail who will be the participants to attend, along with the teammates who will lead the meeting.
Create a dialogue space where team members can express their expectations for the new work year. In this way, you can strengthen the organizational culture and achieve higher performance.
Apply creativity
Try to have a creative meeting to motivate people in your work groups. In fact, you can make your kick-off meetings more dynamic through playful presentation activities.
One idea for your start-of-the-year meeting is to make a presentation with cards containing questions to get to know the new talents joining the teams. At the same time, answer questions related to tastes, hobbies, etc., in order to relax the atmosphere.
Another option is to transmit a message at the beginning of the work year in an original way. For example, you can include your welcome messages in a corporate gift that is useful for your teams.
Carry out gamification dynamics
On the other hand, during the beginning of the work year, gamification strategies can be implemented to relax tensions and improve the bonds between people in the work teams.
In fact, by means of this type of game that you can play at the beginning of the work year, you will obtain the following benefits:
Detect certain job profiles
Indeed, through gamification dynamics at the beginning of the work cycle, you will be able to identify specific roles. This will be useful in case you need to establish new tasks or set leadership positions.
Reduce stress
Applying start-up activities at work is an advantageous motivational technique to provide a moment of relaxation before presenting your talent with the objectives to be achieved in the new work period.
Encourage a good working environment
Gamification at the beginning of the work year promotes the generation of healthy work relationships. At the same time, it is a motivational method that contributes to an adequate organizational climate. Consequently, it improves performance, and a higher productive output can be obtained.
It offers an emotional wellness program
Finally, to develop a positive start to the work year, you can incorporate the benefits of a comprehensive wellness plan into the emotional salary of your teams.
According to a report by the International Labor Organization (ILO), in different countries, the number of early retirements has increased as a consequence of the increase in mental health pathologies, which incapacitate people and prevent them from fulfilling their responsibilities at work.
To counteract this disadvantageous context, offering a program at the beginning of the working year that seeks the well-being of the teams can be an effective alternative to achieve motivation due to the following reasons:
It includes psychotherapy
A good emotional wellness plan offers the possibility of psychological therapy if needed. Some companies even offer the option of having psychotherapeutic meetings online.
In this regard, an article by the World Health Organization (WHO) states that every year some 12,000 million working days are lost due to mental health complications, such as depression and anxiety. This represents an economic loss of around one trillion dollars annually.
Thus, offering a therapeutic space at the beginning of the work year improves the emotional health of the people who make up the work groups and optimizes the organization's motivation and performance levels.
Emotional and corporate coaching
On the other hand, if you want to strengthen psychological security at work at the beginning of the working year, it is essential to give your teams the opportunity to participate in emotional and corporate coaching sessions.
Within this type of meeting, people can set goals to achieve within the personal and work environment. All to improve their quality of life. And a good level of emotional health will positively impact the performance level of work teams at the beginning of the working year and throughout the period.
Yoga
At the same time, you can give your team members a wellness plan with yoga classes. This ancient discipline is beneficial from a physical, emotional, and mental perspective.
So, whether your teams work in person or remotely, you can give them the option of taking yoga classes at the beginning of the work year.
This way, they will have more resources to handle stressful situations and apply breathing and meditation techniques on each of the working days.
In summary, the beginning of the work year is an ideal alternative to design and present motivation and wellness strategies for your work teams. And at the same time, the start of work in organizations is an indirect way to strengthen people's level of engagement towards the company, with the aim of further strengthening its corporate culture.
So, take advantage of the start of the new year to unite your work groups. Show a real interest in their well-being. And this way, you will be able to have a new work start with the maximum motivation to achieve all the goals you set.
Top Skills to Become a Full Stack Developer in 2023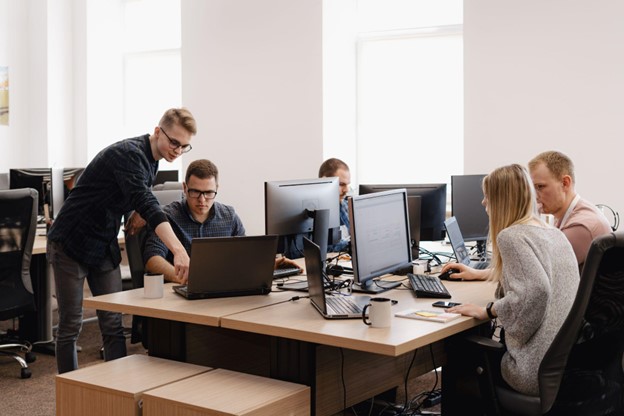 Interested in becoming a full-stack developer? One of the advantages of becoming a full-stack developer is that you have skills in multiple areas and can handle coding, design, development, and more all under one roof. Find out these diverse skills, how to use them to become a full-stack programmer, and why they will be the most important for adapting to industry changes in 2023!
Introduction to Full Stack Development
If you're looking to become a full-stack developer, there are a few skills you'll need to master. In this section, we'll introduce you to the world of full-stack development and some critical skills you'll need to succeed.
Full stack development is all about creating web applications that anyone can use anywhere. To do this, programmers must have a strong understanding of front-end and back-end development.
Front-end development refers to the graphical user interface (GUI) that users interact with when using a web application. This can include anything from designing the overall look and feel of the website to creating individual elements like buttons and drop-down menus. On the other hand, back-end development focuses on the server side of things. This includes everything from setting up hosting for the website to writing code that powers the application itself.
Most IT companies want to hire offshore programmers with professional skills. To be a successful full-stack developer, you'll need a strong understanding of both front-end and back-end development. In addition, you'll also need to be comfortable working with different web technologies and frameworks.
What Skills Do You Need to Become a Full Stack Developer?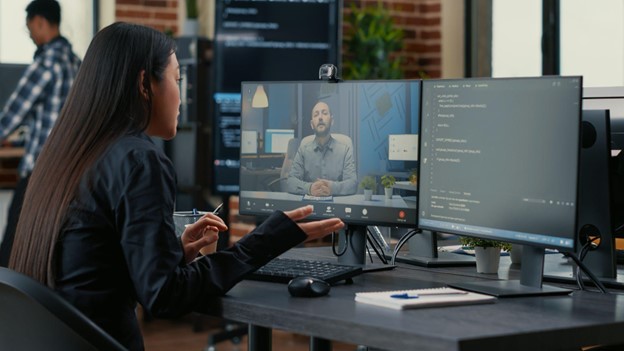 To become a full-stack programmer, there are a few critical skills that you will need to possess. Firstly, you will need to have a firm grounding in computer science concepts. This means understanding algorithms, data structures, and software design principles well. Secondly, you will need to be proficient in a wide range of programming languages. At the very least, you should know how to code in Java, PHP, and Python. However, being able to code in various other languages will give you an advantage when it comes to finding full-stack programmer jobs.
Thirdly, you must have experience with front-end and back-end web development technologies. This includes knowing how to develop user interfaces using HTML/CSS/JavaScript as well as being able to create database-driven websites using MySQL or MongoDB. Finally, it is also beneficial to have experience with DevOps tools such as Puppet or Chef to automate web application deployment and management.
HTML/CSS
To become a full-stack developer, it is crucial to have a strong foundation in HTML and CSS. These two technologies are the building blocks of the web and are essential for creating well-designed and responsive websites.
HTML (HyperText Markup Language) is used to structure content on a web page. It defines the meaning of elements on a page, such as headings, paragraphs, and list items. CSS (Cascading Style Sheets) is used to style the content on a web page. It defines how elements should look, such as their color, size, and font.
Both HTML and CSS are easy to learn, and there are plenty of resources available online to get started. Once you have a solid understanding of these technologies, you can begin learning more advanced web development skills such as JavaScript, PHP, and Ruby on Rails.
JavaScript
JavaScript – is one of the most important full-stack developer skills. As the programming language of the web, JavaScript is used to create interactive web pages and applications. While many different frameworks and libraries are available to help with development, knowing vanilla JavaScript is essential. In addition, being familiar with Node.js will give you an extra edge as a full-stack programmer.
Back-end languages
Knowing back-end languages is one of the most required full-stack developer skills. Among the most popular are PHP, Java, Python, and Ruby. Depending on the project requirements, a full-stack developer may need to be proficient in one or more of these languages. For example, if a project requires a lot of data processing, then a developer with strong Python skills would be ideal. On the other hand, if the project is focused on e-commerce, then a developer with solid PHP skills would be a better fit.
Full-stack programmers need to have a good understanding of how each back-end language works. This way, they can choose the right language for the job and also debug any issues that may arise. Additionally, full-stack programmers should be comfortable working with databases such as MySQL and PostgreSQL. With this knowledge, they can build robust and scalable web applications.
HTTP and REST
There's no denying that the world of technology has evolved at a breakneck pace over the last few decades. And as a result, the skills required to be a successful developer have changed significantly as well. Where once a basic understanding of HTML was all that was needed to get started in web development, today's developers need to be well-versed in a wide range of different programming languages and technologies.
One of the most important skills for any developer, regardless of experience level, is a strong understanding of HTTP and REST. Hypertext Transfer Protocol (HTTP) is the protocol that governs how communication happens between different systems on the web. REpresentational State Transfer (REST) is an architectural style for building APIs that takes advantage of HTTP's capabilities.
A strong understanding of HTTP and REST is essential for any developer who wants to build web applications that are scalable and maintainable. Without this foundation, it would be very difficult to create applications that can handle large amounts of traffic or complex data structures.
Database storage
A full-stack programmer should understand how databases are structured and how to work with them. There are many different types of databases, but the most common ones used in web applications are relational databases like MySQL, PostgreSQL, and SQLite.
No matter what type of database you use, there are some basic concepts that all developers should know. For example, you should be familiar with CRUD operations (Create, Read, Update, Delete), which are the four basic operations that can be performed on data in a database. You should also know how to query data from a database using SQL (Structured Query Language).
If you're working with a relational database, it's also important to understand relationships between data tables. For example, you might need to join two tables together in order to get the data you need. Knowing how to do this is essential for any full-stack developer.
Basic design skills
As a full-stack developer, you must understand fundamental design principles strongly. This includes understanding how to use color, typography, and whitespace effectively. You should also know how to create responsive designs that work well on mobile and desktop devices. These skills can be learned through self-study or by taking courses on graphic design.
NPM
NPM is a must for every full-stack programmer. It is the package manager for JavaScript and allows you to install, update, and manage your dependencies. NPM also provides a way to share your code with other developers through packages.
Soft Skills Needed as a Full Stack Developer
As a full-stack developer, you will need to have a strong set of soft skills to be successful. Here are some of the most essential soft skills that you will need:
Communication: As a full stack developer, you will need to communicate effectively with other team members, as well as clients or customers, if necessary. You should be able to clearly explain complex technical concepts to non-technical people.
Problem-solving: Full stack developers need to identify and solve complex problems quickly and efficiently. You should be able to think on your feet and come up with creative solutions to tricky issues.
Time management: As a full-stack developer, you will likely be working on multiple projects at once. Therefore, it is important that you are able to manage your time effectively in order to meet deadlines and avoid becoming overwhelmed.
Organizational skills: In order to keep track of all the different parts of a project, full-stack developers need to have strong organizational skills. This includes being able to create clear and concise documentation so that other members of the team can easily understand what needs to be done.
Conclusion
A skilled full-stack developer is in high demand, and the skills required to become one continue to evolve as technology develops. We outlined the top ten skills anyone can acquire to become a successful full-stack developer by 2023. Whether starting from scratch or striving to advance your current web development career, learning these critical skills will help you stand out in this thriving and ever-growing field. Get cracking on learning these essential tools and develop yourself into a well-rounded full-stack engineer!
The Benefits of Remote Working
There are many different situations that you might find yourself in when it comes to your career. In an ideal scenario, you are going to be working in your dream role while at the company that you always hoped for. You are making all the money you could ever desire, and never have financial stress again. There could also be instances where you end up working in a completely different field. This could still be an enjoyable experience and lead you to a new skill set. There is no such thing as a wrong career, and you should be proud of yourself, no matter where you end up.
Even when it comes to working in certain industries, there are going to be some variables here too. For example, remote working is now a common thing for many companies, big and small. For some people, this can work like an absolute charm, and they see it as a massive pull factor when applying for jobs. Others think the opposite and would prefer to work in an office environment. You should always play to your strengths and try to get a job that suits you. However, there are a lot of people who don't know how they feel about remote working opportunities. If you fall into this category, then you should still be open to these roles. Many benefits can come with working remotely. If you aren't aware of or familiar with them, then here are some examples of how they can prove to be beneficial.
The Comfort of Your Own Home
The first major benefit of working remotely is that you are going to be allowed to work in the comfort of your own home. When it comes to being able to put in a good day's work, you must be comfortable and relaxed. This is something that you won't be able to beat when it comes to your own home. You are going to be relaxed and as calm as possible when it comes to your working day. Not to mention, you are in complete control of things such as heating controls and natural light. This means you can set up your work environment to completely suit you. 
Better Lunches
Having lunch is something that most people will look forward to when they are going in for a day's work. However, when you are working in an office setting, this can be lacklustre. There might not be great food options near your workplace and bringing lunch from home just isn't the same as a warm meal. This is something that remote working doesn't have you deal with. When you are working from home, you are going to have a massive choice when it comes to your lunches. With all the utilities you could need and the option to store any lunches you could want, your daytime eating is going to be a lot better.
This could even help encourage you to get healthier and improve your diet. With more options and more time to prepare meals, you could clean up the food that you eat. Not to mention that having a healthy and nutritious lunch could give you the boost you need to finish out the day.
Clothing
When you work in an office space, you are almost always going to have a uniform or at least a dress code. This is something that a lot of people cannot get behind. Being in clothes that aren't yours or aren't to your liking can make you feel uncomfortable. Again, this is something that you don't have to worry about when working in the comfort of your own home. When you are remote working, people can't see what you are wearing. So, if you want to spend all day in your pyjamas, you can. Wear clothes that are going to provide you with the most comfort and ease. Especially when you are going to be sitting at a desk for up to 8 hours, you are going to want to make sure that you are comfortable.
Easier to Break up the Day
Working remotely is going to likely mean that you spend most of your time looking at the same screen. This can be quite a draining thing and lead you to want a break. When you work from home, getting this break in the day can be a lot more effective. When in a workplace, you probably won't have too many options when it comes to how you spend your lunch. Eating is likely the only activity you can do. When you are at home, you have a host of options. For example, you could stay on your computer and check out the best payout online casino. If you wanted to get some fresh air, you could go on a walk or get a quick workout in. There are plenty of stimulating activities that can help to provide a big break in the day. This can help to split your day up and make it move a lot faster.
More Opportunities
When you only want to work on-site, you are going to be limiting your opportunities. There are only going to be so many jobs in your vicinity that are appropriate for you. Even when you are living in a major city, there are only so many companies that could provide you with a job. When you are working remotely, this isn't the case. You can work for anyone, no matter where you are. This means that any job you are qualified for is a possibility for you. This gives you a better choice of job roles and allows you to explore new and unique opportunities. Not to mention, you are also going to get your chance to visit more countries and have more freedom with your time, meaning you get career and personal opportunities. Remote working isn't for everyone, but it has plenty of benefits for those who would prefer to work outside of a traditional office.
How to Deal with Sunday Night "Work Fear"
Sunday night "work fear" is a common feeling that many people experience as the weekend comes to an end and the workweek begins. Here are a few tips for dealing with Sunday night "work fear":
Get a good night's sleep
Getting enough sleep is essential for good mental health, and a lack of sleep can contribute to feelings of anxiety. A good night's sleep also helps to repair and restore the body. During sleep, the body releases growth hormone, which helps to repair and regenerate tissues.
Sleep also helps to boost the immune system. Adequate sleep is important for the proper functioning of the immune system, which helps to protect the body against illness and infection. During sleep, the brain also clears out waste products and consolidates memories, which can help with learning and problem-solving.
Lack of sleep can affect mood, leading to irritability, anxiety, and depression. Adequate sleep can help to regulate emotions and improve mood. Aim for 7-9 hours of sleep per night, and try to establish a consistent sleep schedule.
You can also try using cannabidiol (CBD) oil as a sleep aid. Although scientific studies are limited, many people swear by CBD's ability which is known to help reduce anxiety and induce relaxation. OTO anxiety products might help in this regard.
Reflect on the past week and plan ahead
Take some time to reflect on the past week and think about what went well and what could have been better. This can help to put things into perspective and give you a sense of accomplishment.
Make a to-do list or schedule for the week ahead to help you feel more organized and prepared. Knowing what you need to do and when can help to reduce stress and make the workweek feel more manageable.
Practice relaxation techniques
Relaxation techniques, such as deep breathing, progressive muscle relaxation, and mindfulness meditation, can help to calm the mind and reduce stress. There are many ways to practice relaxation. For example, with deep breathing, you can take slow, deep breaths, focusing on the sensation of the breath as it enters and leaves your body.
Progressive muscle relaxation (PMR) is another technique that can be used to promote relaxation. It involves tensing and relaxing each muscle group in the body, starting at the feet and working your way up to the head. The goal of PMR is to help you become more aware of the tension in your body and to learn to relax your muscles.
To practice PMR, find a quiet place where you can sit or lie down comfortably. Begin by tensing the muscles in your feet for a count of five and then relaxing them. Move on to your lower legs, then your thighs, and so on, working your way up through the entire body. As you tense each muscle group, take a deep breath in, and as you relax it, exhale slowly. PMR can be done daily or as needed to help reduce stress and promote relaxation. It's a simple technique that can be easily incorporated into your daily routine and can have a number of benefits, including reducing muscle tension, improving sleep, and reducing feelings of stress and anxiety.
Take regular breaks
Remember to take breaks throughout the workweek to recharge and refocus. Taking short breaks throughout the day can help to reduce stress and improve productivity.
It's important to remember that it's normal to feel anxious or stressed at times, and it's okay to take steps to manage these feelings. If anxiety is interfering with your daily life, it may be a good idea to speak with a healthcare provider for further guidance and support.