6 Modern-day Bangles to Add in Your Bangle Box Today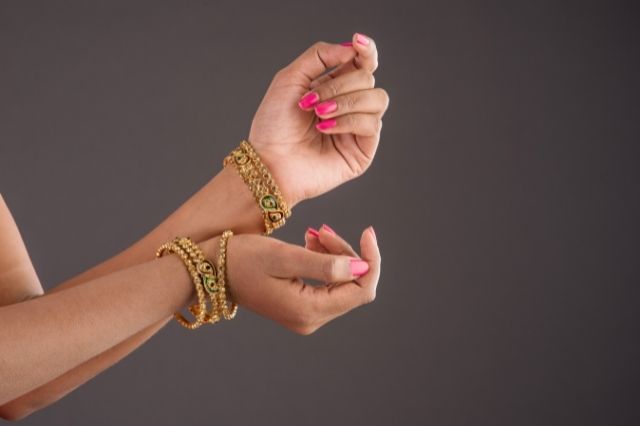 Bangles are truly underrated. We all talk about statement necklaces or earrings, but so very often we forget to include bangles in our attire. These stylish cuffs add a little extra bling, especially when we wear ethnic clothes.
But the same old style of bangles might get too boring at times, right? Then why not glam things up a little? Here are 6 modern-day bangle styles that you have to include in your bangle box to complete your look!
1. Gold bangles
Gold bangles will obviously have to come at the top of your list. These items are a must in your jewelry box because gold bangles can transform your look from nothing to everything instantly!
You won't need to wear any heavy jewelry pieces if you simply wear a few thin gold bangles on each wrist. If your budget is low, don't worry, there are many gold-plated bangles available on the market!
The best part about these bangles is that they work on every skin no, so no matter how fair or dusky you are, you can flaunt them with confidence.
2. Silver bangles
If you want to go Boho and keep things minimalist, silver bangles will be ideal for you. You can go for either bright or shiny silver, or choose oxidized forms. My friend residing in Australia bought some silver bangles from Sedgwick's Antique and Estate Jewellery and has been delighted ever since.
It has beautiful vintage-themed silver bangles and bracelets that will look amazing with whatever you wear. You can stack multiple silver bangles together or go for just one thick cuff, along with oxidized silver earrings or a choker.
3. Thread bangles
You might have not heard of thread bangles, but they are the latest rage now! Made of finely-spun thread, these lovely pieces come in various bright colors and designs. If you're going for a fun brunch with your girlfriends or you simply want to look cute at work, these bangles will brighten up your outfit!
Handmade thread bangles have delicate femininity that allows you to experiment with various different styles and patterns. Go for a chic look by pairing them with a full-length gown.
4. Glass bangles
Both timeless and modern, glass bangles are also a must in your collection. They were popularized in India and in 2016, the value of the Indian glass bangles export market was almost 90.25 million INR.
These bangles are so classic that you can see them in almost any Bollywood movie or show. Even though glass bangles are delicate, they will make any woman look exquisite. Even if you pair it with a simple floral top or sari, you will look beautiful.
5. Silk bangles
If you want to add something luxurious to your bangle collection, look no further than silk bangles! Silk as a fabric is rich and smooth, and silk bangles will give you the same feel, just in a different way!
They can make you look royal and when you wear them with a deep-coloured sari or gown, nobody will be able to turn their heads from you.
These bangles can support both heavy and light embellishments, as well as both traditional and contemporary looks. If you're looking to celebrate an important occasion, like an anniversary, wear these.
6. Pearl bangles
Even though all other kinds of bangles have their own charm, pearl bangles are truly something else. They can look modern and make you feel amazing, no matter what you wear with them.
Most pearl bangles are thin and delicate, so they can go perfectly well with your everyday wear. They can also be set in gold, and lined with shiny pearls.
Almost as versatile as diamond bangles, pearl ones cost much less but give you almost the same look. For the best modern-day look, opt for sleek pearl bangles and wear them with a crisp light shirt.
Over to you…
Even if your jewelry box is overflowing with bangles, these 6 kinds are a must in your collection. They are versatile and can be worn with almost anything and everything.
Bangles have a special kind of significance in many cultures, so if you're attending a cultural event, make sure to wear one or two to enhance your look. In India especially, red bangles, called chooda, symbolize marriage and eternal love.
But be careful to match your bangles with your outfit or the entire thing can look messy and mismatched.
8 Places to Visit in the Netherlands
The Netherlands encompasses so many attractions, from its many museums to its bustling cities to its famous landmarks to its canal cruises to its many medieval structures to its whitewashed brick buildings to its modern, contemporary, and classic art to its tulips and its world-famous cheese that visitors rarely get to experience them all.
The Netherlands, with its picturesque canals, breathtaking tulip fields, and amazing windmills, is a veritable paradise on earth. Thanks to this collection of top Dutch attractions, you can see a lot of Europe in one trip.
1. Visiting the Beautiful Canals in Amsterdam
Amsterdam's beautiful waterways, among the best things to do in the Netherlands, are one of the city's many attractions. You can hop around to other spots and surreptitiously investigate the routes by taking a boat trip or riding in a water taxi.
If you happen to go there in the winter when the canals have frozen, you can even go ice skating! Herengracht, Keizersgracht, Prinsengracht, and Singel are some of the most frequented waterways in all of Amsterdam.
After a beautiful day at the canals, you can enjoy your favorite slots using Slotocash no deposit bonus codes relaxing in your hotel room.
2. Zaanse Schans Open Air Museum
This outdoor museum ranks as one of the finest in the Netherlands and is located about 15 kilometers north of Amsterdam. At Zaanse Schans, you may learn about the way of life of a historic Dutch village and its craftspeople and be transported back in time.
A shipyard, several wooden homes, a grocery store, an oil mill, and a sawmill are available in this spot.
3. Anne Frank House
Cities like Amsterdam, Haarlem, and Rotterdam, frequented by both locals and visitors in search of a good time, are included on this list. If you're looking for a less touristy destination, Delft and Leiden are good options.
Avoid the Red Light District at all costs by visiting Anne Frank's House if you find yourself in the tourist hub of Amsterdam. In its current form, the house is a museum as well as a national landmark recognized as a UNESCO World Heritage Site. Anne and her family hid in the house's hidden annex when the Netherlands was occupied by the Germans.
The museum tour of Anne Frank's home takes a quick 30 minutes. Anne and her family's hidden annex room and all of their belongings are meticulously displayed. It is a must-see attraction for any tourist in Amsterdam. And sure, you should trek through the alleys to get here if only to read her diary.
Anne Frank, a noted diarist and Jewish Holocaust victim of Dutch and German descent, was born in this house. Anne Frank hid for over two years in this particular house during World War II, and it was in the secret annex that she wrote her famous diary.
4. Efteling
The greatest way to break up the odd sensations is to go on an adventure while in the Netherlands. The thrill-seeking can choose from a wide range of attractions at Efteling, the largest amusement park situated in Kaatsheuvel.
Attractions include rides like the George or the Dragon (also known as Joris en de Draak), the Python, the Flying Dutchman, and the enchanted land of Raveleijn, where a show is put on every night.
5. Garden of Europe
Keukenhof is a colorful wonderland in the country that all kinds of tourists should see at least once. The beautiful tulips are the hallmark flowers, but you'll see flowers of every color in what is commonly called the Garden of Europe.
You and your significant other can take a stroll among the lush vegetation, or you and your loved ones can pose for stunning photographs with this natural setting as the backdrop.
6. Texel Parachute Jumping
Texel, the biggest of the islands in the Wadden Sea, offers the ideal location to leave your worries behind and experience a once-in-a-lifetime adventure. Parachute jumping in the open sky allows you to not only see the entire Netherlands in one go but also to take in the country's invigorating ambiance. We guarantee you'll have a fantastic time here if you're the adventurous type.
7. Beemster Polder
The Beemster Polder is a very well-known Dutch polder. It is a nature area in the region of Friesland found in the far north of the Netherlands. In the 1800s, it was taken back from the North Sea. The Polder is a unique part of the Netherlands because of its weather and scenery. The Polder has both low-lying parts with flat, peat-rich soil and higher areas.
Since 1985, the Polder has served as a nature reserve. It is a famous place for tourists to visit. In the Polder, there are a couple of places set aside for nature. Birdwatching is one of the best things to do, and you can see many different kinds of birds. There are a lot of animals and plants in the Polder, especially where land has been taken back from the sea.
8. Van Gogh Museum
One of the best things to do in modern Amsterdam is to check out the stunning Vincent van Gogh Museum located in the city's historic core. Works of Vincent van Gogh have been placed on display in the museum in Amsterdam.
Viewing and getting to know about the making of Van Gogh's most famous paintings is a highlight of a visit for art lovers. Over 2,000 drawings and paintings by van Gogh are on display at this museum in Amsterdam, making it the world's largest collection of the artist's work.
There is a permanent exhibition at the museum dedicated to the artist's work, which traces his career and provides background information. The museum features in excess of 200 oil paintings, over 500 significant drawings, and almost 700 letters. Sunflowers, Almond Blossom, and Potato Eaters are just a few of the well-known Van Gogh paintings on display.
The gallery also features shows covering a wide range of topics in nineteenth-century art history. A 2-hour private tour of the Van Gogh Museum is perfect for those who desire a more in-depth exploration of the museum.
Take Away
This list will fulfill your interest in the top sites to visit in the Netherlands, so read it if you have that urge. There is something on the list of destinations to visit that will make your vacation memorable, regardless of whether you prefer spending the day at a park suitable for families or want to learn something new at a national monument.
Raw Feeding Guide: How Much Raw Food to Feed Your Pet
Raw feeding has become an increasingly popular trend among pet owners, as this approach to a pet's diet is typically unproblematic to their digestive systems and can result in improved digestion, better dental health, and a shinier coat. Raw food mimics the natural prey diet a cat or dog would have eaten in the wild before domestication. Given its popularity, it's no surprise that the raw pet food market is expected to reach over $195 billion by 2029.
Although raw food is a top choice for many pet owners, it can be challenging for some families to determine how much raw food to feed their pets. If this is your first time incorporating raw food into your pet's meals, use this guideline to determine how much raw food you should feed your furry friend.
How Much Raw Food to Feed a Dog?
It's important to note that the amount of food a pet needs depends on several factors, including age, breed, activity level, and overall health. 
According to Bold by Nature – a raw food company committed to providing pets with recipes that allow pets to thrive and remain healthy, it's important to watch your dog's body weight and consider your dog's life stage and the season when determining the ideal feeding amount. You can use various resources offered on BoldByNature.com to better understand how much raw food to feed your pets. 
Adult dogs should generally be fed about two to three percent of their body weight per day. Overweight or senior dogs need about two percent of their ideal weight, while underweight or active dogs can benefit from consuming closer to three percent.
The guideline for feeding puppies varies on their age. For example, a puppy younger than three months needs to eat about eight percent of its current weight, and as they age, you can gradually adjust the quantity every few months. 
The key to feeding your dog the right amount of dog food is closely monitoring its body weight and adjusting the food as needed. Each dog has unique needs, so you may need to consider several factors before determining the ideal serving. You may also need to adjust your dog's raw food serving based on their health. For example, if you want your dog to lose weight, it may need a little less food than a dog who needs to maintain weight. 
How Much Raw Food to Feed a Cat?
You can take a similar approach when feeding raw food to your cats. If you want to take the cold turkey approach, introduce the raw food to your kitten or cat without worry. But if you want to slowly transition their meals, start by mixing raw food with their canned food and gradually increase the raw food until they are consuming 100 percent raw recipes.
Like dogs, a general rule of thumb is to feed cats approximately two percent of their body weight. According to Cats Exclusive Veterinary Center, "a healthy 10-pound cat should have roughly 3 oz of raw food at each meal."
Raw feeding can be a great way to provide your pet with recipes unproblematic to their digestive systems, allowing them to thrive in their daily lives while enjoying their food. When determining how much raw food to feed your pet, it is important to consider their age, breed, activity level, overall health, and daily calorie requirements. By following these guidelines, you can ensure your pet gets the right amount of food to maintain their health and vitality.
5 Famous Gamblers and Their Most Memorable Quotes
Gambling is a hobby, passion, and passive income source for many. Usually, bettors prefer to keep it low. On the other hand, there had been pro bettors who created headlines in the industry with their bold moves. The fortune and reputation of those seasoned players speak volumes of their strategic skills. They stand out in the market due to their unique gambling style and mind games.
Here's a list of famous gamblers that will be an inspiration for the years to come.
Billy Walters
Billy Walters is a name to recall in the sports betting industry. This professional punter started his gambling career at the age of nine. That said, he first participated in the 1955 World Series sportsbook event.
Over the years, Walters won several betting events with recorded-breaking earnings worth million dollars every week. The American bettor focused on match stats, betting lines, and trends to place a stake in a winning outcome. Later, his wagering strategies even influenced the odds in the sportsbook market.
Walter's career and luck were at a peak in his late 30s. The whopping $3.5 million win during Super Bowl XLIV and $2.2 million on a college football prove he was invincible.
Walter's famous quote: "Every successful bettor has been through monumental failures to getting there."
Alan Woods
With a total net worth of AUD 670 million, Alan Woods was certainly the best Australian horse bettor.
Woods was a casual poker and horse racing gambler during his college days. However, he became a full-time professional in 1979 with card counting. Further, the old-school gambler used his betting experience and quantitative method to make a fortune through horse racing.
Soon, he became popular as a playboy punter in the racebook industry. Rest is the history!
Wood's famous quote: "The beginning was nightmarish."
Phil Ivey
Another greatest gambler of all time is Phil Ivey – a poker mogul! The renowned all-rounder bettor won 10 World Series of Poker bracelets and 9 World Poker Tour titles. Yes, you read that right!
Initially, Ivey used to play casually with his grandfather. However, he kickstarted his professional journey as a poker player when he turned 20. The poker expert won his first WSOP bracelet in 2000. Today, he even owns the title of the youngest poker player to win ten WSOP bracelets.
Also known as Tiger Woods of Poker, his magical skill is spotting the competitor's weaknesses during the card game. For instance, Ivey can easily identify an issue with a card that allows him to play his move strategically.
Hisnet worth is over $37,000,000, including winnings from WSOP and online gambling events. This American poker expert will undoubtedly set many more mind-blowing records with future gambling events.
Ivey's famous quote is, "I feel like my career is just starting. The best years are yet to come."
Edward O. Thorp
A list of famous bettors is complete with, mentioning Edward O. Thorp. The Math professor used his probability expertise to invent a card-counting method for computing blackjack probabilities.
Deservingly called Grandfather of Card Counting, he won $11,000 during his trial for this new blackjack gambling technique. Later, he had to disguise himself to enter casino clubs as casinos understood his winning tricks.
Thorp also wrote a book called Beat the Dealer on card counting, which teaches how to beat the house edge at the tables. Further, this genius player used his intelligence to win baccarat, roulette, and backgammon games. Today, Thorp's many theories are even legal to use while gambling.
Thorp's famous quote: "Gambling is a tax on ignorance."
Bill Benter
The king of the betting world is Bill Benter. The billionaire gambler created history in horse racing and blackjack verticals. He used his deep knowledge of Physics to win the wagers. No one could ever match Benter's gambling aptitude to date.
During his blackjack gambling career, he met Edward Thorp, who taught him the card counting technique. Eventually, Las Vegas casinos banned the gambling expert due to his unbeatable performance during blackjack.
However, he pocketed most of his earnings by punting on the horse races. Benter also collaborated with Alan Woods in 1984 to make a fortune together through horse race betting. The legendary gambler developed a horse racing algorithm to win the wagers. You can also master and use his statistical techniques on sports betting sites that don't require ID.
With a net worth of $1 billion, Benter is also a philanthropist who donates to good causes in Hong Kong and the US.
Benter's famous quote: "If you're betting on horse races, know that insider information is gold."
FAQs
1. Who is the most famous gambler of all time?
Many betting professionals created a record-breaking history with their knowledge base, skills, eye-to-detail, and innovative gaming techniques. Some of the industry's best gamblers are Edward Thorp, Bill Benter, Phil Ivey, Alan Woods, Chris Moneymaker, Billy Walters, and Tony Bloom.
2. Who is the richest in gambling?
As of now, Bill Benter is the richest gambler. As per reports, Benter earns around $1 million annually by engaging in various blackjack and horse race betting events. The professional bettor uses software to predict the winning outcome successfully.
Wrap Up
Earning a few bucks through gambling is a journey full of challenges. Hence, getting that status of pro gambler requires a highly intellectual mind and courage to beat the odds. Of course, luck also plays a critical role.
The success stories of these legendary players truly set the bar high for future generations. However, there's a learning curve for regular and novice bettors to improve their gaming through their historic victories.