10 Things You Need When Starting an E-Commerce Business
Businesses have migrated to the digital world to sell their products and services. Because of this, online retail is booming, and it's in large part because of the effects of COVID-19. If you are thinking of taking advantage of this, here are ten things you need to get started:
1. Lots of research
First of all, what business model do you want to work with? This usually depends on what you want to sell. Are you offering a product or a service? If it's a product, is it physical or digital? For physical products, drop shipping, where a third-party stocks the item, is a smart choice for startups who haven't built a client base yet as it will save on storage costs. When the business begins to upscale, then you can consider wholesaling or warehousing. As for digital products and services, you can offer a subscription model or a free version with an option to go premium.

Next, you need to know what niche your business falls under. Again, this depends on what you're offering. Let's say you're selling stuffed toys, then your business falls under the general niche for toys. Follow your competition. How are the successful e-commerce toy sellers promoting their product? Is there a good level of competition or too much? Don't bother selling in that niche if there isn't any competition. That means there's no market either.

Speaking of the market, you'll also need to know the kinds of clients you're targeting. Are you looking to sell to parents who want to get something nice for their kids or for teenagers who wish to give their partner a gift? Figuring this out early on makes it easier to promote your business.
2. A fitting name
With the research phase done, the creation and execution phase begins. There's a lot of competition in the online retail industry, so you need to stand out. The best way to do that from the get-go is by thinking of a unique business name — one that's hard to forget.
3. A formal business registration
Now comes the complicated part. Formally registering your business helps you figure out how you'll be taxed, personal liabilities, and administrative requirements that need to be set up. Plus, you must ensure that your business complies with state and federal laws. A common business structure many new businesses file as is the limited liability company (LLC). Aside from establishing your business as official, registering as an LLC lets you set up a corporate veil that protects your personal assets should anything go wrong in your business. It also lets you avoid double taxation and maintain a flexible management structure — without the hassle of setting up a corporation. Sound like something you'd want? Check with your Secretary of State's office to learn about the procedures and requirements.
4. A solid business plan
Now you've got a formal business set up. Next thing to do is finalize your business plan. Write down all the specifics, paying close attention to your finances. How much are you going to invest in your business? How much do you expect to earn? This is the time to work out all the logistics and budget allocations, so don't rush it.
5. An e-store that suits your vision
Time to set up shop (digitally)! When choosing a platform, consider the fees, unique features, customer service, accessibility, and overall performance. You have to pick a platform that suits your needs the most. Otherwise, you might have to deal with complications and limitations further down the line.
6. Marketable branding
Put that creative brain to use! Another thing you need to run a good e-commerce business is an eye for design. Your branding includes your business's writing voice, color palette, visual designs, and anything else that makes your brand, your brand. This is vital, as a visually pleasing website is more appealing to buyers. So work on your branding, and stick to it.
7. Engaging social media content
Where are your customers? Many will be on social media. So, the best way to funnel clients into your e-commerce platform is through a strong social media presence. It's also a direct way to engage with potential customers and create a community.
8. An effective marketing strategy
Just being on social media isn't enough. With a business strategy comes a marketing strategy. This can be as simple as incorporating your branding to your business's social media outlets, to other options like paid ads or sponsorships. You can even hire brand ambassadors to promote your business on their social media. Whatever gets the word out there effectively is a good marketing strategy!
9. A great network
Struggling to make sales? Then make sure you have a network that can help you out. Apart from the camaraderie, networking is an avenue to form business relations that are mutually beneficial. A shout-out from one of your friends might be just the pick-me-up your business needs to get the sales rolling. Just make sure you do the same back.
10. Patience
It's not easy to run a business, especially one that's wholly online. Don't expect it to become a big hit in one night (or in one month, for that matter). It takes hard work, skill, and dedication to build a successful e-commerce business. You'll get there. You just have to keep going.
Final thoughts
It seems like a lot of preliminary work, but if you really want your business idea to take flight, you have to take the plunge. We never said it'd be easy!

Besides, there's something appealing about being your own boss. You have control over your time, your ideas, and your business.

So, what are you waiting for? Get to it, and good luck!
5 Technical E-Commerce Alterations Shaping the Techy Future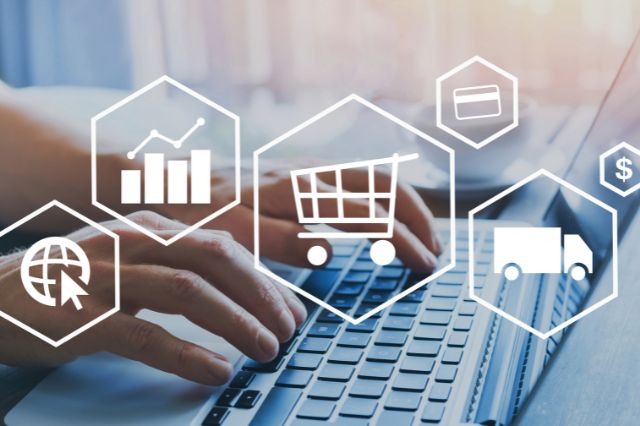 Now more than ever, technological advancements are paramount. In today's competitive economy, businesses that can't adapt quickly and easily will fail. Trends in e-commerce technologies significantly affect the online purchasing experience. It will remain influenced by technological advancements, shifting customer preferences, and the proliferation of mobile devices.
If you've been involved in the E-commerce market for a while or are planning to launch an online retail firm in the near future, you should be aware of the following five significant E-commerce technological developments that are shaping the direction of this industry.
1. Services Are Just a Click Away
Mobile is the presence of E-commerce. As more people use smartphones for online purchasing, smartphones are becoming increasingly important in E-commerce traffic.
Over half the world uses smartphones for internet shopping. E-commerce shoppers prefer desktops. It won't last long, since worldwide digital trends in E-commerce show that mobile phones will be the key technology used to research, find, and buy products/services.
Smartphone users will drive your business. Mobile optimization affects your online store's search engine ranking, and mobile-friendliness is becoming a major ranking element. 40% of smartphone consumers will switch brands after a terrible encounter.
2. Mobile Wallets
E-commerce businesses need more than mobile optimization. E-commerce tech is essential. Your business website must support mobile wallets. Your internet firm should also build a mobile app. In 2019, E-commerce needs a user-friendly mobile app. However, the launch of trade consultancy sites like the-biticodes.com has further eased online trading alongwith international trade, globally.
Mobile wallets are becoming increasingly popular as consumers learn about their convenience and the peace of mind they provide when making online purchases. Your mobile clients demand to use a wallet to finish their online shopping. Mobile wallets boost E-commerce revenues.
Shopping using a mobile phone app is more relaxing for shoppers. Your website is a pop-up shop and your smartphone app is a department store.
3. Voice Assistance
Virtual assistants like Google Voice Search, Amazon Alexa, Cortana, Viv, Google Home, and Siri are common in digital commerce. These virtual assistants teach clients to use voice search on search results. Voice search will soon fuel E-commerce innovation. Google reports that over 20% of mobile queries are voice-based. Over 40% of millennials search with voice assistants.
Voice search technology is essential to client loyalty. AI helps understand search queries and provide them with the best results.
4. Product Customization
E-commerce is increasingly dependent on product customization. E-commerce technology trends include product customization. Product personalization simplifies online transactions and meets today's buyers' needs.
Automated customization is crucial. YouTube recommends videos based on user behavior. Customer usage habits customize the service.
Global businesses use the same technique. Product customization is more than a fad in entertainment, apparel, furniture, and furnishings. Companies are modifying products for clients' convenience.
5. ROPO / ROBO
For some years, ROPO or ROBO (Research Digitally, Buy Offline) has emerged as a notable trend. It's not E-progression. commerce's It's the decade's top internet purchasing technology.
Customers can easily find the greatest deals with ROBO or ROPO. ROPO tracks offline conversions for E-commerce businesses.
Business owners must boost their digital marketing strategy around ROBO. You can satisfy ROBO shoppers with CRM, consumer purchase history, digital payments, and social integration.
Subscription-based services, product visualization, augmented and virtual reality, big data, and analysis, dropshipping, and others will change E-commerce.
The Bottom Line
There will be a lot of exciting new developments in the e-commerce space in the future. E-commerce enterprises will incorporate technology like portable and mobile platforms, and the importance of service subscriptions will rise in the online marketplace. Promotion and product display will make great strides forward.
It is imperative that you incorporate these technology advancements into your E-commerce website to make it future-proof. In the event that certain functionality is lacking, it is recommended to implement it as quickly as feasible. If you're eager to use any cutting-edge technology for E-commerce enterprises, you should get expert assistance in this area.
4 Tips for Writing E-Commerce Content
Writing e-commerce content requires a significant amount of effort and frequent updates. You must have a clear strategy in place and be aware of your customers' needs, demographics, and market trends. The four crucial techniques listed below will assist you in creating interesting content that converts and maintains readers. These pointers might assist you in creating content that will appeal to a big audience and increase your sales.
Customer personas
It is critical to consider client personas while developing e-commerce content. Knowing your audience better will allow you to engage with them on a more personal level. Personas can be created based on demographics, behavior, or other attributes. Understanding your target market's thinking can allow you to create more effective product descriptions and content.
Creating client personas might assist you in writing more successful content for your website and social media channels. If you need help with creating high-quality content for your platform, you can reach out to the writing services like essaywritinghelp.pro to find professional assistance. It will assist you in creating a stronger sales pitch and improving the user experience of your online store. You can even write blog entries tailored to your target audience. Content that speaks to your customers' psyche can help you achieve higher conversion rates.
Create a database of your clients first before creating customer personas. This database will give you statistics and trends on how your clients interact with your content. Surveys can also be used to collect demographic information from customers. Phone surveys, in-person interviews, and online surveys can all be used to collect this information.
Avoiding technical jargon
Avoiding technical jargon in your e-commerce content is a good way to ensure that it is clear, succinct, and easy to read. If your clients are perplexed by specific terms, they may leave your site without reading your content. It also reduces the likelihood of being mentioned in the media or on social media. Furthermore, technical language may lead readers to feel that your company is in a downturn.
Avoid utilizing acronyms and buzzwords to avoid using this form of language. While certain acronyms have particular meanings, they are frequently confusing to readers unfamiliar with the terms. Furthermore, you should use them cautiously and only when absolutely required.
It is also vital to keep in mind that jargon has a distinct meaning, and employing it too frequently will diminish its power. It is preferable to present a definition only once rather than several times. Also, avoid over-explaining jargon, as this will give the impression that you don't understand it yourself. Consider utilizing a glossary if you must use jargon.
Using sensory words
The usage of sensory words and details is an excellent technique to improve your e-commerce content's readability and emotional connection. By using these terms, you can more directly appeal to your prospective client's interests and sensibilities. You can, for example, utilize terms that relate to a client's visual preference or color or shape preference. Words that mimic sound or appeal to their aural preferences might also be used.
Using sensory words can aid users in remembering your website and blog material. These words can also stimulate their senses and elicit unexpected responses from your readers. By including these words in your content, you can boost conversions by making your readers feel more emotionally invested in what they read.
Using social proof
Including testimonials in e-commerce content is one approach to increase conversion. This is an excellent technique to enhance your visitors' trust in your brand, which is the ultimate goal of every marketer. Obtaining testimonials, on the other hand, takes a great amount of time and effort.
For example, your team should invest in developing case studies and contacting current customers for favorable testimonials. If your organization isn't leveraging testimonials and other forms of social proof, it's time to start.
It's no secret that showing social proof on your e-commerce website is critical for business growth. It can also assist you in controlling your conversion funnel. Social proof isn't simply a trendy marketing tactic; it's a scientifically proven psychological concept that works. People are impacted by the views and choices of others, and they frequently rely on these to make purchasing decisions.
How Can Video Marketing Help Your Website Conversion Rate
Video content is one of the most famous types of content today. However, there are still not many businesses that can make good use of this content. Product photos are essential, but pictures alone will not be enough to boost your website conversion rate.
Video content, especially video marketing, can tremendously increase conversions and help your potential customers understand your product better. According to research, 64% of website visitors are more likely to purchase after watching a video.
If you want to take your business to a higher level and compete with your competitors, try to harness the potential of video marketing in your marketing strategy. It will be very profitable for your business now and in the future.
Here are five things you need to know about video marketing and how it can help to increase your website conversion rate.
1. Videos Help Your Customers to Understand Better
Video content used for brand marketing will better understand your business product or service. Not only about its features, benefits, or advantages, but also about how to use it properly.
So, make informative marketing videos to attract customers' attention faster. In addition, more informative video content will also make search engine search results prioritize your website pages. That way, you can increase the website conversion rate significantly.
You can create informative video content like tips for using the product or information becoming a trend. Several types of video marketing are popular these days, such as explainer videos, product videos, how-to videos, etc.
2. Video Keeps People on Your Site Longer
Interestingly, Google's algorithm favors video content websites because it can get more visitors to glance at your website pages. It means that a larger audience will engage with your link.
According to research, internet users can spend 88% more time on websites that contain videos. Thus, you must present excellent and exciting content supported by video marketing on your website page, so the audience feels comfortable lingering on your website page.
You can start with creating video content for marketing purposes and put it on your website landing page. That way, your visitors will stay longer, and your site will be more likely to get into a higher rank.
3. Google Cares About Videos
Search engines, such as Google, prefer video content. That's why video content can be one of the most effective ways to help your website conversion rate. You can create video marketing and link to your business website to get higher search engine rankings.
In addition, videos on your website pages also make your website visitors stay longer. It can make Google rate your website as a credible and good website.
Thus, If you want to get a higher rank in search engines and drive website conversion rates, create video content for marketing purposes.
4. Videos Influence Purchasing Decisions
Video marketing can also influence purchasing decisions. It is a huge opportunity for your business to increase conversion sales while also getting more profits.
From e-commerce to even blockchain games companies, video marketing has proven to be an effective way to encourage audiences to purchase your products or services. According to research, 90% of customers say product videos help them make purchasing decisions.
Not only will it help your business get flooded with orders, but video marketing will also give audiences a better understanding of how your business's products or services are being used.
5. Gain Social Shares
Marketing videos can encourage the audience who watches them to share content with other audiences. As you know, the current digital era provides a very wide space for viral content.
So, when your business uses video marketing, you will have great potential to get audiences' attention because most mobile video consumers will be more likely to share the videos they watch with their relatives.
It is a massive advantage for any business to use video marketing as one of their marketing strategies. Not only will your videos be easy to share, but people will widely know your products and brands. The more people who know your business, the greater your chances of earning big profits.
Takeaway
Video marketing is a creative strategy needed to increase sales and conversion rates in today's digital business world. Although it will take a lot of energy and time, it will be worth it to bring your business success in the future.
Suppose your business has not or is struggling with using video marketing in your digital marketing strategy. In that case, the five things I mentioned above will give you an idea of how important video marketing is for your business.