Suggestions for First-Time Visitors to the Netherlands
The Netherlands, the land of canals, tulip fields, and many other historic marvels is now not far from your travel plans. The country, though small, is known for its state-of-the-art water management, beautiful array of bulb fields, and windmills and has given birth to famous artists and activists. If you are a fan of The Fault In Our Stars, your trip to Amsterdam just to visit the famous bench is worth it. KLM Flight Booking to the Netherlands is now so easy and consider your trip sorted if you are opting for it.
Planning a trip to The Netherlands? Your choice of holiday couldn't get any better but, do consider the following suggestions as you embark on your trip, especially if this is your first time.
1. Things to Know about the Locals
If the British are known for their politeness, it's the Dutch and their directness. The natives are used to the hovering tourists in the streets and they are very welcoming. But they are also vocal and have a no-mince business with words. They are in general very direct in what they wish to convey, which may rub off as being rude when they are not. The population in general is very organized with a keen eye for detail.
2. Regarding the languages in the Netherlands
Before you pack your bags, you ought to know about the language orientation in the Netherlands. You needn't worry if you are good at English. Nation 90% of the population do speak English. It is the major business language and is also very well practiced in the capital, Amsterdam. Nevertheless, knowledge of some basic phrases like bedankt (thank you) and tot ziens (goodbye) will make you the local's favorite.
3. Amsterdam's Coffee Shops
The coffeeshops in Amsterdam aren't the usual kind that you see in Europe. These are the certified places where you can do soft drugs like hash and weed. Special kinds of brownies or space cakes can be availed. But, make sure you follow the rules at all costs while acquiring these in the coffee shops. You have to be above the age of 18, card an id, or passport with you, have no alcohol and cigarette consumption in the cafe and remember the minimum number of serves in one cafe.
4. Booking in Advance is Essential
Amsterdam is not only known for its coffee shops and red lights. The Anne Frank House and Vincent Van Gogh Museum are world-renowned and welcome tourists every year. Make sure you book your tickets in advance when such crowded and famous destinations are in your itinerary. The Frank House tour only allows a limited number of visitors for a day. Make sure to make reservations online prior to your visit. The Amsterdam card can get you through some of the museums.
5. Explore Cities Near Amsterdam
While touting in The Netherlands, never stick to the zipcode of Amsterdam alone. There are alot of other destinations that are equally amusing and never lacking the Dutch charm. Rotterdam, The Hague, Utrecht, and Delft are a few to name. These cities are known for their towering stone buildings, castles, canals, windmills, and tulip fields which can be cherished very well if you are a laid-back traveller.
6. Never Take Pictures in the Red Light District of Amsterdam
The Red Light District is like any other part of the city center during the day but at sunset, the street lights cast their red hue. The streets come to life and the ladies by the window beckon on the travellers as they pass by. The public is advised not to take photographs of the street or the windows for their own good and as respect for those behind the displays. Make sure you are mindful of the same as you tread along this district.
7. Do not Miss Out on Trying Their Street Food
Dutch cuisine is a palatable joy that can be best enjoyed in the local market like De Pure Markt in Frankendael Park. The variety of loaves of bread and other condiments are all authentic. Herring, Dutch cheese, deep fried cod fish called kibbeling, bitterbal and  kroket, are some of the native dishes you ought to try.
8. Tulip Season Does not Last Very Long
Something as dreamy and beautiful as the tulips will be grown in the fields only for 6-8 weeks. Research and pray that your visiting time coincides with the tulip blooming season. If you happen to miss the flowers in the field, go to the Royal FloraHolland, the largest flower auction facility to take a look there.
9. About the Netherlands' Bike Lanes
The thing about bike lanes in the Netherlands is that you should always remember to never cross one! The country is known for its rivulets of bike and cycling routes running parallel in the streets. Home to innumerable bikes, the capital also has the threat of theft of bikes. As tourists, it's easy to rent bikes but make sure to lock them twice.
The Allure of Hotels Near Tel Aviv: Unveiling a Different Side of Israeli Hospitality
Stepping just outside the bustling heart of Tel Aviv, you enter a realm that is every bit as intriguing and captivating as the city itself. Hotels near Tel Aviv offer a blend of tranquility, charm, and accessibility that creates a unique travel experience.
Overview of the Area
Just beyond the boundaries of Tel Aviv, the landscape subtly shifts, revealing a different side of Israel that is equally enchanting. To the north, there's Herzliya, a city known for its beautiful beaches and high-tech industry. To the south, Bat Yam and Holon offer a blend of seaside charm and cultural richness. Further afield, you'll find pastoral landscapes, ancient cities, and even mountainous regions, each boasting its unique character and allure.
Accessibility to Tel Aviv
Despite their quieter demeanor, these areas offer excellent accessibility to Tel Aviv, ensuring that you're never too far from the energetic pulse of the city. The robust Israeli public transportation system, comprising buses, trains, and taxis, makes traveling to and from Tel Aviv a breeze. Moreover, the country's compact size ensures that even the furthest of these locations is just a short journey away from Tel Aviv.
Unique Features of Nearby Hotels
Hotels in these regions bring together the best of both worlds. They offer tranquil environments where you can unwind and recharge, yet, they are close enough to Tel Aviv for you to easily engage with the city's vibrant lifestyle.
Many of these hotels are nestled in serene locations, offering scenic views that range from idyllic beaches to rolling countryside. They often provide a more localized experience, allowing guests to immerse themselves in the local culture.
The service at these hotels is typically personalized, giving a sense of intimate hospitality that is hard to find in larger city hotels.
Benefits of Staying Outside the City
Staying in a hotel outside Tel Aviv comes with a host of benefits:
You can enjoy a quieter, more relaxed pace of life, providing a perfect counterbalance to Tel Aviv's bustling energy. These hotels often provide more value for your money, offering spacious rooms and unique amenities. Being closer to nature, these hotels are ideal for those who enjoy outdoor activities such as hiking, biking, or beach activities.
Nearby Attractions
Even beyond the city limits of Tel Aviv, there is no shortage of attractions to explore:
Historical sites such as the ancient port city of Jaffa, the Roman ruins in Caesarea, or the Baha'i Gardens in Haifa.
Numerous nature reserves and national parks like Carmel Mountain or Yarkon Park offer outdoor activities.
Cultural attractions like the Design Museum in Holon or local wineries in the countryside.
Tips for Choosing a Hotel
When choosing a hotel near Tel Aviv, consider the following:
Determine what type of experience you want from your visit. If you prefer peace and quiet, look for hotels in more rural or residential areas.
Consider the travel time to Tel Aviv and how often you plan to visit the city.
Think about the amenities that are important to you. This could be anything from a swimming pool and spa facilities to hiking trails or beach access.
Look at the nearby attractions and consider if they align with your interests.
In essence, hotels near Tel Aviv offer a distinctive experience that combines tranquility, charm, and excellent accessibility to the city. They serve as peaceful havens away from the city's hustle and bustle, yet keep you close enough to dive into the urban excitement whenever you wish. Whether you're a nature enthusiast, a history buff, or a beach lover, you'll find a hotel that perfectly suits your preferences, ensuring a memorable Israeli adventure.
Experiencing the Local Flavor
Hotels near Tel Aviv often provide opportunities to experience local life in a way that city hotels can't. In these places, you can interact more closely with the local community, gaining insights into their way of life, customs, and traditions. This is evident in the local markets that offer a range of fresh produce, handmade crafts, and local delicacies. You can often find community-driven events, such as food and wine festivals, music concerts, or local fairs, which provide a platform for understanding the cultural fabric of these regions.
Culinary Experiences
Another distinct advantage of staying outside Tel Aviv is the opportunity to explore the diverse culinary landscape of Israel. Many hotels in these regions feature restaurants that source their ingredients locally, leading to fresh and unique dining experiences. From traditional Israeli breakfasts to Mediterranean feasts, these culinary experiences often become a highlight of the stay.
Relaxation and Wellness
The tranquil setting of many hotels near Tel Aviv lends itself well to relaxation and wellness. Many offer spa facilities, yoga and meditation sessions, or wellness retreats that can help you unwind and recharge. The calming sound of waves, the gentle rustle of leaves, or the stunning view of a sunrise can be much more rejuvenating than any cityscape.
Final Thoughts
Choosing to stay in a hotel near Tel Aviv can significantly enhance the depth and breadth of your travel experience. You'll enjoy the best of both worlds – the energy and excitement of Tel Aviv and the serenity and charm of Israel's lesser-known regions. You'll find a deeper connection to the land and its people, discovering a side of Israel that remains hidden to most city dwellers. As you plan your next visit to Israel, consider the unique advantages these hotels offer, and you might find your perfect home away from home.
Discovering the Best of Malaysia: A Bus Journey from Kuala Lumpur to Penang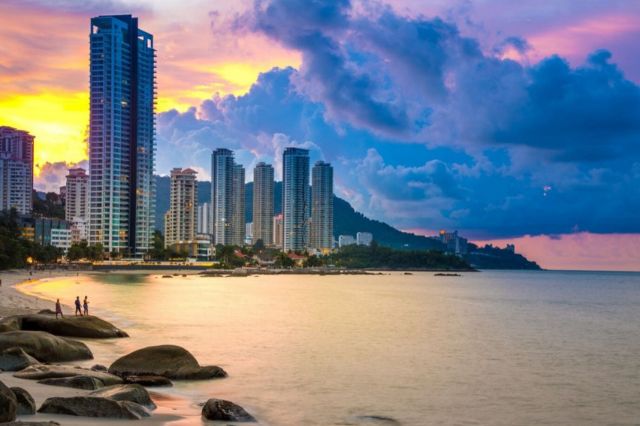 Malaysia has a rich cultural heritage, scenic landscapes, and bustling cities. Bus travel from Kuala Lumpur to Penang is among the best ways to explore this nation. This route offers a unique opportunity to witness the diversity of Malaysia and discover its hidden gems.
From the modern cityscape of Kuala Lumpur to the colonial heritage of Penang, this bus journey offers a glimpse of Malaysia's rich history and diverse landscape.  Moreover, bus ticket online booking makes it easy and hassle-free to travel within and near Malaysia. A bus journey from Kuala Lumpur to Penang is a must-try experience that will enable both residents and tourists to uncover the enchanting culture and natural beauty of Malaysia.
Here's what you can expect from this unforgettable journey.
The Comfort and Convenience of Online Bus Ticket Booking
The first step to a stress-free and comfortable bus journey is to book your tickets online. Online bus ticket booking platforms make it easy for you to book your tickets. You can compare prices, choose your preferred seat, and pay securely with just a few clicks. This eliminates the need to visit a bus station and stand in long queues, saving time and effort.
The Scenic Route from Kuala Lumpur to Penang
Once you've booked your tickets, it's time to embark on your journey. The bus journey from Kuala Lumpur to Penang mostly takes about 3-4 hours, depending on the traffic. However, the journey is worth every minute as you'll witness some of the most stunning landscapes in Malaysia.
The route takes you through green hills, winding roads, and charming small towns. You'll pass by vast oil palm plantations and small villages where locals live daily. Keep your camera handy as you'll encounter breathtaking countryside views and traditional Malay houses.
Cultural and Historical Attractions in Penang
Upon completing your comfortable bus journey, you will find yourself in Penang, an enchanting island on Malaysia's west coast. Penang is a vibrant fusion of cultures, and its architecture, cuisine, and traditions vividly showcase its rich history.
The island is home to several cultural and historical attractions that glimpse its past. That includes Georgetown, a UNESCO World Heritage Site and the most prominent of them all. It is well-known for its distinct blend of Chinese, Indian, and European influences. You can explore the colourful streets, visit the clan houses, and try local delicacies.
Another must-visit attraction is the Kek Lok Si Temple, the largest Buddhist temple in Malaysia. The temple complex is perched on a hill and offers stunning views of Penang Island. It's a perfect place to unwind and soak in the serene surroundings.
The Beaches of Penang
Penang is not just about its culture and history; it's also known for its pristine beaches. So after all the sightseeing, you can head to the beach to relax and unwind.
The most popular beaches in Penang are Batu Ferringhi and Teluk Bahang. Batu Ferringhi is a long stretch of white sandy beach lined with palm trees and hotels. You can indulge in water sports like parasailing, jet skiing, and banana boat rides. Teluk Bahang, on the other hand, is a quieter beach perfect for a peaceful stroll.
The Food of Penang
Every trip to Penang is complete with indulging in its food. Penang is known for its street food blend of Malay, Chinese, and Indian influences.

Try local delicacies like Char Koay Teow, Assam Laksa, and Hokkien Mee. These dishes are available at hawker stalls and restaurants that line the streets of Georgetown and other parts of Penang. The food in Penang is affordable, delicious, and caters to all tastes.

As we reached the outskirts of Penang, the bus driver dropped us off at the terminal, where the warm breeze of the sea greeted us. It was a refreshing change from the busy life of Kuala Lumpur.

Wrapping it up
In conclusion, taking a bus journey from Kuala Lumpur to Penang is an economical way to travel and an excellent means to immerse oneself in Malaysia's diverse culture and awe-inspiring natural beauty. With the convenience of online bus ticket booking, planning your journey and discovering the best of Malaysia is more accessible now.
The Insider's Guide to Basel: Hidden Gems and Local Favorites for Digital Nomads
Switzerland's Basel is a lovely city where you can have the finest adventures. Basel is a beautiful combination of the contemporary and the ancient, vibrant city with a rich history and passion. In Basel, there are simply a ton of enjoyable activities. 
This blog post will discuss the undiscovered jewels that draw the attention of digital nomads. Before getting into exploring the city, securing your accommodation is crucial. These monthly apartments in Basel offer you the best housing solutions in the city!
Hidden Gems for Digital Nomads to Visit
Discover the Old Town
You'll have the most incredible time exploring Basel on foot, and what's a more effective way to do that than by beginning in Old Town? While exploring the old town's winding pathways and taking in several of the old homes, you'll feel a sense of history. Cathedral Hill, historic institutions, Town Hall, and many more places are also easily accessible. Start your stroll there early in the morning. In this way, you can have sufficient time to explore and appreciate it.
At the Basel Paper Mill Museum, Visit a Medieval Paper Factory
This antique paper mill presents a fascinating look into the heritage of paper manufacturing, demonstrating many of the conventional methods utilized nowadays in conjunction with various outdated objects like quills, old postage, publishing machines, and even typing machines. Someone who loves the smell of new parchment and ink will want to come to this ancient paperwork mill. Tourists are encouraged to make their parchment using specialized hand-operated machinery before cooling it in a hot dryer at the journey's conclusion. The centre offers a variety of activity spots, demos, and seminars throughout visits.
Visit the Vitra Design Museum to Learn More about Architecture
A visa is required to enter this exhibit. Officially in Basel, this museum is genuinely in Germany. At 2.6 kilometres from the Swiss boundary, it is nearer to France than Switzerland. However, this shouldn't be too problematic if you have a Schengen permit or a European card. And anyone with a passion for architecture, particularly internal architecture, should pay the exhibition a call. You can tell that things are going well from the outset because Frank Gehry built the structure. The displays therein frequently address the subject of prospective furnishing and lighting styles while asking queries about social and ethical responsibility.
Visit a Renowned European Scholar's Grave
The European Union's famous historic towns are connected by the fact that most of them are home to a person whose legacy is nevertheless revered today. Their ultimate burial sites are likely to draw the curious and those who wish to offer their regards, whether they were writers, performers, political philosophers, or, like Erasmus, academics and preachers. The Medieval era, a unique eternity when man's knowledge and progress experienced a significant paradigm change, is when Erasmus is regarded as one of the greatest thinkers of all time. In the turbulent waters of medieval ethnic politics, Erasmus stood out as a voice of restraint.
His middle-ground strategy, or use of the mediums, still appears to be profoundly pertinent today. It calls for a dialogue acknowledging everyone's views and seeking a foundation of shared territory for future generations. His grave is located in Basel Minster, a twin-towered monument in Basel that metaphorically underwent a religious conversion from Catholic to Calvinist Protestant. Interestingly (and appropriately), Erasmus is the designation of the pupil exchange scheme run by the European Union.
At Markthalle, Local Sights
Discovering the local customs and cuisine is among the finest approaches to enjoying your day in Basel. Markethalle must be included in your Basel schedule for that reason. In addition, there is a food centre with a hemispheric form where you can find various regional dishes.
Don't miss the opportunity to kick your day off by indulging in some local fare for brunch. There are national and international dishes in addition to local food. There are numerous flavors to choose from to satisfy your palate.
Conclusion
Basel is among the most desired destinations for digital nomads, not just because of its digital development but also due to its several tourist attractions. Its calm and peaceful environment makes it even more comfortable for digital nomads to work and roam around. 
So this city of historical buildings is your next destination!