The Impact of Guns on Women's Lives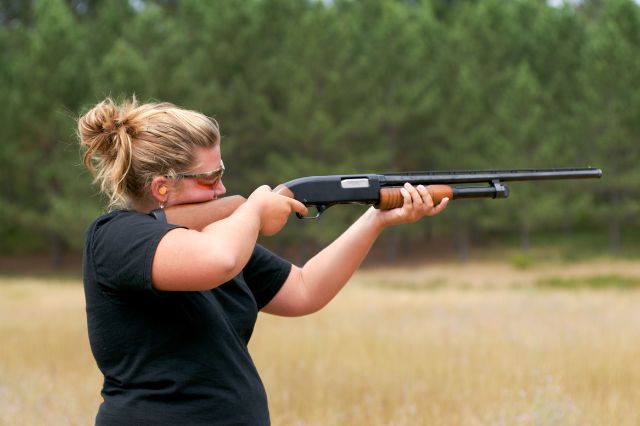 Compared to men, a lesser percentage of women-owned guns or went to a firing range.
It was sort of a taboo, to see women wielding fire weapons.
Even in movies – women would always be away from guns, and if they would have them – they would always carry a very small caliber in their purses.
However, in recent years, a lot more women started doing just that – standing shoulder to shoulder with men at firing ranges and hitting targets with the same precision.
As surveyed by employees and customers in one very popular online gun store, more and more women are buying guns.
So, what has changed in recent years that opened up the world of guns to women and why do they choose just that specific type of sport? And what are the differences between men and women in firing ranges?
It's something new and exciting
Guns became more popular for women with the new age of female heroes in movies and video games, accompanied by more and more female heroes in real life – in sports, science, politics, army…
Firing ranges became more approachable, female shooting societies started forming, with gun classes designed especially for women.
And suddenly – there they were – ladies choosing their fire pieces, learning how to shoot, competing with one another, passing for licenses, and becoming proud gun owners.
Building confidence
Many women today were raised similarly to how their grandmothers were raised – to be polite, gentle, elegant, feminine… So not many of them came in contact with fire guns before. However, the times have changed, it is expected of women to be superheroes and equal to men in almost every field today. Properly handling a powerful weapon can boost your confidence. And confidence shows – in conference rooms, in daily conversations, in handling everyday tasks. They speak with more confidence, more easily express their opinions and ideas, debate with more spark, and stand their ground with more power.
Self-defense
It's not easy for a woman to face danger. Women are often physically smaller and weaker than the threat they could face. They are frequently dressed in clothes that enable running or much movement for self-defense – skirts, heels, slippers, dresses… The entire situation is very shocking and can freeze them up in a few seconds, which can also be very dangerous for them. Carrying a licensed fire weapon and knowing how to use it can make all the difference in the world.
Different kinds of classes
Women have different bodies than men. So they have to learn how to use guns a little differently.
Women have to hold guns with a stronger hold, due to the stronger kick it can have on our bodies. Many women are afraid of using weapons with confidence, so a friendly female environment can help a lot in those situations. Also, big powerful pieces can be too heavy for a woman of a smaller build. Weapons that are too big or too heavy are harder to handle and can knock you off your feet, so should be handled with care, or not at all.
Focus, discipline, and patience
Same as men, women train their focus and discipline in the firing range. It's not easy hitting a target that is far away. It takes discipline, to get to know the gun you are using, how it behaves, its power, how it kicks, and how powerful the shot is… It takes a lot of discipline – repeatedly firing, estimating results based on your actions, repeating until you get the perfect score. Then – you level up a notch or change the gun, and then do everything all over again. You build patience: you focus on your work and improve your results – all leading to a great sense of self-accomplishment in the end.
In conclusion
Firing ranges all over the world are seeing more and more female customers every day.
They are considered equal gun carriers as men, enjoying the same privilege in the firing range, socializing, improving themselves, and honing their skills. And like everyone else, they are always welcome.
Getting Caught Driving Without Insurance in Canada: What Should You Do?
According to the Compulsory Automobile Insurance Act in Ontario, it is prohibited to operate any motor vehicle that has not been adequately insured. All Canadian provinces and territories legally require vehicle owners to have at least third-party liability coverage for their cars. This is the minimum insurance needed before you can drive your car in Canada.
Driving without insurance coverage can have serious consequences, such as imprisonment, hefty fines, confiscated vehicles, and a suspended driving license since driving without insurance is illegal in Canada. Purchasing car insurance is a smart move to make when you own a car. In the event of an accident, it will help to prevent you from suffering any financial loss.
Penalties
Driving without insurance is a serious offense in Canada and is treated as a major provincial offense which will lead to penalties for not having car insurance. If caught, the first time you would be fined anywhere from $5,000 to $25,000; whereas for subsequent convictions the fines run from $10,000-$50,000. The licensing authorities have the power to suspend your license for a period of up to one year and confiscate your car for up to three months.
Individuals who are found guilty of an offense under the Provincial Offences Act (POA) will be subject to a 25% victim fine surcharge, on top of the initial fine imposed by the court. For example, if you are subjected to a $5,000 fine then you will have to pay an additional $1,250 as part of the victim's fine surcharge.
If you had insurance but didn't have evidence of when you were stopped
Even though your car may have been insured, you could still get stopped by the police and get in trouble if you didn't carry your insurance documents or had no decal on your license plate. If you wish to plead not guilty due to the charge of driving without insurance, then you need to bring the insurance documents and decal to the Provincial Court registry in your area.
If you have proof that your vehicle was adequately insured, the driving without insurance charge will be dropped. However, if you are charged with not producing the insurance document or failing to display the decal, those charges cannot be withdrawn. Having insurance on the vehicle does not exempt you from the charges. You'll need to decide whether to accept the fines or challenge them in court.
Deciding not to fight the charge
If you don't wish to challenge the charge, you can plead guilty; admitting that the offense was committed. If you received a violation ticket, instead of going to court, you can plead guilty and pay the fine.
Moreover, if you pay within 30 days, then a reduction of $25 is granted. Payment of the fine or satisfaction of other requirements is mandatory before the renewal of your car insurance and driver's license.
If you decide to fight the charge
If you're looking to dispute a criminal charge, you should hire an attorney about defending yourself. But if a violation ticket is what you've been issued with, then you have 30 days from the date when it was issued to challenge it.
If you don't agree with your charge, it can be contested by visiting the court or sending in your claim by mail. When you dispute a traffic ticket, a hearing is scheduled where you and a police officer will provide testimony to explain what happened. The final verdict of being either guilty or not guilty will be determined by the judicial justice.
If found guilty
Depending on the evidence presented in court, if you are convicted of driving without insurance, the court may issue a heavier penalty than usual. This can range from $300 to $2,000 as well as a suspension on your driver's license.
Jail time of up to six months is possible if the court finds you guilty of the offense, but this is very unlikely in cases where you have a clean record. Make sure to tell the court about your clean driving history, it can help them give a lesser penalty.
Final thoughts
It is absolutely critical that you get your vehicle insured in Canada since not having adequate car insurance is illegal and can lead to severe consequences if you are found to be violating the law. Failing to insure your car can result in hefty fines, vehicle impoundment, and even jail time in certain situations – so ensure that you take the necessary steps toward protecting yourself by getting your vehicle properly insured.
How to Sell a House Fast – Proven Tips and Hacks
Would you like to sell your house fast? Even though the process is emotional and challenging to some people, disposing of the home fast is rewarding in many ways. Many home sellers do not enjoy the long process of listing the house, doing home shows, or even hiring costly agents. Therefore, they prefer selling to cash buyers because they buy homes instantly on an "as-is" basis.
However, not everyone is ready to sell their homes to these buyers because there is a catch in the pricing of the homes. As such, the best way to sell a house fast is to get ready in all ways and then see the option that will work for you in the best way.
That said, we will look at proven tips and hacks to sell your house fast.
Choose a Selling Strategy
As mentioned, it is good to have a selling strategy that you think will work for you. Some people choose to use an agent who will ask for a commission and recommend house renovations and home staging, or you can avoid all this and sell the house fast to a home cash-buying company.
Before choosing a selling strategy, you should do a cost-benefit analysis because these two main options have pros and cons. If it is a difficult decision for you, you can seek the help of a consultant to help you out.
Choose the Right Cash Buyer
Do you want to sell your house to a cash buyer? If so, then you can rest assured that the process will be fast if you choose the right buyers. There are two types of buyers and both help home sellers sell their houses fast.
House flippers – To sell house fast to a flipper, you need to look for one in your area. They buy homes almost instantly when you cooperate with their process. They will typically send an assessor to look at your home and give it a sale value. If you accept the cash offer, then you will close the deal immediately and get paid.
iBuyers – These cash home buyers buy homes online. It is pretty fast and convenient for anyone who qualifies and cooperates with the system. Instead of sending an assessor to look at your home, they ask you to provide details of the property you intend to sell and then give you a quote. Anyone willing to sell a house fast should accept the quote to complete the deal.
Choose an Experienced Agent
If selling to a cash buyer is not your option, you can decide to list your property on real estate platforms and sell through an agent. Choosing an experienced professional will help you sell your house faster than you can imagine.
So, who is a real estate agent and why do they need to be experienced? This is a professional who sells a house on behalf of the seller. So, they will be in charge of preparing the house for sale and looking for the right buyer by advertising the house in the right channels.
According to real estate experts, an experienced agent will make the home selling process a lot faster and less of a hassle than struggling to sell the house by yourself. The agent will ask for a commission for the work done at the end of the deal.
Renovate Your House
When you choose to list your house, you should renovate the home and repair all broken areas to make it look good. Whether you will advertise it on social media platforms or list it on real estate channels, it must look good and modern to sell fast.
Anyone willing to sell a house fast should also consider home staging their house to give it an attractive look. This may include remodeling and the addition of a contemporary features to an old home. With this, you can rest assured that it will sell fast.
Price it Appropriately
Lastly, let's mention the house pricing. It is one of the most crucial decisions you can make to sell a house fast, particularly when selling it through an agent or when advertising it for sale. The price should be fair and in line with the current market price of a similar home. Many people prefer to use a professional to help with pricing, which is highly recommended.
Final Thoughts
Do you wish to sell your house fast? These proven tips and hacks will help you shorten the time to strike a deal and sell your property. If you choose the cash buyer option, the process will even be shorter and more convenient. However, listing it can be pretty fast when you do the right thing.
7 Tips for a Better CBD High
More people are incorporating CBD into their daily lives than ever before. As infused products become more common, making the most out of your CBD is essential. Whether you prefer tinctures to promote deep sleep or topical ointments to ease sore muscles, you can take a few effective steps to enjoy CBD to its fullest potential.
Are you looking to maximize your CBD experience? Here are seven tips for a better high.
Switch up your consumption method
One of the most manageable changes to make that considerably impacts your relationship with CBD is trying out an alternative consumption method. Popular options include gummies, tinctures, concentrated oils, and capsules. Above all, dabbing is the most potent form of CBD consumption. With the right tools, like mini dab rigs and a trusty torch, you'll take your experience to the next level.
Eat foods high in fat
Foods that are high in fatty acids actually increase the bioavailability of CBD. The acids act as a life raft for cannabidiol and deliver it quickly through the digestive system. So before you consume an infused product, try adding dishes like fish, avocado, or nuts to your plate. Other helpful foods include cheese, eggs, and dark chocolate.
Opt for full-spectrum products
If you usually stick to CBD isolate products, which only contain CBD, you might benefit from trying out full-spectrum variations. The alternative product includes trace amounts of natural compounds found in cannabis, like terpenes and flavonoids. Full-spectrum CBD products also have a small amount of THC, which produces a more potent experience.
Mix in other herbs
In addition to fatty foods, other natural herbs can also enhance CBD's bioavailability. When added to your consumption routine, turmeric, piperine, and CBD work together to increase the absorption rate. Another useful herb is Apigenin, found in chamomile flowers, oregano, parsley, and celery.
Load up the terpenes
Like hemp, different CBD strains contain different amounts of terpenes. The aromatic elements can produce calming effects on their own and, when consumed with CBD, produce the entourage effect. Just as certain natural herb blends amplify each other's strength, CBD and terpenes work together to magnify your experience.
Take sublingually
Absorbing CBD through the digestive tract is all fine and dandy, but for more immediate effects, try sublingual consumption. Placing a few drops of tincture under the tongue, you'll notice instant relief. If you aren't a fan of CBD's pure and all-natural flavor, you can always opt for products supplemented with peppermint or lemon.
Increase dosage
Of course, an obvious way to enhance your CBD experience is to increase the dosage. A straightforward step up could make a world of difference to your routine, especially when combined with the above methods. Before making any drastic change, start small and work your way up. You can always add more once you've found your footing.
Final thoughts
CBD is one of nature's greatest tools for relaxation and pain management. If you notice your herbal experience lacking, you can easily reinvigorate your high with a few adjustments. Try adding delicious and healthy food to your diet, or experiment with different consumption methods. Mix CBD with other natural herbs, and don't shy from extra aromatic terpenes. With so many options at your disposal, you'll reach new levels of CBD appreciation in no time.