Tips For Finding Your First Job After Law School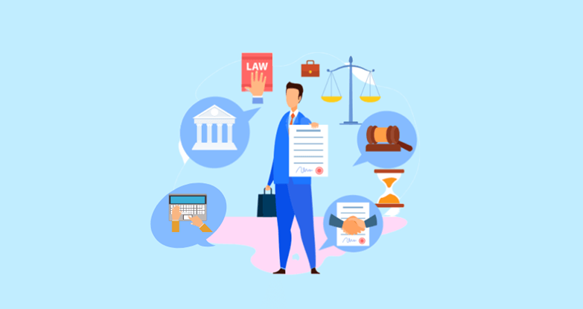 Many young and aspiring lawyers have different reasons for choosing a career in law. Whether it's the desire to fight the injustice in society or the zeal to facilitate the biggest corporate deals in the industry, every new lawyer needs a platform to achieve success in the industry. However, becoming a lawyer in most parts of the world can only be achieved by firstly attending and completing law school and getting a higher degree.
Law School establishments all around the world are generally known to be quite challenging for students. A great deal of work placed on students, the frequency of scheduled tests, a variety of tasks, and the general difficulty of questions, are key factors that make law school students' experiences highly challenging. It, therefore, makes sense for law school graduates to expect that all the hard work and time spent on finishing law school to be paid off upon graduation.
Staring Out as a Lawyer
Getting your dream job or landing your preferred law firm is a task almost as arduous as completing the law school itself. Law school graduates from across the country trying to get started their professional careers have to compete for very limited slots, which may ruin the chances of many promising young lawyers from getting the start they want.
However, getting your first job as a lawyer can be easier than it has been rumored to be. If the few tips provided in this article are followed closely and applied intelligently, you have a good chance of being selected by law firms suitable for your long-term interests in legal practice.
Keeping up with Legal Trends
It's important for new lawyers to be up-to-date with recent trends in the legal industry. Considering the high level of competition during every recruitment season, every candidate needs a factor that stands them out in the industry. The inability of a young lawyer to identify major trends and changes in the legal industry greatly reduces his or her chances to become a selected candidate. Recruiters and potential employers always want lawyers who can successfully perform different tasks without constant supervision. Having proper knowledge of current legal trends is one of the ways to satisfy such requirements. Legal trends vary, starting from the updated procedures of the practice and ending with many tools used in performing legal tasks, including contract review software and other tech tools beneficial for lawyers. 
Tailored CVS and Cover Letters
One common mistake made by most applicants is the use of generic CVs (Curriculum Vitae) when applying for their preferred law firms. Many new lawyers when applying for jobs use the same version of their CVs and cover letters for every firm they apply to. For sure, it seems to be a time-saving method. However, in most cases, it ends up being counterproductive. Different law firms have their peculiarities, and every company requires a diverse set of skills and the nature of knowledge it looks for in their preferred candidates.
When preparing your CV and cover letter for different law firms, it is important to make each CV and cover letter tailor-made for the law firm to which it will be sent. You are to emphasize the abilities and achievements that are more specific to the system of practice employed by the firm. For example, when applying to a law firm that focuses on litigation and dispute resolution, it is important to emphasize the qualities you possess that fit perfectly for a dispute resolution firm. Similarly, the cover letter should contain information about your abilities and achievements that would interest the particular firm in hiring you. In your cover letter, you should give reasons why you have selected that particular firm and why the firm should particularly consider you for the position. Avoid sending generic applications in order to truly stand out and have a good chance at landing a suitable job as a new lawyer.
Preparing for Interviews
No matter your level of knowledge and understanding of the law, it's important to always prepare before going for an interview. While you cannot know the exact questions to be asked at the interview, preparing for the interview will give you a general scope of how to answer all potential questions. Preparing for interviews also boosts your confidence and prepares you beforehand to be spontaneous, if it's necessary during your interview.
You can prepare for your law firm interview with your colleagues, seniors, and even your law professors who already have some experience with law firms and know which interview questions are likely to be asked.
Conclusion
There is barely a list that will effectively cover all the tips needed for new lawyers to land their first jobs. Besides the points made above, it's also necessary to carefully research the law firm you are applying to, edit your CV and cover letter vehemently to avoid typographical errors, and present yourself properly at the interview. Applying all these tips collectively pretty much sums up how to get your first job as a lawyer.
Injured Due to Someone Else's Mistake? Here is How a Personal Injury Lawyer Can Help
There are several ways that people struggle when injured because of someone else. Other than the high medical bills, there are other challenges too. This is why it is essential to consider your rights. Is the person whose actions injured you held responsible? Do you have the right to receive compensation? Personal injury lawyers FL can help you learn about your rights and help you get the compensation you deserve.
More than a thousand accidents take place every day in Florida. The fees of personal injury lawyers in the country are 33% to 40% of what the clients receive.
What are the Common Causes of Personal Injury Accidents?
Personal accidents are common in Florida. Here are some common personal injury accidents due to someone else's negligence.
Auto accidents
Did you know that 3000 people in Florida die from severe road accidents? Many people suffer from serious injuries. Big truck accidents, pedestrian accidents, motorcycle accidents, rideshare accidents, etc., are typical auto accidents.
Construction site accidents
Serious lifelong injuries often take place on construction sites. In these cases, it is usually the company's fault as they don't take proper measures for the workers to work there. Fall hazards, electric hazards, and heavy gadget dangers are some common reasons workers get injured.
Malpractice of medicines
People trust their doctors to care for them to the best of their knowledge. Often doctors make errors that lead to severe consequences. Reports of wrong diagnosis and treatment, or surgical errors, can lead to long-term injuries or damage.
Several other cases of personal injuries are primarily due to the fault of other parties.
Hire a Personal Injury Attorney
When you suffer from an injury because of someone else's mistake, it's often confusing what to do. Sometimes people are so busy treating themselves that they do not understand whether the other person is responsible for the injury. That is why it is advisable to consider consulting and hiring personal injury lawyers. Here are some benefits you will get from them.
Helps you get compensated for your injuries. If you try to handle your situation, the insurance company may fight you for the injury or even lowball you on the settlement. When you hire an experienced lawyer, he will know precisely how to negotiate and help you get the amount you deserve.
With a lawyer's help, you can understand your rights and the legal system. It can be overwhelming and confusing, especially when you are injured. An accident lawyer will help you understand your rights and do all the paperwork.
It is vital to have an advocate, especially when dealing with an insurance company that is not taking you seriously. Hiring a lawyer will make your life easy and help you achieve all your rights.
One of the significant losses due to a personal injury is financial. Some injuries take a long-time healing making you lose lots of money. In such cases, experienced lawyers can help you get back the maximum damage amount.
Often, people are stuck on the same page after suffering a personal injury due to someone else's mistake. A lawyer will help you get your life on track by helping you receive the compensation you deserve and start your life again.
Conclusion
Florida has a population above 21 million, and personal injuries are common. However, the laws make it easy for the injured to receive what they deserve. Often several people have fatal accidents with severe injuries that take years to recover from. Personal injury attorneys help them to obtain justice and restart their life with the commission they receive.
Everything to Know about Compensation for a Workplace Injury
When an employee gets hurt or contracts an occupational disease, it is regarded as a workers' compensation injury that qualifies for a claim under your company's insurance policy.
Due to the involvement of several parties, including the employee, employer, healthcare provider, insurance provider, and the state's workers' compensation board, submitting a workers' compensation claim for a workplace accident or sickness can be somewhat complicated. Hiring the right lawyer can be beneficial as they will take care of all the legal procedures in a systematic manner.
Following compensation for a workplace injury, the employee may be eligible to receive wage replacement, medical coverage, and other benefits if the claim is approved. To qualify for these benefits, however, the employee and the employer must take specific actions to ensure the injury qualifies for compensation.
How does workers' compensation work?
Workers' compensation, also called "workers comp," is a legally bound program that benefits individuals who are hurt or ill in the workplace or as a result of their employment. It functions as a worker's disability insurance scheme, offering monetary compensation, healthcare benefits, or both to employees who get ill or injured due to their jobs.
What constitutes an injury at work?
Workers' compensation insurance provides coverage for most workplace accidents and illnesses, including those brought on by exposure to tools, supplies, and activities at work.
Time plays a significant role as soon as an employee experiences an occupational accident that is covered by workers' compensation insurance. The employee has a constrained window of time to file a claim and report the incident.
Injured employees should notify their employer immediately after an occupational accident. The insurance company could refuse to pay out employee benefits as compensation for a workplace injury if the claim is submitted late. Additionally, the delay can give the idea that the claim is fraudulent.
Benefits of workers' compensations
Under this, an employee may get the following benefits:
Salary replacement:  The employees may get salary replacement (less than the gross salary) under the worker's compensation. These benefits are not taxable to ensure the most compensation for the income loss.
Survivor benefits and reimbursement of healthcare cost: In most compensation plans, these benefits for healthcare include the injuries caused. For instance, an employee may claim compensation for the healthcare issues caused due to a fall from scaffoldings. However, they can't do so because of some injury while driving to work.
Furthermore, employees can also claim equivalent sick pay for the period they are on medical leave. Also, if an employee is deceased in some workplace incident, the dependents of the employee can claim compensation.
When to submit a compensation claim?
If each of the below conditions is satisfied, your employee may be eligible for workers' compensation benefits:
The injured worker works at your modest company
Workers' compensation covers the employer
Work-related activities resulted in the employee's injury
How to submit the claim?
After the incident, employees must do the following to begin the claims process:
Inform the employer of the work-related illness or injury
Fill out the form for the workers' compensation claim
It is always better to seek professional help, as a lawyer will be aware of the whole process, making it hassle-free. The insurance provider will then pick a physician to perform an impartial medical evaluation. After receiving the results from the doctor, it will be utilised to develop a reimbursement offer.
State-to-state variations exist in the workers' compensation claims procedure and statute of limitations. Find out more about such claims in the state where your firm is located. An expert attorney will provide proper guidance in accordance with the laws and regulations of the state.
The bottom line
Every state mandates that businesses offer workers' compensation insurance to at least some of their workforce. There are several exemptions and exceptions because the states establish the laws. Contact a reputed law firm for the best assistance. They will guide you adequately and ensure you receive your claim.
The 4 Factors to Understand for A Medical Malpractice Lawsuit
When you believe that you or a loved one has suffered as a result of medical negligence, you may be considering a medical malpractice lawsuit. However, it is important to understand that medical malpractice cases can be complex and difficult to prove. There are several factors that must be present in order for a medical malpractice claim to be successful.
If you believe that you have been the victim of medical malpractice, it is important to speak with a qualified medical malpractice law firm such as Lamber Goodnow lawyers for personal injuries as soon as possible. An attorney can review your case and advise you on your legal options. In this article, we will go over some of the essentials to understand when bringing up a medical malpractice lawsuit.
1. Duty of care
Duty of care is a legal obligation that requires individuals and organizations to act in a responsible manner to prevent harmful practices from happening. When it comes to medical treatment, a healthcare provider has a duty of care to their patients. This means that they are required to provide medical treatment that meets the accepted standard of care in the medical community.
The standard of care may vary depending on the specific circumstances of the case and the specific medical condition being treated. If a healthcare provider fails to meet the standard of care and their patient is injured or suffers harm as a result, the healthcare provider may be found to have breached their duty of care and may be liable for medical malpractice.
2. Breach of duty
A breach of duty occurs when an individual or organization fails to meet the standard of care that is required by law. In the context of medical treatment, a healthcare provider has a duty of care to their patients.
For example, if a doctor fails to diagnose a patient's medical condition that a competent doctor would have diagnosed, the doctor may be found to have breached their duty of care. Similarly, if a nurse administers the wrong medication to a patient, they may be found to have breached their duty of care. In order to succeed in a medical malpractice lawsuit, the plaintiff must be able to show that the healthcare provider breached their duty of care and that this breach caused the patient injury or harm.
3. Causation
Causation refers to the relationship between an action or event (the cause) and an injury or harm (the effect). In the context of a medical malpractice lawsuit, causation refers to the relationship between the healthcare provider's breach of duty and the patient's injury or harm. In order to prove your case in a medical malpractice lawsuit, as the plaintiff you must be able to show that the healthcare provider's breach of duty caused your injury.
Establishing causation is the most difficult part of a medical malpractice case. There are two factors at play to establish causation. Factual causation and legal causation.
Factual causation refers to the question of whether the healthcare provider's breach of duty was the actual cause of the patient's injury or harm. In other words, did the healthcare provider's actions (or inaction) directly cause the patient injury or harm?
Legal causation refers to the question of whether the healthcare provider's breach of duty was a legally sufficient cause of the patient's injury or harm. This can be more complex and may involve considerations such as whether the patient would have suffered the same injury or harm even if the healthcare provider had not breached their duty of care.
4. Damages
In the context of a medical malpractice lawsuit, damages refer to the harm or injury that the patient has suffered as a result of the healthcare provider's breach of duty. In order to succeed in a medical malpractice lawsuit, the plaintiff must be able to show that they have suffered actual damages.
The amount of damages that may be available in a medical malpractice case will depend on the specific circumstances of the case, including the severity of the patient's injuries and the extent of the damages suffered. It is important to speak with a qualified medical malpractice attorney if you believe that you or a loved one has been the victim of medical malpractice.
Conclusion
Having been injured by a doctor or medical professional can be a traumatic event in addition to the physical harm that happened. Going through the process of a lawsuit can be even more stressful. This is why it's important to understand the process.