Top 10 Shoe Brands in the World Right Now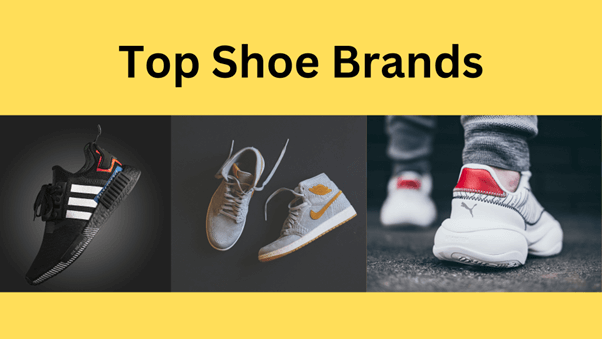 Covering our feet is essential, mainly for protection and comfort from the weather and getting hurt or wounded. Additionally, shoes add to our appearance, making us look civilized and presentable.
Even though wearing footwear is primarily a practical necessity, there are no laws prohibiting us from being practical by dressing our feet in smart, stylish shoes from top global brands. Companies that are in the business of providing the best quality branded shoes for men and women in keeping with the latest trends and preferences of the fashion industry.
Putting one's best foot forward is as applicable to attitude as comfort in style. To update you on the latest trends, we have prepared a list of the top 10 shoe brands in the world for the year 2023.
Top 10 Shoe Brands in 2023
Nike: One of the most famous and all-time favourite brands, Nike is the most forward-thinking American company conceptualizing, producing, and marketing footwear, sportswear, athleisure wear, accessories, and equipment connected with sports. Predominantly known for its shoes, the company is dedicated to creating shoes with the latest technology and materials. For example, the Nike React Foam is a revolutionary blend of softness and responsiveness with cushioning that comforts the feet and provides the impetus to spring forth.
Adidas: Adidas is the largest sportswear manufacturer in Europe and the second-best in the world. The multinational company has its headquarters in Germany. It is renowned for producing luxuriously comfortable branded shoes for men and actively participating in athletics and games, where the athletes sport the company's products.
Puma: The Puma logo is recognized worldwide, equating it with quality, comfort, and luxury. Puma is a German multinational corporation that is a subsidiary of Kering. Puma has maintained its position among the global best with state-of-the-art German technology, with the world's fastest man, Usain Bolt, endorsing their highly advanced footwear. Puma also produces a co-branded motorsports range, partnering with giants like Ducati and Ferrari.
Converse: a USA-based company that has been a subsidiary of Nike Inc. since 2003, creates, sells, and licenses multiple products, including shoes. Here is a brand known for its versatile footwear that can be worn anywhere, producing classic and comfortable shoes that look good with every look and attire.
Hennes & Mauritz: Popularly known as H&M worldwide, it is a Swedish company specializing in fast-fashion apparel and shoes for all ages and genders. The company's core philosophy is to provide fashion and quality at an affordable price in a sustainable manner. The easy availability of branded shoes for men and women and fashionable apparel has elevated the company to the ranks of the world's top shoe brands.
New Balance: New Balance has been creating and manufacturing footwear and apparel since 1906. One of the oldest and most popular global brands, founded by William J. Riley, is an American brand based in Boston. It is associated with popular sports like soccer, tennis, golf, basketball, and many more, and celebrities like Matt Reid, Dale Style, and Matthew Wade endorse it. The company makes footwear for all occasions, like casual, sports, style, and comfort.
Sketchers: Perhaps the most popular brand regarding lifestyle and athletic footwear. One of the most valued top three brands in America, Sketchers caters to a diverse group of people with around 900 styles and innovative designs. Their shoes have become the benchmark for comfort in everyday life, with colours to go with your outfits—celebrities like Kelly Brook, Brook Henderson, and more endorse Sketchers.
Woodland: Woodland'sbranded shoes for menhave gained popularity and a place among the top brands due to the high-quality fabric. Their name reflects the design, which is wood-like, fashionable, and sporty and appeals to all ages and personalities. Their distinct design and versatility make them durable and functional shoes, which explains their longevity in the footwear industry.
Vans: An American brand established in 1966 by James Van Doren, Gordon C Lee, and Paul Van Doren. A brand that exclusively focuses on young elite athletes and skateboarding footwear. Customers can customize the styles of their shoes on their website.
Reebok: A British-American brand founded by Joseph William Foster, is the manufacturer of footwear and apparel for running, fitness, and crossfit. The ownership of Reebok has recently changed hands, with the Authentic Brands Group taking over from Adidas in 2021.
How Much Can Veto Tool Bags Fit in Them?
As an artist, you need to be able to transport your supplies with you wherever you go. That's why it's important to have a quality tool bag that can hold all of your supplies. But with so many different bags on the market, how do you know which one is right for you?
In this article, we'll take a look at some of the best veto tool bags online and help you decide which one is right for you. We'll also discuss some of the features that you should look for when shopping for a new bag. So whether you're a professional artist or just someone who likes to dabble in art on the weekends, read on for the best tips and advice.
Veto tool bags are designed to help make transporting your supplies easier. Because they come in all shapes and sizes, you can find the perfect one for you. Most veto tool bags come with multiple compartments and pockets, allowing you to organize your supplies however you like. Many also feature adjustable straps and handles, making them easy to carry around while keeping your hands free for other tasks
The capacity of a veto tool bag is usually measured by the number of litres (L) it can hold. For example, a small bag may have a capacity of 10 L while larger bags can hold up to 50-60 L or more. So if you need something that holds more than just a few tools or supplies, you'll want to look for a bag with a larger capacity.
When shopping for a veto tool bag, it's also important to think about the type of materials used to make them. The material should be tough and durable in order to protect your supplies from damage and wear and tear. Look for bags made of heavy-duty canvas or nylon that can withstand the rigours of travel. Waterproof bags are also a great option since they will keep your tools dry during wet weather conditions.
Can I Use a Veto Bag as a Carry-On for My Flight?
Absolutely! Veto Tool Bags are designed to fit maximum carry-on requirements for most major airlines. With a 19 x 10.5 x 8 inch internal dimension, these bags can easily slide under even the tightest aeroplane seat with plenty of room for your personal items. However, it's always best to check with your airline prior to flying as size restrictions may vary between different airlines. Additionally, if you're travelling with more items than will fit in the bag itself, consider using an additional piece of luggage that meets the size parameters set by your airline.
No matter what type of art project you're working on, having the right veto tool bag is essential if you want to stay organized while on the go. Keep these tips in mind when selecting one so that you can find the perfect bag for all of your needs. With the right bag by your side, you'll be able to turn any art project into reality!
It may seem strange to be a professional slot machine operator. Online slot machines are easy games of chance and require little skill to be played. You just need to find a trustworthy online casino and top up your account before you can start spinning the reels. Experts of the gaming site Conquestador analyzed the answers and advice of experienced players and compiled a small guide that will suit both beginners and experienced players.
How to start
Once you press the "Spin" button, you are at the mercy of computer systems and algorithms that determine the outcome of your game. Most slot players do not pay attention to the fact that the outcome of the game depends not only on chance, there are many things you can do to improve the game and have fun. Knowing this information will give you the necessary advantage to go beyond ordinary players and become a kind of professional. Here is what you need!
What is the working principle of a slot machine?
We can assure you that there is no way to defeat a slot machine. Every slot machine, online or land-based, has a random number generator as a fundamental component. Slot machines are based on luck because the reels randomly give out the outcome of each game. Any method that claims to increase your chances of winning is likely a fraud. A random number generator determines whether jackpots and bonuses are possible on certain slot machines. Therefore, different slot machines could have different chances of winning depending on how many outcomes and possibilities the generator chooses to settle on. It is difficult to create a winning strategy for slot machines, as they are unpredictable. There are ways to play smarter, and they can ultimately make your game more enjoyable.
Before you play
The first step is to find a casino with a reliable and good reputation, always with a license. Conquestador Casino is careful about this issue, and it is fully licensed and safe (Curacao). There are offices in India, Australia, and Japan so that each region can have its own version.
Read the fine print in the terms and conditions and find out what the withdrawal policies are. Once you sign up for an online casino, you should make sure that you are completely satisfied and protected at the casino of your choice.
Online casinos are full of slot machines that are so eye-catching that it can be hard to choose what to play. If the casino you choose is really good, they will help you by providing useful information to make your final decision. Licensed and official online casinos have a lot of information. Volatility and return to player (RTP) percentage are two aspects you should pay close attention to. By the volatility indicator you can find out how often and how much you will be paid. A slot with low volatility will pay out more frequently but in smaller amounts – smaller payouts bring less risk. Slots that pay less frequently but have larger payouts are called high volatility slots. RTP is an indicator of what you can expect to win back on average per session. You have a better chance of getting paid out if the RTP is high.
Control your emotions
It's possible that you won't win every spin. That's perfectly normal. Avoid emotional betting as it can ruin your enjoyment. Keep your head straight and be disciplined. You are not trying to make money, but you're playing a game. These games are exciting because of their unpredictable nature. You should only play with money that you can lose. Don't rely on one win to make up for a loss. You must follow a risk management plan. Do not place a bet higher than you can afford. Gambling shouldn't be a stressful activity. To enjoy gambling, you should learn risk management.
Accessibility
You can now play slots online from your bed. New opportunities have opened up with online casinos. Online casinos allow you to play any casino game you like from one location. You can play with real money, in addition to the attractive bonuses offered by some casinos. You can't control the pace of the game in a land-based casino. Online casinos allow you to play and take a break whenever you like. These benefits have made casinos more enjoyable. Why leave your home to play? Online casinos offer a variety of games and different bonuses that will keep you entertained.
Conclusion
Professional slot machine players are smarter than the rest. You will gain more experience, have better chances of winning hundreds of hryvnias, and have more fun. Online casinos make it easier to become a professional slot machine player. You don't need to travel to the nearest casino to play. You don't need to leave your home to become a professional slot machine player.
Ways to Get Rid of Common Home and Garden Pests
No one wants to encounter pest problems in their household. But according to the Census Bureau, over 14 million households report seeing rodents, roaches, and other pests in 2020. While some pests are harmless, others can damage your home. Fortunately, there are many things you can do to prevent creepy insects and rodents from making their way into your home, including growing plants known for keeping pests away. Read on to learn more about common house pests and how to get rid of them. 
Carpenter Ants
Of the 700 ant species in the country, carpenter ants are the most problematic. Once they make their way into your property, carpenter ants chew wood in crawl spaces, door and window frames, and inside chimneys to build their nest. In gardens, they invade fence posts, tree stumps, and firewood. Over time, their excavation on wood affects the integrity of wooden structures in buildings.
Carpenter ants or flying ants have a pair of wings, can be black or red, and are indigenous to forested, cool, and damp parts of the US. Eliminating moisture and standing water in your property is one of the most effective tactics to prevent carpenter ant infestation as they require water to survive. Also, trim tree branches, seal cracks, spray a non-toxic insecticide, and store firewood above the ground and away from the house. 
Mice and Rats
PestWorld reveals that rodents, especially mice and rats, invade about 21 million homes in the US every winter. Once inside, rats and mice will chew on electrical cables, cardboards, and dry walls. If you notice holes through walls, that's a sign of rodent infestation in your home. Other signs include a foul smell like stale ammonia, rodent droppings, hearing scampering and scratching noises, or finding rodent nests. 
Eliminating rodents can be challenging, especially if you own a property with multiple renters. However, there are many ways landlords reduce pest control costs when rats infest their property. As a property owner, you can prevent rodents by inspecting property regularly, sealing cracks, and cleaning debris. It's also wise to spray pesticides regularly. 
Flies
Flies, including fruit flies, gnat, and houseflies, are annoying and carry pathogens. These stubborn insects are easily attracted to food and leave traces of bacteria on everything they touch. Methods for keeping flies away from home are simple. Start by moving debris and mulch piles away from the house, keep trash cans clean and closed, and clean your pets. Also, try using fly paper or a mixture of apple cider vinegar and dish soap to trap flies. 
Carpenter ants, termites, flies, cockroaches, and rodents are common pests to look out for in your home. If left to invade your property, they can spread diseases and even damage your home. To prevent pests, seal cracks, fix leaks, eliminate moisture, keep your home clean, remove debris near the house, and call professional exterminators to help control a pest infestation.