Top 10 Shoe Brands in the World Right Now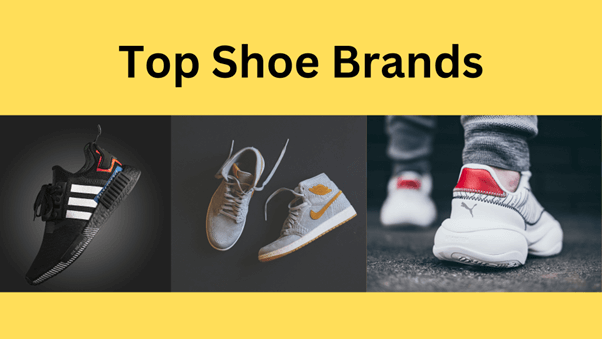 Covering our feet is essential, mainly for protection and comfort from the weather and getting hurt or wounded. Additionally, shoes add to our appearance, making us look civilized and presentable.
Even though wearing footwear is primarily a practical necessity, there are no laws prohibiting us from being practical by dressing our feet in smart, stylish shoes from top global brands. Companies that are in the business of providing the best quality branded shoes for men and women in keeping with the latest trends and preferences of the fashion industry.
Putting one's best foot forward is as applicable to attitude as comfort in style. To update you on the latest trends, we have prepared a list of the top 10 shoe brands in the world for the year 2023.
Top 10 Shoe Brands in 2023
Nike: One of the most famous and all-time favourite brands, Nike is the most forward-thinking American company conceptualizing, producing, and marketing footwear, sportswear, athleisure wear, accessories, and equipment connected with sports. Predominantly known for its shoes, the company is dedicated to creating shoes with the latest technology and materials. For example, the Nike React Foam is a revolutionary blend of softness and responsiveness with cushioning that comforts the feet and provides the impetus to spring forth.
Adidas: Adidas is the largest sportswear manufacturer in Europe and the second-best in the world. The multinational company has its headquarters in Germany. It is renowned for producing luxuriously comfortable branded shoes for men and actively participating in athletics and games, where the athletes sport the company's products.
Puma: The Puma logo is recognized worldwide, equating it with quality, comfort, and luxury. Puma is a German multinational corporation that is a subsidiary of Kering. Puma has maintained its position among the global best with state-of-the-art German technology, with the world's fastest man, Usain Bolt, endorsing their highly advanced footwear. Puma also produces a co-branded motorsports range, partnering with giants like Ducati and Ferrari.
Converse: a USA-based company that has been a subsidiary of Nike Inc. since 2003, creates, sells, and licenses multiple products, including shoes. Here is a brand known for its versatile footwear that can be worn anywhere, producing classic and comfortable shoes that look good with every look and attire.
Hennes & Mauritz: Popularly known as H&M worldwide, it is a Swedish company specializing in fast-fashion apparel and shoes for all ages and genders. The company's core philosophy is to provide fashion and quality at an affordable price in a sustainable manner. The easy availability of branded shoes for men and women and fashionable apparel has elevated the company to the ranks of the world's top shoe brands.
New Balance: New Balance has been creating and manufacturing footwear and apparel since 1906. One of the oldest and most popular global brands, founded by William J. Riley, is an American brand based in Boston. It is associated with popular sports like soccer, tennis, golf, basketball, and many more, and celebrities like Matt Reid, Dale Style, and Matthew Wade endorse it. The company makes footwear for all occasions, like casual, sports, style, and comfort.
Sketchers: Perhaps the most popular brand regarding lifestyle and athletic footwear. One of the most valued top three brands in America, Sketchers caters to a diverse group of people with around 900 styles and innovative designs. Their shoes have become the benchmark for comfort in everyday life, with colours to go with your outfits—celebrities like Kelly Brook, Brook Henderson, and more endorse Sketchers.
Woodland: Woodland'sbranded shoes for menhave gained popularity and a place among the top brands due to the high-quality fabric. Their name reflects the design, which is wood-like, fashionable, and sporty and appeals to all ages and personalities. Their distinct design and versatility make them durable and functional shoes, which explains their longevity in the footwear industry.
Vans: An American brand established in 1966 by James Van Doren, Gordon C Lee, and Paul Van Doren. A brand that exclusively focuses on young elite athletes and skateboarding footwear. Customers can customize the styles of their shoes on their website.
Reebok: A British-American brand founded by Joseph William Foster, is the manufacturer of footwear and apparel for running, fitness, and crossfit. The ownership of Reebok has recently changed hands, with the Authentic Brands Group taking over from Adidas in 2021.
How to Verify Megapari Account in India?
Every user will eventually have to go through the account verification process. The necessity of the firm itself is the primary reason for this situation.
The accessibility of the vast majority of the offered functions;
The completion of financial transactions without interruption;
A higher overall degree of trust is provided by the platform in addition to much more!
Every player, without exception, attempts to complete this process at Megapari india as quickly as humanly possible. Because there are so few stages involved and the process is so straightforward, anyone can comprehend it.
Verification procedures for the megapari account
There are a few different methods that you may contribute to the verification of your account. The majority of the time, it does not take a lot of time and does not involve any more work on your behalf. You may accomplish this by using:
Email;
Mobile phone number;
Providing personal documents.
The platform retains the right to inquire about your identification and request documentation from you at any time. It is imperative that you do so in order to demonstrate that you are of a specific age and that there is not another account in your name.
How can a user check that his account is legitimate?
The procedure of verifying an account is not a difficult one, as has been said previously. To do this, you will need to carry out the following stages in their entirety:
Launch the mobile application or the official website for the Megapari platform;
To register, simply click the button provided;
Choose the method that is the most convenient for you, whether it be email, a cell phone number, or social networks.
What steps you need to do next will be determined by which of the two options you select.
Verification by Email
The use of e-mail as a verification technique is by far the most common practise among gamers. To do this, you will need to carry out the following steps:
When you register your account, you are required to enter a valid address.
Open the email as soon as it is delivered to your inbox;
Always make sure you follow the directions exactly as they are given in the paper.
In most cases, you will be asked to either click on the button that is necessary or on the link that is supplied. After that, you will be sent to the website where you may register immediately.
Verification using the contact number on the phone
The usage of a phone number is the next available choice, and it's certainly not the least crucial one. The following is a list of the instructions:
During the registration process for the page, make sure to include your current phone number;
Watch for a notice through text message;
Always ensure that you are following the given directions.
You will, as a matter of course, be obliged to additionally click on the URL that is indicated in the message. 
Verification via social media
Verification using the player's social media accounts is the quickest and easiest method. In this particular scenario, you will be expected to complete the following:
On the page for registering, choose one of the social media alternatives that are presented to you;
Verify the action you took;
Please indicate that you are okay with the platforms communicating with you.
In the event that you forget either your username or password, you will still be able to access your account by using this option.
FAQ
Is it possible for a player to utilise the platform's services without first authenticating his account?
Yes, he can. However, in this situation, access to numerous functionalities may be blocked. You may be requested for proof of identity when depositing or withdrawing from an unverified player. Furthermore, the platform will frequently remind you that this step is required.
If you verify an account in India, are you breaking any laws?
Indeed, doing so is not against the law. The laws that are in effect in India do not, in general, restrict people from making use of the services offered by the Megapari platform. In addition to this, the presence of a licence has an influence on the overall quality of the services that are rendered.
The user should validate the account by what means.
It is up to each user to decide for themselves which approach is going to work best for them. The selection of the choice will not be impacted in any way by the platform.
How much time does it take to have the account verified?
In most cases, the effect is immediate. To be more specific, just at the point where you affirm the action in the manner of your choosing.
Green Features You Can Find In Modern Washing Machines
When it comes to washing your clothes, using a washing machine is very useful. However, despite how effectively it can clean your clothes, it can use up a lot of energy through electricity and water usage.
However, thanks to recent innovations and the development of technology, the use of modern washing machines means that you can use less energy than before thanks to green technology that these appliances now use. So what are these features, how are they used in your day-to-day washing and what terms should you be looking out for when shopping for a new washing machine?
Washing a 20°C or 30°C
Thanks to the advances in washing efficiency, you no longer need to wash your clothes at a high, warm temperature in order to clean them effectively. Most, if not all, washing machines you find at retailers today have a setting – or a range of washing programmes – that allow you to wash your clothes at 30°C.
Detergents and fabric softeners have been designed to work at 30°C too, meaning your t-shirts, trousers and dresses can benefit from a high level of cleaning without the need for your machine to warm up the water to a higher temperature.
Load Detection
A feature you can find on an increasing number of washing machines is load detection, which detects the weight of the laundry you put in your machine, and it adjusts the amount of water used accordingly. This is especially beneficial if you need to wash a handful of items but don't want to use a disproportionate amount of water.
Saving the amount of water you use can help you save on water bills, and it also means you'll be using up less water in general, meaning it's better for the environment. It also means that your washing machine will need to heat up less water, allowing the appliance to use less energy.
Energy Ratings
Every appliance should come with an energy rating that allows you to assess how efficient each appliance is. In the UK, the energy ratings range from A to G, with A being the most efficient and G being the least. The energy ratings used to range from from A+++ to G, however this has been changed due to advancements and developments in technology which have made appliances more efficient than ever. So, for example, appliances that used to be rated A+++ are likely now rated as B or C, A++ as D or E, and A+ as F or G.
Don't Forget, Recycle Your Old Washing Machine
If you're looking to buy a new washing machine, then there's a decent chance that you have an old one that you're looking to get rid of. You won't have space for it and you won't use it, so why keep it? No matter the reason for you getting a new one – whether it's broken, run-down or still in decent working order – you should look to have it recycled.
There are many washing machine component parts that can be reused either as replacement parts or to serve a different function altogether. And even the raw materials can be broken down and repurposed to be used in something else.
Throwing your washing machine away outside can be ugly and also bad for the environment, so recycling is the best way to go. Many appliance retailers will include a removal and recycling service that will take your appliance away for a small fee to ensure the machine is out of your hands, freeing up space in your home and is also being recycled in the right way.
Tips for First-Time Home Buyers
Buying a home for the first time, whether on your own, with a partner, as a family, or maybe just as an investment is a landmark moment in your life.
It is an exciting time that is for sure, but it can also be pretty daunting because of the lengthy list of considerations to make.
Right now it is a particularly fraught time for first-time buyers due to the cost of living crisis, with interest rates at 4.5 per cent as of May 2023.
It makes for testing times when applying for mortgages, let alone the cost of solicitors, surveyors, new furniture, and utility bills to think about.
So, what is the current state of the housing market and what can you do to get yourselves on the property ladder?
State of the housing market
With inflation rates in the UK staying stubbornly above 10 per cent, it is not an easy to time to be buying.
The average house price in the UK right now is around £288,000, around £16,000 more than it was in February 2022.
Indeed, the increase in average house prices year on year from February 2022 to 2023 was 5.5 per cent, down from 6.5 per cent in January 2023.
A property purchase boom occurred in 2021 due to the temporary cut to stamp duty, though levels have now returned to roughly what they were pre-pandemic.
With demand for houses falling, the property market has cooled – so for sellers there is not a great incentive, making it even more difficult for first-time buyers.
Handy tips for first-time buyers
But do not be totally discouraged. There will always be a demand for buying houses, and there will always be a need to sell. The traditional reasons for selling up such as death, divorce and relocating for jobs will always exist.
First of all, look into existing schemes that can help you get on the ladder such as Help to Buy ISAs and Help to Buy Equity loans.
Next, make sure you have your finances figured out. How much do you have for your deposit? Some lenders will accept a five per cent deposit for instance. But then consider what furniture you will need, and what new utility bills you will have to purchase.
Talk to mortgage advisors about the different types; variable, fixed, cashback, offset. See which one works best for your personal situation and get several mortgage quotes.
Think also about the type of property you need, how many bedrooms, detached or semi-detached, and be willing to widen your search area as you might find cheaper alternatives to your first choice.
You will need a good solicitor and a reliable conveyancer. Solicitor fees will be around the £1,000 to £1,500 mark but having a competent solicitor will help when issues around purchasing arise.
Lastly, get your head around all the extra costs you are about to take on, and save, save, save. Do you need to have that takeaway or extra cup of chain-brand coffee? Making the smaller sacrifices in the short term will help with your long-term goals.