World's Best Cities for Remote Work
Since 2010, the number of remote workers has increased by 400%. The popularity of this type of work setup stems from the immense flexibility it offers in comparison to traditional office-based jobs.
One of the key selling points of remote work is the ability to work from anywhere. If you're a remote worker, then you basically have the option to live and vacation in foreign countries without the limitation of having to be in the same office every day.
With this freedom, why not consider relocating (even temporarily) and experiencing some of the best cities in the world? In this article, we provide a rundown of some of the best cities to live in. Since remote workers aren't confined by geographical offices, this is a delicious possibility that you can seriously consider.
Before we dive into our list, let's get a better understanding of what remote work is.
What Is Remote Work?
Remote work refers to a work arrangement where one's job responsibilities are performed from outside the office. In contrast to traditional office-based jobs, remote work can be done from home, from a coffee shop, a rented working space, or even the beach.
The rise of remote work has given way to a unique job economy for professionals and the forward-thinking companies who employ them. It has also led to the development and popularity of collaborative apps that help teams work together and manage projects from different locations. Some examples are Slack, Trello, Asana, and Proofhub.
There are lots of advantages to being a remote worker. Remote workers eliminate the time and expense spent on commuting, have more freedom to work the hours they want, and of course, they get to work from anywhere.
With that in mind, let's take a look at some of the best cities that you can live in as a remote employee.
Best Cities for Working Remotely
We've chosen these cities based on the quality of life they offer. These cities also have accessible digital infrastructure and stable and fast internet speeds so you can perform your duties seamlessly.
San Francisco, USA      
San Francisco tops our list. In terms of safety, healthcare, and the climate, this city ranks moderate to very high.
As with all the cities in this list, the Golden City provides excellent and stable internet connection with downloads of up to 1,000 megabytes per second (Mbps) and uploads of up to 35 Mbps.
It offers an exceptional work culture, amiable people, and easy access to resources. The only drawback is the higher cost of living compared to other US states. Where 100 indicates an average cost of living in the United States, San Francisco is rated at 269.3.
Dubai, UAE      
Dubai offers a high quality of life and is ranked as one of the best places to live in the Middle East, if not globally. It has an international community with as many as 200 different nationalities and 8.84 million expat residents.
This city is also one of the safest places in the world. You can enjoy sandy beaches, sumptuous dining, and world-class entertainment. A hub for international business and tourism, you'll have no problem getting internet coverage here as there are a good number of providers with stable and fast internet to choose from.
Dubai offers a low cost of living and a zero income tax scheme. They even have a special program for remote workers called a virtual working program. Remote workers can apply to live in Dubai for a year with many of the same benefits that local residents are entitled to.
Delhi, NCT, India
India has a fast-growing population with a gross domestic product that is only second to China. The National Capital Territory of Delhi is where the 3 branches of the country's government sit. It ranked 62nd in the list of World's Best Cities for 2021.
Delhi is popularly referred to as the heart of India and one of the most hospitable places on Earth for tourists. It's a great city for foodies and travel enthusiasts.
Because it is a fast-growing city, it offers many opportunities for locals and tourists. The cost of living is also low. The estimated monthly cost for a family of four is around $1,300.
Internet in Delhi is fast and stable. It isn't unusual to enjoy speeds of up to 100 Mbps.
The only drawbacks to living in Delhi are the pollution, the hot summers, and personal safety. However, as long as you don't go out at night unaccompanied, you should be fine.
London, UK
London offers an incredible remote working infrastructure. The average internet speed is around 54 Mbps.
Paired with gender equality, culture and leisure opportunities, and great healthcare, it's easy to see why London is regarded as an ideal city for remote workers. You'll find diverse remote working spaces here ranging from coffee houses and cafes to libraries and coworking spaces.
As Britain's largest metropolis, London offers a history that spans almost two millennia. It is a rich and diverse cultural center. Thanks to the easy transportation the city offers, remote workers can explore this expansive city without putting a dent in their bank accounts.
Warsaw, Poland
Warsaw, Poland has a great international community. English is a second language so you won't struggle with language barriers. Thanks to the modern infrastructure and transportation, everything is easily accessible at a fraction of the cost you would incur in most cities around the globe.
Warsaw is a relatively cheap place to live in with a cost of living that is almost 40% lower than the UK. This includes rent, food, and transportation. It also has a solid all-inclusive healthcare insurance system that's free for all working residents and their families.
The average internet speed in Poland is 54.5 Mbps, slightly above the global average of 54.33 Mbps.
Bucharest, Romania
Bucharest outclasses its competitors with its low cost of living, access to cheap working equipment, and availability of food delivery companies among other important factors.
It was ranked the number 1 city for remote work by broadbanddeals.co.uk. By living here, you'll enjoy stable internet speeds of 52 Mbps and a low cost of living. The estimated monthly cost for a single person living in Bucharest is around $555.
Budapest, Hungary
Budapest, often referred to as the "Paris of the East," is the vibrant capital of Hungary. Remote workers will enjoy exploring this historically and culturally rich city that is subdivided by the famous River Danube.
The average download speed in Budapest is 31.1 Mbps. As a country, it has the 20th fastest internet in Central Europe so you should have no problem continuing your work here.
The cost of living is fairly affordable at $622 for a single person excluding rent.
Houston, USA
The large city of Houston is a popular choice among remote workers due to its many coworking spaces that inspire productivity and make focusing on work a breeze. This is a dynamic city with first-class attractions like the Space Center, the Museum of Fine Arts, and the Houston Zoo.
The cost of living in Houston is rated at 96.5, a few points lower than the United States' average. A single person's monthly expenses amount to about $843 excluding rent.
Residents enjoy faster internet speeds compared to the rest of Texas and the United States. Almost 90% of Houston enjoy internet speeds over 250 Mbps.
Houston offers big-city amenities at pocket-friendly prices. It also has a healthy immigrant ecosystem and an impressively strong sense of community for a city of its size.
Kyiv, Ukraine
The largest city in Ukraine, Kyiv is a cultural hub and a fantastic jump-off point for exploring the country's cultural diversity and history. It is home to the infamous and abandoned city of Chernobyl.
Kyiv offers co-working spaces, affordable accommodations, reasonably priced food, and friendly professional communities. Ukraine also has Digital Nomad visas that are designed for people who wish to work in the country, remotely or otherwise.
In September 2020, Ukraine ranked 59th in the world in terms of fixed broadband internet access speed with an average download speed of 59.13 Mbps.
For remote workers on a budget and looking to experience a city with a lot of character and history, the city of Kyiv is an affordable and beautiful option.
Las Vegas, USA
Despite all the hype and its reputation as "Sin City, " Las Vegas is an affordable place to work remotely while giving you access to its art scene, casinos, and world-class entertainment.
While the cost of living is 11.6% higher than the national average, the city offers affordable housing with a cost of living that is still lower than other cities in the state of Nevada.
If you don't want to lease a place, you can easily find exclusive deals at hotels in downtown Las Vegas. Most, if not all, will provide you with a specific allowance for food and beverages per day.
New York, USA
The Big Apple is a top-tier city for telecommuting if you can afford it. A single person will spend about $1,358 per month excluding rent.
New York is world-famous for its dizzyingly fast pace, high energy, traffic, constant hustle and bustle, 24-hour life, and creative spirit. It's overflowing with experiences and attractions like the Statue of Liberty, Ellis Island, Broadway, the Brooklyn Bridge, Central Park, and more.
You won't have any problem with internet connectivity here. Ninety-nine percent of residents enjoy internet speeds of 250 Mbps or higher with fiber-optic technology readily available to several households.
Remote Work: Your License to Explore New Places
If you're lucky enough to work remotely, then you have the flexibility of exploring working from different places. Even if you just visit for a few months, it's refreshing and valuable to experience different cultures and other ways of living every once in a while. With this list of the world's best cities for remote work, why not explore the possibilities of being based someplace else?
Avoiding Common Mistakes During UPSC CSE Registration: A Comprehensive Guide
As a candidate preparing for the UPSC CSE exam, the registration process is one of the most important aspects to be mindful of. UPSC CSE registration is the first step towards realising your dream of becoming a civil servant. However, many candidates often need to correct their mistakes during the registration process, which can lead to disqualification or delay in the application process.
This blog post will share tips to help you avoid common mistakes during UPSC CSE registration. Additionally, I will provide a step-by-step guide to UPSC online registration, documents required, and frequently asked questions for the registration.
Common Mistakes Made During UPSC CSE Registration
The UPSC CSE registration process can be pretty daunting for first-time candidates. It is common for candidates to make avoidable mistakes during the registration process. Some of the common mistakes made include the following:
Incorrect personal details
Candidates often make mistakes when filling in their details, such as name, date of birth, and address. These mistakes can result in disqualification or delay in the application process. It is crucial to double-check all personal details before submitting the application form.
Uploading incorrect documents
Candidates are required to upload several documents during process. These documents include a passport-sized photograph, a scanned copy of the candidate's signature, and proof of educational qualifications. Candidates must upload the correct documents in the specified format to avoid disqualification.
Payment-related errors
Candidates often make mistakes while making the payment for the registration fee. Common mistakes include selecting the wrong payment mode, entering incorrect bank details, or paying after the deadline. These mistakes can lead to disqualification or delay in the application process.
Tips to Avoid Mistakes during UPSC CSE Registration
Read the instructions carefully
Before beginning the registration process, it is crucial to carefully read the instructions in the UPSC CSE notification. This will help you understand the registration process, required documents, and payment details.
It is essential to double-check all personal details, educational qualifications, and uploaded documents before submitting the application form. This will help you avoid any mistakes that could result in disqualification.
Use a reliable internet connection
During registration, it is crucial to use a reliable internet connection to avoid technical glitches. Slow internet speeds or connectivity issues can result in errors while submitting the application form.
Keep track of important dates
It is essential to keep track of important dates, such as the last date to submit the application form and the last date to make the payment. Missing these dates can lead to disqualification or delay in the application process.
Take a printout of the application form
After submitting the application form, it is advisable to take a printout for future reference. This will help you keep track of important details such as the registration number and application status.
A Step-By-Step Guide to UPSC Online Registration
Here is a step-by-step guide to UPSC online registration:
Step 1: Visit the official UPSC website
Access the UPSC website and select the "Online Registration" option.
Step 2: Select the UPSC CSE exam
Select the UPSC CSE exam from the list of available exams.
Step 3: Fill in personal details
Fill in your details, such as name, date of birth, address, and contact details.
Step 4: Upload documents
Upload the required documents, including a passport-sized photograph, a scanned copy of your signature, and educational qualifications.
Step 5: Make the payment
Make the fee payment using the specified payment mode.
Step 6: Submit the application form
After completing all the steps, submit the application form and take a printout for future reference.
Conclusion
UPSC CSE registration is a crucial step toward realising your dream of becoming a civil servant. By following the tips provided in this blog post, you can avoid common mistakes during the registration process and increase your chances of success. Additionally, it is essential to prepare for the UPSC CSE exam thoroughly to achieve your goal.
Frequently asked question
Q1. What exactly is UPSC CSE enrolment, and why is it important to avoid errors during the process?
A1. UPSC CSE registration refers to the application procedure for the Civil Services Examination, which is administered by the Union Public Service Commission (UPSC) in India. This test is a highly competitive and prestigious method to join the country's different civil service jobs. It is important to prevent errors during enrolment because they can result in disqualification or other issues that prohibit you from taking the test or reaching your desired score.
Q2. What are some of the most frequent mistakes people make when registering for the UPSC CSE?
A2. Common errors made during UPSC CSE enrolment include entering erroneous personal information, posting incorrect or low-quality photos and signatures, choosing the incorrect test location, failing to pay the application fee on time, and not thoroughly reading and confirming all information before sending the application.
Q3. How can I prevent making errors when registering for the UPSC CSE?
A3. To prevent errors during UPSC CSE enrolment, carefully evaluate and verify all data you enter into the online application, double-check that your photographs and signatures meet UPSC requirements, cautiously read and understand all guidelines before completing the form, and pay the application fee before the closing date.
Q4. Are there any websites or tools to assist me with UPSC CSE registration?
A4. Certainly, UPSC offers a thorough guidebook that includes all pertinent information about the test and registration procedure, including directions for filling out the application form and photo and signature requirements. There are also numerous coaching institutes and online resources that provide help and assistance for registration and preparation.
Q5. How long does it usually take for the UPSC CSE registration process to complete, and when is the ideal time to apply?
A5. The procedure usually takes several weeks due to numerous verification and handling steps. The best time to register relies on personal circumstances and exam readiness, but it's usually suggested to begin the process as soon as possible to account for any unforeseen problems or complications.
How to Find Online Job: Options that Require Little or No Work Experience (that are truly fun!)
In today's world, earning money online has become increasingly popular. For many years, commuting to the office and going out to work was the only way to make a living. However, things changed with the evolution of technology, as this resulted in tehnological advancements that were embraced by many industries.
Working from home now has become extremely popular. Many companies have implemented hybrid and remote models so that employees can enjoy the flexibility to work from anywhere.
Here, we will discuss online jobs that require little to no experience to get started – and they can be fun as well!
These are jobs for absolute beginners as well, so if you have the right skill set but no prior work experience, we've got your back! So, let's see the different online jobs you can consider, and hopefully, we'll help you narrow down your choices when making applications.
OnlyFans
You don't need any special expertise or work experience to be part of the OnlyFans community. You just need to sign up on the platform, create the content and start connecting with your fans.
Even as an absolute beginner, you can earn pretty well. The living proof is the fact that even OnlyFans amateurs earn a lot on this platform by creating content and interacting with their fans.
So, don't worry if you lack social media experience or have very limited knowledge regarding the platform or the type of content you should post. All it takes is thorough research, a willingness to keep up with the latest social media trends, and a compelling niche to keep your fans interested and entertained.
Web Design
Working in the web design industry comes with some challenges. Having said that, even though you need a certain set of skills to start working as a web designer or web developer, you can land a job even without prior working experience.
If you've just finished college or a web development academy, but you have no work experience on your resume, start applying for small web design jobs online. You can then build a portfolio, and once you've created a portfolio, you can start applying for bigger projects.
The first step toward becoming a web developer is using coding boot camps to fast-track the learning process. The practical advantages of such boot camps are numerous, as you can:
Network with like-minded individuals
Expand your horizons
Work on your problem-solving skills
Improve your communication skills
As you continue diving deeper into the web development industry, you will need to choose a development specialization. The web development industry is categorized into:
Front-end development – pertaining to the "client-side" of the process, such as the design, layout, and functionality of the site
Back-end development – focuses on the "server-side" of the process, such as servers, hosting, networks, databases, and more
Full stack development – needs to have knowledge in both areas
But don't worry; you can choose a specialization and focus on one of these categories once you've started working in web development.
Content Writing
Content writing is another popular yet fun option where you can earn money online with little to no prior work experience. Let's get it clear from the beginning – you do need certain skills to be successful as a content writer, even if you don't have work experience.
Thus, if you're a self-motivated individual with a passion for creating content for the web, blogs, technical documents, reviews, advertisements, or scripts, this is the job for you.
Blogging
You don't need any particular experience to kick off your career as a blogger. If you have a topic area or a subject you're passionate about and would like to share it with others, you can start your own blog.
The most profitable blogs are those that provide value to the readers, so make sure you choose a relevant topic and create high-quality content. After you've created your blog, you can place ads on specialized blogs, promote the blog on various social media platforms, or even incorporate pay-per-click advertising.
According to Good Financial Cents, the best blogging niches are:
Investments
Cars and car repair services
Credit cars
Travel
Fashion
Real estate
Entertainment
As we mentioned earlier, make sure you choose a relevant topic that you are passionate about. This way, you can engage people and attract a larger number of visitors to your blog, which will turn your blog into a profit-generating one.
Advice to Get Started
All of these job opportunities require little to no prior experience to get started. Here are a couple of tips before you start applying for certain jobs:
Be persistent – do not even think of giving up
Make it happen – don't let all of that hard work you put into learning new skills go to waste
Keep hustling
This is your chance to generate a good income, so start applying!
Top Skills to Become a Full Stack Developer in 2023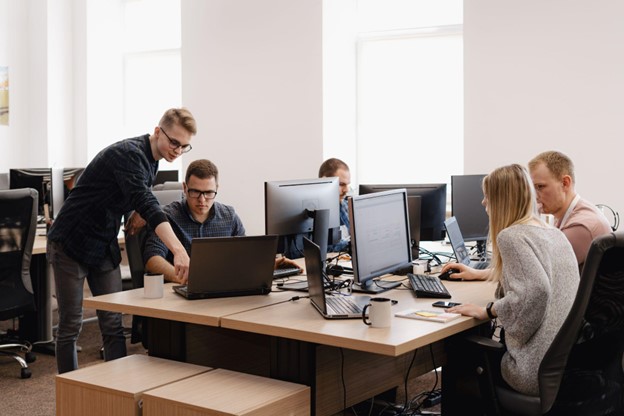 Interested in becoming a full-stack developer? One of the advantages of becoming a full-stack developer is that you have skills in multiple areas and can handle coding, design, development, and more all under one roof. Find out these diverse skills, how to use them to become a full-stack programmer, and why they will be the most important for adapting to industry changes in 2023!
Introduction to Full Stack Development
If you're looking to become a full-stack developer, there are a few skills you'll need to master. In this section, we'll introduce you to the world of full-stack development and some critical skills you'll need to succeed.
Full stack development is all about creating web applications that anyone can use anywhere. To do this, programmers must have a strong understanding of front-end and back-end development.
Front-end development refers to the graphical user interface (GUI) that users interact with when using a web application. This can include anything from designing the overall look and feel of the website to creating individual elements like buttons and drop-down menus. On the other hand, back-end development focuses on the server side of things. This includes everything from setting up hosting for the website to writing code that powers the application itself.
Most IT companies want to hire offshore programmers with professional skills. To be a successful full-stack developer, you'll need a strong understanding of both front-end and back-end development. In addition, you'll also need to be comfortable working with different web technologies and frameworks.
What Skills Do You Need to Become a Full Stack Developer?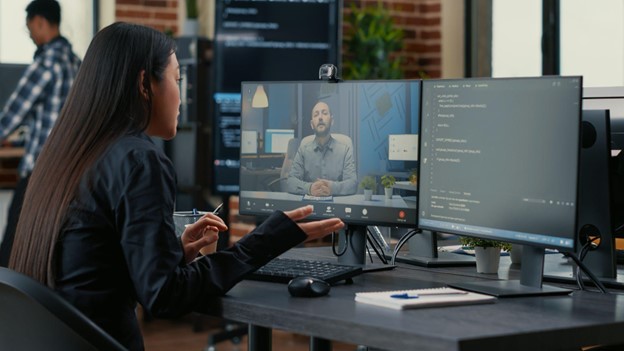 To become a full-stack programmer, there are a few critical skills that you will need to possess. Firstly, you will need to have a firm grounding in computer science concepts. This means understanding algorithms, data structures, and software design principles well. Secondly, you will need to be proficient in a wide range of programming languages. At the very least, you should know how to code in Java, PHP, and Python. However, being able to code in various other languages will give you an advantage when it comes to finding full-stack programmer jobs.
Thirdly, you must have experience with front-end and back-end web development technologies. This includes knowing how to develop user interfaces using HTML/CSS/JavaScript as well as being able to create database-driven websites using MySQL or MongoDB. Finally, it is also beneficial to have experience with DevOps tools such as Puppet or Chef to automate web application deployment and management.
HTML/CSS
To become a full-stack developer, it is crucial to have a strong foundation in HTML and CSS. These two technologies are the building blocks of the web and are essential for creating well-designed and responsive websites.
HTML (HyperText Markup Language) is used to structure content on a web page. It defines the meaning of elements on a page, such as headings, paragraphs, and list items. CSS (Cascading Style Sheets) is used to style the content on a web page. It defines how elements should look, such as their color, size, and font.
Both HTML and CSS are easy to learn, and there are plenty of resources available online to get started. Once you have a solid understanding of these technologies, you can begin learning more advanced web development skills such as JavaScript, PHP, and Ruby on Rails.
JavaScript
JavaScript – is one of the most important full-stack developer skills. As the programming language of the web, JavaScript is used to create interactive web pages and applications. While many different frameworks and libraries are available to help with development, knowing vanilla JavaScript is essential. In addition, being familiar with Node.js will give you an extra edge as a full-stack programmer.
Back-end languages
Knowing back-end languages is one of the most required full-stack developer skills. Among the most popular are PHP, Java, Python, and Ruby. Depending on the project requirements, a full-stack developer may need to be proficient in one or more of these languages. For example, if a project requires a lot of data processing, then a developer with strong Python skills would be ideal. On the other hand, if the project is focused on e-commerce, then a developer with solid PHP skills would be a better fit.
Full-stack programmers need to have a good understanding of how each back-end language works. This way, they can choose the right language for the job and also debug any issues that may arise. Additionally, full-stack programmers should be comfortable working with databases such as MySQL and PostgreSQL. With this knowledge, they can build robust and scalable web applications.
HTTP and REST
There's no denying that the world of technology has evolved at a breakneck pace over the last few decades. And as a result, the skills required to be a successful developer have changed significantly as well. Where once a basic understanding of HTML was all that was needed to get started in web development, today's developers need to be well-versed in a wide range of different programming languages and technologies.
One of the most important skills for any developer, regardless of experience level, is a strong understanding of HTTP and REST. Hypertext Transfer Protocol (HTTP) is the protocol that governs how communication happens between different systems on the web. REpresentational State Transfer (REST) is an architectural style for building APIs that takes advantage of HTTP's capabilities.
A strong understanding of HTTP and REST is essential for any developer who wants to build web applications that are scalable and maintainable. Without this foundation, it would be very difficult to create applications that can handle large amounts of traffic or complex data structures.
Database storage
A full-stack programmer should understand how databases are structured and how to work with them. There are many different types of databases, but the most common ones used in web applications are relational databases like MySQL, PostgreSQL, and SQLite.
No matter what type of database you use, there are some basic concepts that all developers should know. For example, you should be familiar with CRUD operations (Create, Read, Update, Delete), which are the four basic operations that can be performed on data in a database. You should also know how to query data from a database using SQL (Structured Query Language).
If you're working with a relational database, it's also important to understand relationships between data tables. For example, you might need to join two tables together in order to get the data you need. Knowing how to do this is essential for any full-stack developer.
Basic design skills
As a full-stack developer, you must understand fundamental design principles strongly. This includes understanding how to use color, typography, and whitespace effectively. You should also know how to create responsive designs that work well on mobile and desktop devices. These skills can be learned through self-study or by taking courses on graphic design.
NPM
NPM is a must for every full-stack programmer. It is the package manager for JavaScript and allows you to install, update, and manage your dependencies. NPM also provides a way to share your code with other developers through packages.
Soft Skills Needed as a Full Stack Developer
As a full-stack developer, you will need to have a strong set of soft skills to be successful. Here are some of the most essential soft skills that you will need:
Communication: As a full stack developer, you will need to communicate effectively with other team members, as well as clients or customers, if necessary. You should be able to clearly explain complex technical concepts to non-technical people.
Problem-solving: Full stack developers need to identify and solve complex problems quickly and efficiently. You should be able to think on your feet and come up with creative solutions to tricky issues.
Time management: As a full-stack developer, you will likely be working on multiple projects at once. Therefore, it is important that you are able to manage your time effectively in order to meet deadlines and avoid becoming overwhelmed.
Organizational skills: In order to keep track of all the different parts of a project, full-stack developers need to have strong organizational skills. This includes being able to create clear and concise documentation so that other members of the team can easily understand what needs to be done.
Conclusion
A skilled full-stack developer is in high demand, and the skills required to become one continue to evolve as technology develops. We outlined the top ten skills anyone can acquire to become a successful full-stack developer by 2023. Whether starting from scratch or striving to advance your current web development career, learning these critical skills will help you stand out in this thriving and ever-growing field. Get cracking on learning these