5 Places to Visit on Your Trip to London
The capital of England holds a special place in everyone's heart. Whether you travel to London for work or pleasure, London has something to offer to everyone. Pacing at par with the modern world, its cultural diversity welcomes nearly 30 million tourists every year. In fact, it is the hub of some of the most iconic landmarks in history. With so many fascinating places to visit, we have picked out 5 that you really cannot afford to miss out on. Check out this article to make your trip to London an exciting one!
Tower of London
A magnificent witness to the history that William the Conqueror built in 1066, the Tower of London houses an array of attractions. Visiting the Crown Jewels is a spectacular experience where the jewels of the monarch are on display. The White Tower standing at the heart of this fortress deserves equal attention, thanks to its impressive collection of exhibits. The Chapel of St. John the Evangelist, the Battlements comprising 13 linked towers, the Bloody Tower with its mysterious history, the Fusilier Museum, and the Tower Mint all deserve a visit. Indeed, there is so much to see at this historically rich site!
The Petrie Museum of Egyptian Archaeology
Not only do people love Egyptian culture, but they are also equally interested in the myths and legends of it. This museum boasts over 80,000 objects of Egyptian and Sudanese origin. Hence, you can imagine life in the Nile Valley through the history of the pharaohs, the Ptolemaic, right up to the Islamic period. With workshops and fun activities, find everything on the museum website. Such interesting history has always influenced films and even games. Nowadays, you can even check out famous Egyptian-themed online casino games like our Book of Dead slot review.
Sea Life London Aquarium
No matter your age, the breathtaking creatures of the sea fascinate us all! This amazing world spreads over three different zones- Ocean Invaders, Rainforest Adventure, and Coral Kingdom. Hence, you can watch the wide range of jellyfish or take a tour of the Chilean rose tarantula, crocodiles, and scary piranhas on their feeding frenzy. Moreover, you can even witness UK's largest living coral reef as you appreciate the beauty of clown fish, yellow tang and more. In addition, there are VIP experiences available as well as the chance to get close to Gentoo penguins. If you are a little more daring, try a lifetime experience of snorkelling with sharks.
Carnaby Street
An iconic place for the 60s, Carnaby Street wraps up a lot in its 200 metres. While visiting, pop into Sophie's Tea shop to browse Sophie's collection of artworks. Its bright pink building is hard to miss. It has a compliments mirror, a free vending machine and much more. Carnaby Street also features some beautiful street art including The Giant Plug on Ganton Street, and the Spirit of Soho mural and clock. And with more time in hand, you can visit famous shops like Dr. Martens, Earthly Matters boutique or eat out at Flat Iron London.
Chinatown
In the heart of London lies a brilliant ode to East Asian cuisine. Offering a diverse and fascinating culture, this place is a wonderful blend of restaurants, bars, entertainment, cafés. Pick up a quick snack at Chinatown Bakery or pay the Botanical Garden on Gerrard Street a visit. You can also find Korean life in the aisles of Oseyo where you can browse through their products. And if you want to do something different, visit the House of Spells to indulge in some fascinating witchcraft and wizardry.
Conclusion
London is indeed a cultural melting pot, and it is difficult to avoid the excitement in its air. Even though there are many places that make London what it is, the 5 places listed here aim to give you a wonderful experience in all aspects. Not only are you engrossed in rich history with the Petrie Museum, but you also get to pamper yourself with top fashion in Carnaby Street. In fact, the best awaits you in Chinatown in terms of food, fashion, and culture. Hence, if you are already in London or planning to visit any time, do keep this list in mind to have a memorable trip!
Discovering the Best of Malaysia: A Bus Journey from Kuala Lumpur to Penang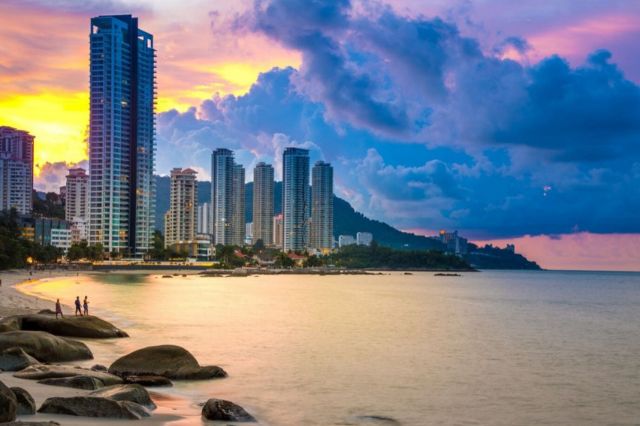 Malaysia has a rich cultural heritage, scenic landscapes, and bustling cities. Bus travel from Kuala Lumpur to Penang is among the best ways to explore this nation. This route offers a unique opportunity to witness the diversity of Malaysia and discover its hidden gems.
From the modern cityscape of Kuala Lumpur to the colonial heritage of Penang, this bus journey offers a glimpse of Malaysia's rich history and diverse landscape.  Moreover, bus ticket online booking makes it easy and hassle-free to travel within and near Malaysia. A bus journey from Kuala Lumpur to Penang is a must-try experience that will enable both residents and tourists to uncover the enchanting culture and natural beauty of Malaysia.
Here's what you can expect from this unforgettable journey.
The Comfort and Convenience of Online Bus Ticket Booking
The first step to a stress-free and comfortable bus journey is to book your tickets online. Online bus ticket booking platforms make it easy for you to book your tickets. You can compare prices, choose your preferred seat, and pay securely with just a few clicks. This eliminates the need to visit a bus station and stand in long queues, saving time and effort.
The Scenic Route from Kuala Lumpur to Penang
Once you've booked your tickets, it's time to embark on your journey. The bus journey from Kuala Lumpur to Penang mostly takes about 3-4 hours, depending on the traffic. However, the journey is worth every minute as you'll witness some of the most stunning landscapes in Malaysia.
The route takes you through green hills, winding roads, and charming small towns. You'll pass by vast oil palm plantations and small villages where locals live daily. Keep your camera handy as you'll encounter breathtaking countryside views and traditional Malay houses.
Cultural and Historical Attractions in Penang
Upon completing your comfortable bus journey, you will find yourself in Penang, an enchanting island on Malaysia's west coast. Penang is a vibrant fusion of cultures, and its architecture, cuisine, and traditions vividly showcase its rich history.
The island is home to several cultural and historical attractions that glimpse its past. That includes Georgetown, a UNESCO World Heritage Site and the most prominent of them all. It is well-known for its distinct blend of Chinese, Indian, and European influences. You can explore the colourful streets, visit the clan houses, and try local delicacies.
Another must-visit attraction is the Kek Lok Si Temple, the largest Buddhist temple in Malaysia. The temple complex is perched on a hill and offers stunning views of Penang Island. It's a perfect place to unwind and soak in the serene surroundings.
The Beaches of Penang
Penang is not just about its culture and history; it's also known for its pristine beaches. So after all the sightseeing, you can head to the beach to relax and unwind.
The most popular beaches in Penang are Batu Ferringhi and Teluk Bahang. Batu Ferringhi is a long stretch of white sandy beach lined with palm trees and hotels. You can indulge in water sports like parasailing, jet skiing, and banana boat rides. Teluk Bahang, on the other hand, is a quieter beach perfect for a peaceful stroll.
The Food of Penang
Every trip to Penang is complete with indulging in its food. Penang is known for its street food blend of Malay, Chinese, and Indian influences.

Try local delicacies like Char Koay Teow, Assam Laksa, and Hokkien Mee. These dishes are available at hawker stalls and restaurants that line the streets of Georgetown and other parts of Penang. The food in Penang is affordable, delicious, and caters to all tastes.

As we reached the outskirts of Penang, the bus driver dropped us off at the terminal, where the warm breeze of the sea greeted us. It was a refreshing change from the busy life of Kuala Lumpur.

Wrapping it up
In conclusion, taking a bus journey from Kuala Lumpur to Penang is an economical way to travel and an excellent means to immerse oneself in Malaysia's diverse culture and awe-inspiring natural beauty. With the convenience of online bus ticket booking, planning your journey and discovering the best of Malaysia is more accessible now.
The Insider's Guide to Basel: Hidden Gems and Local Favorites for Digital Nomads
Switzerland's Basel is a lovely city where you can have the finest adventures. Basel is a beautiful combination of the contemporary and the ancient, vibrant city with a rich history and passion. In Basel, there are simply a ton of enjoyable activities. 
This blog post will discuss the undiscovered jewels that draw the attention of digital nomads. Before getting into exploring the city, securing your accommodation is crucial. These monthly apartments in Basel offer you the best housing solutions in the city!
Hidden Gems for Digital Nomads to Visit
Discover the Old Town
You'll have the most incredible time exploring Basel on foot, and what's a more effective way to do that than by beginning in Old Town? While exploring the old town's winding pathways and taking in several of the old homes, you'll feel a sense of history. Cathedral Hill, historic institutions, Town Hall, and many more places are also easily accessible. Start your stroll there early in the morning. In this way, you can have sufficient time to explore and appreciate it.
At the Basel Paper Mill Museum, Visit a Medieval Paper Factory
This antique paper mill presents a fascinating look into the heritage of paper manufacturing, demonstrating many of the conventional methods utilized nowadays in conjunction with various outdated objects like quills, old postage, publishing machines, and even typing machines. Someone who loves the smell of new parchment and ink will want to come to this ancient paperwork mill. Tourists are encouraged to make their parchment using specialized hand-operated machinery before cooling it in a hot dryer at the journey's conclusion. The centre offers a variety of activity spots, demos, and seminars throughout visits.
Visit the Vitra Design Museum to Learn More about Architecture
A visa is required to enter this exhibit. Officially in Basel, this museum is genuinely in Germany. At 2.6 kilometres from the Swiss boundary, it is nearer to France than Switzerland. However, this shouldn't be too problematic if you have a Schengen permit or a European card. And anyone with a passion for architecture, particularly internal architecture, should pay the exhibition a call. You can tell that things are going well from the outset because Frank Gehry built the structure. The displays therein frequently address the subject of prospective furnishing and lighting styles while asking queries about social and ethical responsibility.
Visit a Renowned European Scholar's Grave
The European Union's famous historic towns are connected by the fact that most of them are home to a person whose legacy is nevertheless revered today. Their ultimate burial sites are likely to draw the curious and those who wish to offer their regards, whether they were writers, performers, political philosophers, or, like Erasmus, academics and preachers. The Medieval era, a unique eternity when man's knowledge and progress experienced a significant paradigm change, is when Erasmus is regarded as one of the greatest thinkers of all time. In the turbulent waters of medieval ethnic politics, Erasmus stood out as a voice of restraint.
His middle-ground strategy, or use of the mediums, still appears to be profoundly pertinent today. It calls for a dialogue acknowledging everyone's views and seeking a foundation of shared territory for future generations. His grave is located in Basel Minster, a twin-towered monument in Basel that metaphorically underwent a religious conversion from Catholic to Calvinist Protestant. Interestingly (and appropriately), Erasmus is the designation of the pupil exchange scheme run by the European Union.
At Markthalle, Local Sights
Discovering the local customs and cuisine is among the finest approaches to enjoying your day in Basel. Markethalle must be included in your Basel schedule for that reason. In addition, there is a food centre with a hemispheric form where you can find various regional dishes.
Don't miss the opportunity to kick your day off by indulging in some local fare for brunch. There are national and international dishes in addition to local food. There are numerous flavors to choose from to satisfy your palate.
Conclusion
Basel is among the most desired destinations for digital nomads, not just because of its digital development but also due to its several tourist attractions. Its calm and peaceful environment makes it even more comfortable for digital nomads to work and roam around. 
So this city of historical buildings is your next destination!
5 Most Crucial Supplies for a Family Camping Trip
Going on a family camping trip can be a great way to spend quality time with loved ones while enjoying the beauty of the great outdoors. However, to make the trip successful, packing the right supplies is essential. Below are the five most crucial supplies every family needs for a successful camping trip.
Cooking Supplies
Eating well is an integral part of any camping trip, and having the right camping cooking set can make mealtime a breeze. Bring a portable stove or grill, cookware, utensils, and dishware. Consider buying an all-in-one system that includes pots, pans, and utensils that are lightweight and easy to pack away in a small bag. Don't forget to pack cleaning supplies, such as dish soap and sponges.
Tent
A tent is one of the most important supplies you'll need for a family camping trip. You'll want to make sure you choose a tent big enough to fit your entire family and any other necessary supplies comfortably. When selecting a tent, consider the type of camping you'll be doing. Will you be hiking to a remote location and carrying your gear with you, or will you be car camping at a designated campground? These factors will influence the size and weight of the tent you'll need.
A good tent should be able to withstand inclement weather and provide plenty of space for your family or group.
Sleeping Bags
A good night's sleep is essential for a successful camping trip, so bringing along high-quality sleeping bags is essential. Consider factors like temperature rating, sizing, shape, weight, construction quality, and fill type when choosing a sleeping bag. Choose bags rated for your trip's expected temperature range, and ensure you have enough for everyone. Consider the size and shape of the bags as well, as you'll want to make sure everyone can fit comfortably in a tent.
First Aid Kit
Accidents can happen, even in the great outdoors. That's why bringing along a well-stocked first aid kit is essential in case of any minor injuries. Be sure to include items such as bandages, gauze, antiseptic wipes, burn relief products, and pain relievers. It's also a good idea to bring along any prescription medications that members of your party may need. Store these items in one waterproof container, so you know where everything can be found if required.
Lighting
Having adequate lighting is vital for safety and convenience during a camping trip. Flashlights and lanterns are essential in providing light in dark areas when exploring nature around the campsite or playing late-night board games. 
Many families opt for both flashlights and lanterns since they serve different purposes. Small flashlights provide focused beams of light that come in handy when looking inside tents, whereas lanterns provide light more broadly, illuminating larger spaces outside or around campfires.
Make sure you have enough batteries to last the duration of your trip. Consider bringing along a headlamp for hands-free illumination while cooking or setting up camp.
Parting Shot
A successful family camping trip requires the right supplies. By packing these five essential items—cooking supplies, a tent, sleeping bags, a first aid kit, and lighting—you'll be well-prepared for a comfortable and enjoyable adventure in the great outdoors. With these supplies packed away before leaving on your next adventure, you'll have a comfortable yet enjoyable stay out in the wilderness.