5 Reasons to Have a Plunge Pool at Home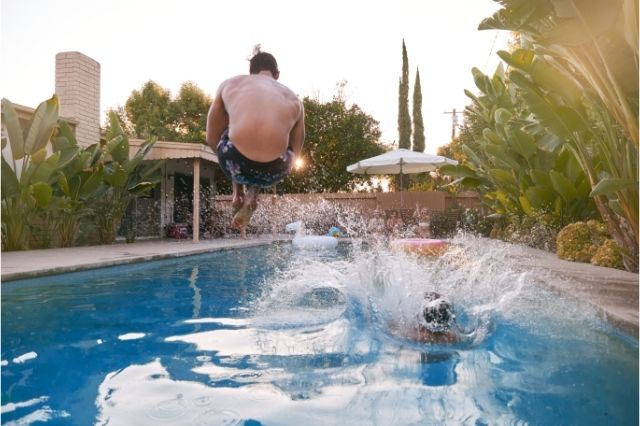 Until a few years ago, plunge pools were hardly known among Australians. Instead, today they are found in many hotels, apartments and private homes. Not surprisingly, there are many reasons why a plunge pool is worth having at an Australian house. If you are still not very convinced, or you do not know very well the benefits of plunge pools, you are in time to catch up.
What is a plunge pool?
The first question that is usually had is the difference between a conventional pool and a plunge pool. The main one of them all is size. Plunge pools have a much smaller space. In fact, sometimes these types of pools are only 1.5 square meters. Another difference is the depth. Despite being small, they have considerable depth. This is because it is essential that the person who enters it can be completely covered with water. Now that it is a bit clearer what a plunge pool is, let's take a look at the main reasons why it is worth having one at home. You will be surprised at how much such a small pool can give. In addition, you cannot imagine all the benefits it has.
Reasons to install a plunge pool
We could spend hours and hours talking about the reasons why installing a plunge pool is a good idea. We have listed the most important ones below.
1. They fit in any garden
The size of the garden is, on many occasions, a problem when installing a swimming pool. On the other hand, as we have commented previously, plunge pools occupy a very small space, so there will be no such problems. You will not have to be measuring the garden, or sacrificing other spaces to achieve one for the pool. Plunge pools fit in any corner and even inside a porch.
2. Can be installed indoors
Don't you have a garden? Nothing happens. Plunge pools can also be installed inside the home. If you choose this option, you can enjoy your pool every day of the year. In addition, it will also have a decorative role. The result will be similar to installing a font. The only thing you will have to bear in mind is that humidity problems may appear. That is why you must use materials that are compatible with the pool you are going to install.
3. They are the perfect complement to a sauna
If you have a sauna at home and you use it regularly, you are probably also interested in a plunge pool. In this case, portable pools are usually used. They are a kind of wooden tanks with a ladder to facilitate entry and exit. The combination of sauna and plunge pool is very beneficial and highly recommended. In fact, these two elements are used together in the Nordic countries. If you like Nordic decoration and also its lifestyle, you can decorate your house in this way at the same time that you benefit from all its properties.
4. Relieve joint pain
Joint problems are quite common, especially after the elderly. A natural way to alleviate this annoying problem is to dive into a plunge pool. When floating, our body has to do very little effort. The joints relax and the pain decreases. In addition, changes in temperature are very beneficial, and even if it seems too cold at first, later you will realize that it is worth it. These temperature changes are also highly recommended in cases of circulation problems.
5. A plunge pool accelerates muscle recovery
If you do sports regularly, you should know that a plunge pool can be the perfect complement. After training you will feel tired and your muscles will have to recover. Do not forget that rest periods are as important as the training itself. That is why it is worth investing the time that is necessary in this phase. Soaking for a few minutes in a plunge pool accelerates muscle recovery. Our body relaxes and recovers after the effort it has made.
Green Features You Can Find In Modern Washing Machines
When it comes to washing your clothes, using a washing machine is very useful. However, despite how effectively it can clean your clothes, it can use up a lot of energy through electricity and water usage.
However, thanks to recent innovations and the development of technology, the use of modern washing machines means that you can use less energy than before thanks to green technology that these appliances now use. So what are these features, how are they used in your day-to-day washing and what terms should you be looking out for when shopping for a new washing machine?
Washing a 20°C or 30°C
Thanks to the advances in washing efficiency, you no longer need to wash your clothes at a high, warm temperature in order to clean them effectively. Most, if not all, washing machines you find at retailers today have a setting – or a range of washing programmes – that allow you to wash your clothes at 30°C.
Detergents and fabric softeners have been designed to work at 30°C too, meaning your t-shirts, trousers and dresses can benefit from a high level of cleaning without the need for your machine to warm up the water to a higher temperature.
Load Detection
A feature you can find on an increasing number of washing machines is load detection, which detects the weight of the laundry you put in your machine, and it adjusts the amount of water used accordingly. This is especially beneficial if you need to wash a handful of items but don't want to use a disproportionate amount of water.
Saving the amount of water you use can help you save on water bills, and it also means you'll be using up less water in general, meaning it's better for the environment. It also means that your washing machine will need to heat up less water, allowing the appliance to use less energy.
Energy Ratings
Every appliance should come with an energy rating that allows you to assess how efficient each appliance is. In the UK, the energy ratings range from A to G, with A being the most efficient and G being the least. The energy ratings used to range from from A+++ to G, however this has been changed due to advancements and developments in technology which have made appliances more efficient than ever. So, for example, appliances that used to be rated A+++ are likely now rated as B or C, A++ as D or E, and A+ as F or G.
Don't Forget, Recycle Your Old Washing Machine
If you're looking to buy a new washing machine, then there's a decent chance that you have an old one that you're looking to get rid of. You won't have space for it and you won't use it, so why keep it? No matter the reason for you getting a new one – whether it's broken, run-down or still in decent working order – you should look to have it recycled.
There are many washing machine component parts that can be reused either as replacement parts or to serve a different function altogether. And even the raw materials can be broken down and repurposed to be used in something else.
Throwing your washing machine away outside can be ugly and also bad for the environment, so recycling is the best way to go. Many appliance retailers will include a removal and recycling service that will take your appliance away for a small fee to ensure the machine is out of your hands, freeing up space in your home and is also being recycled in the right way.
Breathe Easier: 7 Ways Organic Latex Can Reduce Allergies
People with allergies understand how difficult and draining it can be to control ongoing symptoms like sneezing, itching, and congestion. Allergies can interfere with your daily life, making it difficult to focus and enjoy the things you love. However, there are ways to reduce your allergy symptoms, and one of them is by using organic latex products. 
It's worth noting that more and more companies are producing eco-friendly and non-allergenic mattresses, such as Essentia organic latex mattresses, which are naturally hypoallergenic and offer an ideal sleeping environment for those with allergies. This article will explore seven ways organic latex can reduce allergies and help you breathe easier.
Hypoallergenic
Organic latex is made from natural materials and is free of harsh chemicals and synthetic materials. Therefore, it is less likely to cause an allergic reaction than other materials, such as synthetic latex or memory foam. Organic latex is also resistant to dust mites, a common allergen that can cause respiratory problems and skin irritation.
Anti-Microbial
Organic latex has natural anti-microbial properties, which means it can resist bacteria, mold, and mildew growth. These microorganisms can exacerbate allergies and cause respiratory problems. By using organic latex products, you can reduce your exposure to these harmful substances and breathe easier.
Breathable
Organic latex is naturally breathable, which can regulate temperature and moisture levels. It's crucial for people with allergies because high humidity levels can promote the growth of mold and mildew, while low humidity levels can cause dry skin and respiratory problems. Organic latex can help maintain a comfortable and healthy environment, reducing the risk of allergy symptoms.
Durable
Organic latex is a long-lasting material that can withstand wear and tear. As a result, you won't have to replace your organic latex products as often, reducing the risk of exposure to harmful materials and allergens. Investing in high-quality organic latex products allows you to enjoy a healthier and more comfortable environment for years to come.
Chemical-Free
Many conventional bedding and furniture products contain harmful chemicals, such as formaldehyde, flame retardants, and volatile organic compounds (VOCs). These chemicals can irritate the eyes, nose, and throat and may exacerbate allergies. Organic latex is free of these chemicals, providing a safer and healthier option for people with allergies.
Sustainable
Organic latex is an eco-friendly material that is sustainably harvested from rubber trees. As a result, your purchases have a minor negative environmental impact because they are renewable and biodegradable. Choosing organic latex products can help support a healthier planet and reduce your carbon footprint.
Comfortable
Last but not least, organic latex is a comfortable and supportive material that can provide a restful night's sleep. By reducing the risk of allergy symptoms, organic latex can help you wake up feeling refreshed and rejuvenated. Plus, organic latex's natural bounce and contouring can provide pressure relief and spinal alignment, improving your overall health and well-being.
Parting words
Organic latex is a safe and effective option for people with allergies. Organic latex products can help you breathe easier and enjoy a healthier environment by reducing exposure to harmful materials and allergens. If you suffer from allergies, consider investing in high-quality organic latex products for your bedding, furniture, and household items.
Top 10 Benefits of Steam Cleaning You Should Know
Steam cleaning is a natural and chemical-free way to keep your home clean and hygienic. When cleaning with a steamer, you can eliminate using harsh chemicals that are bad for the environment and you. In this article, we will discuss the top benefits of steam cleaning and why you should consider using a steamer for cleaning your home.
Kills Germs and Bacteria
The main benefit of steam cleaning is its ability to kill germs and bacteria. The steam's high temperature effectively kills a wide range of germs and bacteria, including salmonella, E. coli, and listeria. Steam cleaning is an excellent option for homes with children and pets that might be more ill-prone.
All-Natural Cleaning
As previously mentioned, using a steamer for cleaning eliminates the need for harsh chemicals. Steam cleaning uses only water to clean and sanitize surfaces, making it an all-natural cleaning method that is safe for you. As a result of this, you can clean your house without being concerned about using dangerous chemicals.
Saves Time and Money
Steam cleaning is a time-saving method that can save you money in the long run. With a steamer for cleaning, you can clean multiple surfaces at once, such as floors, countertops, and upholstery. This eliminates the need for multiple cleaning products and tools, saving you money. Additionally, steam cleaning is a fast and efficient cleaning method, making it perfect for busy households.
Reduces Allergens
Steam cleaning can also help reduce allergens in your home. The high temperature of the steam effectively kills dust mites and other allergens that can trigger allergies. Steam cleaning can help reduce allergy symptoms and improve indoor air quality by eliminating these allergens.
Versatile Cleaning Method
Steam cleaning is a versatile cleaning method that can be used on various surfaces. It can be used on floors, walls, carpets, upholstery, and windows. This makes steam cleaning a great option for households with various cleaning needs.
Eco-Friendly Cleaning Method
In addition to being an all-natural cleaning method, steam cleaning is also an eco-friendly option. Using a steamer for cleaning eliminates the need for harsh chemical cleaners that can harm the environment. Steam cleaning also uses less water than traditional cleaning methods, making it a more environmentally friendly option.
Deep Cleans and Sanitizes
Deep cleaning with steam is an efficient way to get rid of grime, dirt, and stains from surfaces. The high temperature of the steam penetrates deep into the surface being cleaned, loosening and removing dirt and stains. Steam cleaning is also an effective sanitizing method, as the steam's high temperature effectively kills germs and bacteria.
Safe for All Surfaces
It is safe for all surfaces. Unlike traditional cleaning methods that can be harsh and abrasive, steam cleaning is gentle on surfaces and does not damage or scratch them. This makes it an option for cleaning delicate surfaces such as hardwood floors, marble countertops, and delicate fabrics.
Easy to Use
Steam cleaning is a user-friendly cleaning method that is easy to use. All you need is a steamer for cleaning, and you're ready to go. Simply fill the water tank, wait for the steamer to heat up, and you're ready to start cleaning. Steam cleaning is also a low-maintenance method that requires little to no preparation or clean-up.
Improves Indoor Air Quality
Finally, steam cleaning can also help improve indoor air quality. Traditional cleaning methods such as mopping and sweeping can kick up dust and allergens, causing them to circulate in the air. Steam cleaning, on the other hand, uses the power of steam to trap and eliminate allergens and other pollutants, helping to improve indoor air quality and create a healthier home environment.
Conclusion
Steam cleaning is an effective cleaning technique that has numerous advantages. It is an all-natural, eco-friendly, and versatile cleaning option that is safe for all surfaces and effective in killing germs, bacteria, and allergens. Steam cleaning is a time-saving and cost-effective method that can improve indoor air quality and create a healthier home environment.
Using a steamer for cleaning can eliminate the need for harsh chemical cleaners and enjoy the benefits of a natural and effective cleaning method. So why not use steam cleaning for your next cleaning task and experience the benefits yourself?