82 Beach Quotes and Sayings to Make Your Day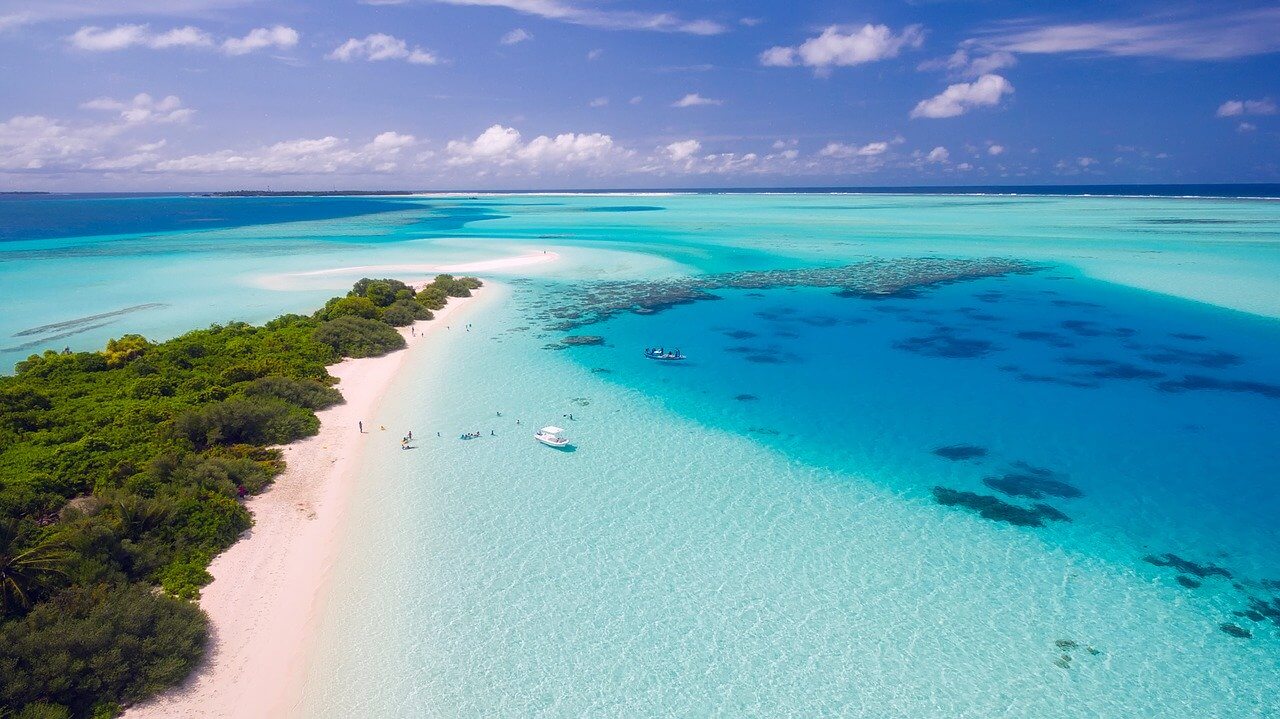 Are you a fan of beach quotes? Do you know the triple S of the beach life?
Scintillating sea, soothing sand and sparkling sun are the three phrases that take us to the nostalgic euphoria and make us long for revisiting the beach with our friends and loved ones.
The word "beach" stirs a roller coaster of childhood memories. Building castles with soft sand, playing among rolling waves and enjoying the fantastic never-ending sea view in front of our eyes never loses its charm and special touch. It has become an integral part of our lives.
Why do we all love summer the most?
Is it the call for tan lines, wavy hair, and the scent of sunscreen?
Long summer days allow us to sit by the ocean and observe its changing colors. These transitions seem well-connected with human sentiments and feelings.
Calm blue water entices us to dip our feet and sit back and enjoy reading our favorite books or plan bonfire and games with your close companions.
The fierce and dark waves reflect the angry mood and excite us to behold the magnificent panorama of nature.
Even just walking along the beachside and choosing to collect seashells instead of wearing a swimsuit and jumping in for a quick swim is a wonderful idea. We all long for it in one way or the other to feel the salty sea breeze.
The gigantic waves hurling white splash has worked as a backdrop inspiration for many authors, poets and artists.
Here comes your handy sourced beach quotes to help you get light and motivation from the sea and face your unsettled fears like tall and lonely lighthouse facilitating seamen and guiding them towards their destinations.
Let's develop beachitude.
Romantic Beach Quotes to Share with Your Lover
"I love you more than all the grains of sand on all the beaches of the world."
"I love you to the shoreline and back."
"I need you like a butterfly needs wings and the ocean needs water."
"If you want to know how much I love you… count all the waves in the sea."
"I love you more than there are stars in the sky, waves in the ocean and grains of sand of sand on the beach."
"In high tide or low tide, I will be by your side (always)."
"The sand may brush off the salt may wash away but the memories will last forever.
"Do I love you? My god if your love were a grain of sand, mine would be a universe of beaches." – William Golding
"Sensual pleasures have the fleeting brilliance of the comet; a happy marriage has the tranquility of a lovely sunset." – Ann Landers
"He held her like a seashell and listened to her heart."
Every lover desires to spend time with his beloved on an exotic beach to create some magical moments together. You might like walking along the rocks holding hands and sharing plans. Sitting close by each other, cherishing the water lapping at your toes. Feel the cool breezes teasing your skins and savor the soft lull of waves.
Throwing wish bottles in the mighty ocean to grant your wishes. Confining our desires to seas is a centuries-old practice.
Lovers always feel an intense relationship with oceans. Many inspirational sayings, philosophical and confessional quotes are proof to it.
Set a candlelight dinner to add a little more spice in your relationship. Whether you are a newlywed couple or celebrating your platinum anniversary at the beach, nicely done things will help to uplift the mood.
Capture a beautiful picture and caption it with an amazing romantic beach quote and get it hanged in your bedroom.
Trust me, folks, your love will multiply every time you will look at it. It will urge you to reconnect more passionately to take your relationship to another level of intimacy and love.
Famous Beach Quotes and Sayings
"Let the waves hit your feet, and the sand be your seat."
"Smell the sea, and feel the sky, let your soul and spirit fly." – Van Morrison
"Live in the sunshine, swim the sea, drink the wild air." – Ralph Waldo Emerson
"To myself I am only a child playing on the beach, while vast oceans of truth lie undiscovered before me." – Isaac Newton
"The ocean stirs the heart, inspires the imagination and brings the eternal joy and brings eternal joy to the soul." – Robert Wayland
"I lost my heart to the sea."
"To escape and sit quietly on the beach – that's my idea of paradise." – Emilia Wickstead
"Life is like the ocean. It can be calm or still, and rough or rigid, but in the end, it is always beautiful."
"You can't stop the wave but you can learn to surf."
"The sea, once it casts its spell, holds one in its net of wonder forever." – Jacques Cousteau
"My life is like a stroll on the beach…as near to the edge as I can go." – Henry David Thoreau
"The sea, once it casts its spell, holds one in its net of wonder forever."
In the words of famous Lebanese-American writer, poet and visual artist Khalil Jibran "In one drop of water are found all the secrets of all the oceans."
Since ancient times, people drive inspiration from the beach and the sea. Water holds the power to develop harmony of mind, body, and soul. It makes us contemplate the sad and happy moments of life.
It can be your source of hope, joy and guidance. Beaches are the places where families come closer, couples get to know more about each other and friends or singles can enjoy fishing.
The above-shared sayings are from eminent figures in history who lit people's life with their amazing work.  The celebrated essayist like Ralph Waldo Emerson and the greatest scientist Sir Issac Newton, the vastness of oceans touches everyone's soul.
It makes us see life and interpret things from a different perspective. 
To get inspired and motivated, frame some famous quotes of eminent people and put them on your study table to broaden your horizon and kick your day to a perfect start.
You can also record sayings and quotes in your diary or on your mobile to make productive use of your spare moments. These will not only uplift your mood but surely will add into your vocabulary and you can use them in your conversation to heighten its effect.
This is an extra value-added benefit.
Funny Beach Quotes and Captions
"If you need me, call me on my shell."
"If in doubt paddle out."
"Suns out buns out."
"Sand in my toes and sand water curls."
"Sandy toes, sunkissed nose."
"Everyone believes in something. I believe I'll go to the beach."
"Happiness comes in waves."
"Blue skies, high tides, and good vibes."
"Give me coffee to change the things I can, and the beach to accept the things I can't."
"An ocean breeze puts mind at ease."
"Let's beach bums today."
"The ocean calms my restless soul."
"Don't grow up too quickly, lest you forget how much you love the beach." – Michelle Held
Do you know that a good laugh can improve our health?
Everyone loves light-hearted and chirpy people because they attract people towards them. Similarly, funny jokes lighten up our moods and reduce stress.
If you are tired of the daily grind of hostile work, want to get rid of rude behaviors, this compilation of funny quotes is your escape from all the bad things and sit back to enjoy reading these.
These will not only cheer you up but will also inspire hope, and assist you in releasing your anger and gearing up to be grounded and focused.
As a child, we easily laugh even on small things many times in a day but being adults, the laughter becomes rare.  The mighty beach with its eternal calmness is the best option to forget about our problems and ensure physical and mental well-being.
We have an excellent idea for you. Write some good funny beach jokes on your living room wall to keep you remember that your vitamin sea is waiting for you to discover greater happiness in sun-kissed sands and cool waters.
Inspirational Beach and Ocean Quotes to Bring You Peaceful Healing
"The mind is like water. When it is turbulent, it's difficult to see. When it's calm, everything becomes clear." – Prasad Mahesh
"I believe in the ocean curing all bad moods. I believe in the waves wiping away worries. I believe in the seashells bringing good luck. I believe in toes in the sand grounding my soul."
"The sea cures all ailments of man." – Plato
"At the beach, life is different. Time does not move hour to hour but mood to moment. We live by the currents, plan by the tides and follow the sun." – Sandy Gingras
"You can never cross the ocean standing on the side of the shore. You can never fulfill your dream until you start working on it."
"Humanity is like an ocean; if a few drops of the ocean are dirty, the ocean does not become dirty." – Gandhi
"Be the ocean fight alone, not everyone needs to know what's going on your mind."
"Clouds come floating into my life, no longer to carry rain or usher storm, but to add color to my sunset sky." – Rabindranath Tagore
"The heart of man is very much like the sea, it has its storm, it has its tides, and in its depths it has pearls its pearls too." – Vincent Van Gogh
"In every outthrust headland, in every curvy beach, in every grain of sand there is the story of the earth." – Rachel Carson
"Catch a wave and you will be sitting on top of the world."
"The beauty and mystery of ocean, fills our lives with wonders, vast beyond our imagination."
"Writers begin with a grain of sand, and then create a beach." – Robert Black
Today's digital world has made us lead a mechanical life.  With its fast-paced routine, we hardly ever take time for ourselves to sit back and relax.
Visiting the beach as a child is a precious memory that we all hold.  The relaxing whoosh of waves, the scent of saltwater, the friendliness of the sun and the gentle touch of sand are irreplaceable. The beach gives meditative treatment to our stressed brains.
The calming sound of the waves release our stress; the blue color brings serenity to the mind, and breathing in the ocean air serves as a magical potion to make us happy.
Nothing other than a beach works as a solid foundation for strengthening family bonds, children gathering priceless memories, and lovers walking while holding hands as the night falls. The fishermen get their sails ready for fishing.
This compilation of inspirational sayings of famous and anonymous figures will serve as your source of motivation for you. It will urge you to see and explore things from a different perspective. Feel the spirituality, experience the way sun dawns every morning, gather courage from a lone surfer who is conquering the mighty waves.
Life is hard yet beautiful, but believe you me, you are harder than the challenges coming your way.
Get these quotes framed, print any of your favorite quotes on your shirt, or gift this collection to your friends and suggest them to visit our blog for their daily dose of encouragement.  The choice simply lies with you how you benefit from it.
Night Beach Quotes
"There's no better sound to hear than the ocean, the wind and the rain all at once, late at night."
"On the beach at night gazing the stars so high and we talk till sunrise." – Misiki
"Life needs more beaches and bonfires."
"I just wanna live on the beach. Walk it at night then fall asleep with the windows open and listens to the waves crash."
"Keep your eyes on the stars and your feet on the ground." – Teddy Roosevelt
"As if the ocean cares that it's been zoned residential – what the sea wants, the sea shall have." – Kristy Eager
"To go out with the setting sun on an empty beach is to truly embrace your solitude." – Jeanne Moreau
"Let's go somewhere, where the stars kiss the ocean."
If you want to observe the miraculous journey of the dark night turning into a beautiful sunny day, there is no better place than the beach for that.
Sunset may be the reason to set your fire for night camping and having freshly prepared seafood with your loved ones. The dawn may serve to reinvigorate your spirits to be prepared for coming joys.
We all believe that the setting sun will rise again with new vigor to touch our souls and guide us for seeking peace and harmony.
Spend some time thinking over these quotes. These are collected from the treasure house of the wisdom of eminent personalities of the world.
The beach is a safe shelter and shared heaven for us all.  Capturing a quote in your cell phone to look for inspiration or sharing with friends is a valuable incentive.
Beach Quotes for Instagrammers
"I am an aquaholic."
"Shall-abrate good time."
"The tans fade, but the memories last a lifetime."
"Beach hair, don't care."
"You are not a wave, you are part of the ocean."
"High tide, or low tide, I'll stay by your side."
"The cure of anything is salt water: sweat, tears, or sea. – Isak Dinesen
"Tropic like, it's hot."
"Happier than a seagull with a french fry."
"You can shake the sand from your shoes but it will never leave your soul."
"Sorry, I'm octopied."
"Love the beach. Can I be any more Pacific?"
"Mermaid kisses and the starfish wishes."
"So much water, such little time."
This is the age of social media, and Instagram is undoubtedly a powerful channel to leverage relationships. There is a quest for engaging more and more followers to leave an influential impact on people's life.
Nothing is more captivating than spending a beautiful beach day among the salty waters. Cherishing summer days on the shore with your family or friends while capturing every moment in your cameras is fascinating. This fascination becomes enthralling when you post the pictures on your Instagram for your followers.
The captions of pictures attract people to know and admire you. We have shared a few exciting captions for your photographs.
You can share your favorite caption for your beach pictures in the comment section below.
Sunset Beach Quotes
"Twilight fell: The sky turned to a light, dusky purple littered with tiny silver stars." – K Rowling
"The first stab of love is like a sunset, a blaze of color—oranges, pearly pink, vibrant purples…" – Anna Godbersen
"Sunsets are proof that no matter what happens, every day can end beautifully." – Kristen Butler
"Every sunset brings the promise of a new dawn." – Ralph Waldo Emerson
"Our memories of the powerful ocean will last, long after our footsteps in the sand fades."
"Enjoy the beauty of the sunset and enjoy nature's farewell kiss for the night." – Sharon Rene
"There is nothing more beautiful than a sunset."
"Don't forget: beautiful sunset needs cloudy skies." – Paulo Coelho
"Sunset shows that LIFE is too beautiful to hold on to the past so Move on to the Present."
"There are too many things I haven't done yet too many sunsets I have not seen."
The sunset signals change. It marks the transformation of time. It is not only beautiful but also contains signs of wisdom for inquiring souls.
Sunsets remind us that change is inevitable and urge us to accept it.
Observing the setting sun on the beach holds the healing powers. It makes us happy and cleanses our spirits. You should not spare any chance to miss watching the sunset. It can instantly change your mood and make you reexamine any negative thoughts you have about anyone or the world.
The shared sunset quotes and sayings are gathered from acclaimed authors like Rowling, Coelho and Sharon to inspire you irrespective of who you are and where you belong to.
Make a collage of your sunset pictures. Caption it with a wonderful sunset quote. Every time you will look at it; it will boost your well-being and enhance your prosociality.
You can share your favorite sunset quotes with your pals at schools or your parents at home to make them a part of your journey and understand how sunset evokes various emotions.
Beach Related FAQs
What Are the 10 Most Beautiful Beaches in the World?
1.       Maundays Bay, Anguilla
2.       Kiawah Island, SC
3.       Trunk Bay, St. John, USVI
4.       El Nido, Palawan, Philippines
5.       Retti Rah, North Male Atoll, Maldives
6.       Horseshoe Bay, Bermuda
7.       Matira Beach, Bora Bora, French Polynesia
8.       Seven Mile Beach, Grand Cayman, Cayman Islands
9.       Palm Beach, Aruba
10.   Elafonisi, Crete, Greece
What Should I Do at the Beach?
Go surfing, build sandcastles, chase the waves, play music and dance with your partner, enjoy swimming and water fights, collect seashells or read a book and drink a beer.
You can extract the fun the way you want to nurture your Beachitude.
Bottom Line
Beach is a heaven for every kid, lover or family man. Each one of us longs for spending some quality moments with those who are close to our hearts away from the hustle and bustle of ever-busy metropolitan life.
The finest blend of beach life and the good company offers all advantages of exercise. Sand is the natural exfoliant and relieves all the stress of mind and body.
These sayings of the famous wordsmiths will cast their charm on you to revisit the poetic memories of beach days.
Be sure to check our collections.
40 Inspirational Get-Well-Soon Messages and Quotes to Uplift Your Loved One
You may feel lost and wish for a quick recovery when someone you love is not keeping well. But, sometimes, you may not be able to find the right words to express your love and concern to them. After all, you are stressed out as well!
Well, you can send your loved one some sweet "get well soon" messages and quotes to uplift their spirit and cheer them up. So, send them these touching and inspirational texts and wish them a speedy recovery.
"Warriors never give up; they always fight back! So stay strong and recover quickly."
"You are in perfect health and wonderful. However, your body simply needs some downtime to recover fully."
"Be patient and get enough rest to keep blooming like a flower!"
"Please, get well soon! I can't wait to see you back in complete health."
"Every prayer knows where to go, and those for your health found their way to the Almighty. Rest assured that you will get well soon!"
"You would be well and happy forever if I could heal you through hugs and kisses. But I will still try my best! XOXO"
"You are a champion, so I do not doubt you'll overcome this challenge! Get well quickly, buddy!"
"Your pain will stop soon, and the lively colors will touch your spirit. Just stay strong!"
"Although I am confident in your ability to bounce back quickly and remain resilient, I beg God to send you a hot doctor!"
"You are much more resilient than the illness you are currently experiencing. So, stay strong and recover quickly."
"Get well soon so you can continue to offer me joy and happiness as always."
"Keep pushing forward, my dear buddy. This illness is just another challenge to overcome with willpower and a positive outlook."
"It's time to unwind and take it easy because you will soon recover and have a lot of work to catch up on!"
"Think of this illness as a test of your strength. Show it how strong you are!"
"Get well soon so we can catch up on all the TV show episodes we are missing right now!"
"Your disease is not as powerful as you are. You will come out stronger at the end of this ordeal."
"It's not the right time to worry. So I'm sending you all the comfort and love I can think of right now. I hope you get better quickly and return to good health."
"I am in such great pain seeing you suffer. I wish I had the power to heal you in a single night. I wish you a speedy recovery, my darling!"
"Recover quickly, pal. I'm sending you my best thoughts and prayers."
"Although recovery requires a lot of work, you don't have to do it alone! Whatever you need, we are here to help. Get well soon!"
"Think about all the blessings in your life while you close your eyes. Celebrate the Lord's goodness. Despite being ill, you can still breathe. God will shortly heal you."
"You have a lot of courage. You've never lost a war, ever. You will bounce back from this too, I'm sure."
"Let your body relax and take your medication as directed. We are all with you!"
"As long as you need my care, I will be here to do so and nurse you back to wellness. I love and appreciate you."
"You are not by yourself. I'll be there for you every step of the way."
"It's time to kick this illness in the butt and come back stronger than ever!"
"I've always respected your bravery and capacity to deal with anything life throws you. You will overcome this, too."
"I wish you could feel the love that is currently enveloping you. We eagerly anticipate your recovery."
"While you recuperate, give yourself time and patience. I'm hoping that each day provides more solace and fortitude."
"We are all in your corner and waiting for you to make a full recovery so we can all go on that road trip we have been planning for years!"
"There's nothing worse than being stuck in bed when someone is as full of life as you are. So get well soon because life is waiting for you!"
"Tender loving care has consistently been recognized throughout history as a valuable component in healing."
"Since you aren't here to grasp my hands and hug me right now, I feel so lonely and depressed. So, baby, get well soon. I am waiting for you to get back home."
"Except for you, I have no one else to discuss my daily existence with. So I hope you get well soon!"
"The entire crew sends you its best wishes. We look forward to you joining us again and partying hard!"
"I may not be a doctor, but I have the power of friendship that can heal you. Get well soon."
"Smile, laugh, and be as positive as you can to make a speedy recovery!"
"I know how hard it is for you to stay still in one place, so this must be very hard for you. I pray that you get back on your feet soon!"
"Yes, life is hard right now. But it won't always be this way. You will make a quick recovery and get back in fighting form soon!"
"Being sick is a real test of patience and resilience. And I know you will pass it with flying colors!"
Let your loved one know that you hope and pray for their speedy recovery through some beautiful and meaningful words. This sweet gesture will make them feel loved and give them the strength to recover quickly. Although the messages mentioned above are sufficient, don't forget to add your personal touch when sending them to your beloved!
168 Best Quotes about Sarees for Instagram Captions
Welcome to the incredible collection of quotes about sarees – the traditional Indian dress. The most beautiful piece of clothes in an Indian girl's wardrobe is her saree. Sarees are so versatile that they can be worn at any occasion. The saree is a classic dress for every event, from college farewells to wedding parties.
All you have to do now is dangle them around and take some pretty lovely photos. We're here to provide you with the best quotes about sarees. Simply copy and paste the descriptions into your photos, or make your own. Your photos will appear considerably better with the proper saree lover quotes in either case.
When the wedding season is on, the gorgeous girls' Instagram feeds are brimming with pictures of ethnic dress. If you've been wasting time looking for nice quotes about sarees and still haven't found the finest saree quotes for Instagram for your saree shot, your search is over today.
You're at the right place if you're wearing a lehenga or saree and striking a pose for the iPhone! Because we've put up a fantastic collection of quotes about sarees for Instagram that you can use to express yourself in any situation! Using our saree quotes can make your pictures look more attractive and aesthetic.
Best Quotes about Sarees All Time
Sarees have the ability to make any lady feel instantaneously gorgeous, which is one of the most significant sentiments you experience when wearing a saree. What better way to convey that than with one of these quotes about sarees to accompany your Instagram photo? Let's review some useful saree quotes in below section.
Saree is the only garment that's been in fashion for centuries.
Sarees are like Indian women – so versatile. From business meetings to first nights, from political speeches to red carpets, from college farewells to Indian kitchens, they really have many avatars.
If women are gifts, then saree is the perfect gift wrap.
'Saree', you are the most beautiful attire, a timeless fashion, which refuses to retire.
Saree has draped several women- goddess durga defeated the demons, rani lakshmibai led the military. Saree gives you inner strength.
Less distraction, more affection, and unlimited authenticity, which will give you a sari as a gift.
What allures them most about saree is that it can make you look effortless, rich, provocative, and tasteful all at the equivalent time.
God made a list of beautiful things to give to India, and the beauty of an Indian woman in a saree was at the top.
When you feel troubles wrapping up your life, wrap yourself in a saree and fight them in style!
A saree makes me feel the way no other garment can: a strange mix of a sex symbol and a pious goddess.
Nothing emanates femininity better than a saree draped beautifully.
If you are an Indian woman by birth, you will be draped in a saree once in your life time.
Saree – a timeless piece of imagination.
I adore it when a girl's saree is made of love, her ornaments are made of reliance, and her heels are made of inner strength.
Quotes about Sarees for Instagram Captions
These Instagram saree quotes are ideal for you, whether you're tagging your sweetheart in a saree photo on your anniversary or writing a selfie caption secretly hoping your crush would read. These saree quotes for Instagram are as flirtatious and lovely as sarees themselves!
Give them a reason to stare, wear saree.
No bikini or dresses can ever compete with the sexyness of saree drapes.
A saree is a beautiful way of proudly displaying who I am externally having to say it.
Celebrating my normal working day, in a Saree way. –Purvi Raniga
Capture everybody's attention and make heads turn with a stunning saree.
All people smile within the same language but mine is saree.
This saree deserves another post for sure!!
I fly on my own wings of saree.
No bikini or dresses can ever compete with the sexiness of saree drapes.
I always love to drape saree because it makes me feel special.
Saree makes ordinary girl to extraordinary girl.
I was rocking my ethnicity.
No bikini or dresses can ever compete with the sexiness of saree drapes.
Don't underestimate three things in my life: I, me and my pallu.
Funny Quotes about Sarees
The interesting thing about a saree is that it always remains in style. It has long been a favorite of both Indians and non-Indians. In his section, we've collected some funny saree quotes to make you laugh. Let's glance over some amazing funny quotes on saree below:
Even though you walk in a gorgeous saree, you love shopping to get a new one. –Jerlin Flower
Finding out that the saree is nothing like anything you've ever worn. Unlike in the movies, you can't run in it to catch your Raj! A dainty walk is all you can manage.
Are you wearing a sari? Well, you won't be sari if you go out with me.
Short girl + Red saree = LPG cylinder.
If loving saree is crime, then we pleat guilty.
Some girls don't know how to wear saree. They only know to give nice pose when you help them to wear it.
A woman in saree needs more safety pins than compliments.
No, I didn't trip the floor looked like it needed a hug
In India six inches gap between saree and blouse is divine. But two inches gap between jeans and top is treated as "Besharam".
None of the woman would float due to heavy designer sarees.
Someone asked me which day is today Sunday or Monday, I politely replied "saree day".
Beautiful Quotes about Sarees
Here are some wonderful ideas to use, whether you're looking for beautiful quotes on saree for Facebook and Pinterest or saree status for Instagram. These quotes for saree will truly serve you because they are simple, charming and thoughtful and can be used at any occasion.
Be the light in a world of unknowns. Glam the place with your saree beauty.
The saree makes a woman look beautiful, cute, graceful all at the same time. Words fall short to describe a woman in a saree!
There is something in particular around 6 meters of texture that draws out the woman you were destined to be.
A saree has the power to convert a girl next door into an artist's muse.
An Indian girl doesn't need a million dollar couture gown she needs her ethnic attire to look beautiful.
When an Indian girl wears a saree, the planet stops to admire her grace!
This saree drapes beautifully! Colours that accentuate the beauty of the drape and hassle-free tassels to spunk up the look!
Everyone drapes a saree slightly differently and everyone's body looks different in it. But women in sarees are like snowflakes. Unique yet beautiful in their own way.
Nothing makes a girl look as beautiful as a saree does.
Saree makes me Radha, saree makes me Meera too.
She may wear jeans or dresses every day. But in a saree, an Indian daughter always feels right at home!
The joy of draping a saree in different ways is an art.
Her deep red saree, had little leaves, intricately designed with tiny stars. She had a galaxy within her, but still, when she moved, she had her head bowed.
The saree gives a unique identity to Indian woman.
Everybody wraps a saree marginally contrastingly and everybody's body appears to be unique in it. In any case, ladies in sarees resemble snowflakes. Remarkable yet excellent in their own way.
The simpler the saree is the more breathtaking it is.
Romantic Quotes about Sarees
Saree is a wonderful garment through which women everywhere are with a chance to rock the glamorous look. Your photos in saree accompanied by romantic saree quotes for Instagram present you in a fashionable and exquisite look to your followers. Let's take a look at some quotes on saree in the following category.  
Seeing her in a saree for the first time adorned with her sparkly eyes and flashing smile, he knew diwali couldn't get any ore brighter.
It wasn't my fault, her black saree was the real culprit. It forced me to fall in love with her.
He's damn crazy to count the pleats of my saree than to count the stars in the sky.
He wants me to wear saree and I love him gazing at me whenever I wear the same.
Wearing a saree was never my choice. But his eyes were looking for a traditional girl. And then, ethnic became my favourite.
Indian men prefer their women in sarees rather than in western outfit.
I want to be the pin of your saree opens first lips want to stick up for. 
Smile + saree = Melting him.
Draping a perfect set of saree pleats -check! Finding the perfect guy to appreciate them in progress.
My saree is just like my men – impeccable.
I love it when a girl's saree is made of grace, her jewelry is made of confidence and her heels are made of inner-strength.
Short Quotes about Sarees
Do you want to say a lot with fewer words? Some of the best quotes about sarees are brief (and easy to type!). So, here you have it: a collection of 15 word or less short saree captions for Instagram!
Saree: six yards of sheer elegance!
My Saree makes my Smile Brighter!
A simple saree gives you the utmost sophisticated look.
Wearing saree is a different love for women.
Saree may be a rainbow draped in cloud.
Saree is much more than a mere fabric.
Reigning my love for the timeless classic.
It has been said that point heals all wounds but saree covers them up.
I asked god a beautiful life but he also gave me a beautiful saree.
Saree may be a gateway to slide into the festive mood.
A simple cotton hand woven saree can be a statement of art.
Sarees truly are dresses with a soul.
My saree makes my smile brighter.
There is a shade of red saree for every woman.
From draping mom's dupatta to wearing her saree, somewhere I grew up.
Quotes about Sarees and Attitude
Who says sarees are only for the shy, delicate, demure girls? No traditional clothing can cover a girl's genuine personality when she has attitude! Are you a six-yard-long fabric wrapped rebel? With these quotes about sarees, you may let out your inner sarcastic kickasser. These saree attitude quotes are full of attitude!
A saree never tells you to fit in, it makes you stand out.
Saree isn't just the garment, but a power, a language and an identity.
The right amount of body exposure, the right amount of class, keep your surroundings intrigued –saree.
I drapped a saree as a token of love, I cared not to look perfect, I just cared to look like me.
Laugh with yourself. Murder not with your heart but with your saree.
Don't offer me a drink when I'm in a saree because by choosing to look like an Indian goddess, and I've sacrificed my washroom privileges for the day!
I may have all shades of blue on the inside, but there's no reason, I can't rock a red saree on the outside.
I may not know how to cook, but I can certainly rock a saree like pro.
Draped in a saree, take confident strides ahead of the rest!
Hot Mess or cold Sun, that's a saree magic.
The unstitched 6 yards cloth can give you the best possible fashionable look and an amazing feel.
Not simple to integrate in Indian culture and wear a saree, it needs skill possessed by Indian women only.
You wanna get to know a woman in a yellow saree. She's bright. She's something different.
Make it simple, but significant.
She oozes the kind of over-confidence that only comes to people who wear deep red lipstick and sparkly tissue sarees in bright daylight. –Aditi Mathur Kumar
Quotes about Sarees in English
These quotes about sarees in English will be a great option to share with your friends and followers on Instagram. Let take some stylish photos by your mobile phone and impress them with your saree photos along with these amazing saree quotes in English.
The easiest way to feel hot yet modest is to wear a saree.
A saree can never go out of fashion; anywhere, anyday, anytime.
Be the sunshine in a world of unknowns. Glam the room with your saree beauty.
A lot of things broke my heart, but saree fixed it every time.
Your smile may be the power, but your saree look is a sword.
The drape of the saree creates magic with fluid geometry and bold lines along with strong contrasting colors giving way to seamless flow.
Life isn't perfect but my saree draping can be.
A saree is much more than a 6 yard of fabric; made of dreams and emotions woven together with love.
You can't buy happiness but you can buy sarees, and that's kind of the same thing.
There's something about 6 meters of fabric that brings out the lady you were born to be.
When I drape a saree I feel all womanly.
Saree is not a dress but a statement.
I like my saree the way I like my coffee – bold with a hint of filter.
Don't change to fit the fashion, change the fashion to fit you.
Saree is synonymous to respect, to the one donning it, to the one who weaved it! –Jyoti Singh
Quotes about Sarees and Elegance
Flaunt a stunning picture in your favourite saree and caption it with these quotes on saree and elegance. These women in saree quotes are perfect for pictures you want to share with your friend and followers on Instagram or Facebook.
Dear western outfits, try all you want but only I bring out her true beauty and elegance. Yours sincerely, Saree.
A saree has no brand it has style and elegance.
Endless elegance by a 9-yard elegant attire.
Feel fresh and relaxed with love for simple and elegant saree.
In this world filled with trends, I select to wrap around my six yards of elegance that's my saree.
Elegance, cuteness, beauty, traditional, modern, graceful, words fall short to describe a woman in a saree.
Amongst all the off shoulder gowns within the party, her saree took away all the spotlight, that's the facility of a six yard pure elegance.
A woman with big dreams and six yards of elegance is a visionary woman.
I don't wear a saree only on occasion; I wear it to parties, to hangouts and any place that demands a little elegance.
Elegance never goes out of style.
Quotes about Sarees for Lovers
In this category we've gathered some saree lover quotes for you. These quotes on saree love will express your love to your beloved and how sarees can give you a romantic lustrous look which makes feel your partner in an intense love for you. 
Love is when he kneels down to help you make perfect pleats for saree.
In the era of short dress, he still prefers to see her in suit or saree.
She wore a saree for the first time and we both fell. She in my arms and I in love.
The day I first saw you in a saree. Oh, what can I say! My mind is happy with your two eyes.
Love you to the end of my pallu and back.
When I drape a saree, it feels like I'm draping you around me!
Every saree tells a story, can you read mine?
Me and my never ending saree love.
You look pretty good after wearing a saree, as like you are the light of the dark night and the shining of the full moon night.
The perfect accessory for a saree is not jewelleries but your smile.
Quotes about Sarees by Celebrities
Some celebrities are the biggest fans of sarees. If you enjoy sarees and Bollywood films, this is a combination made in heaven for you! This collection of quotes about sarees on Instagram is perfect for you if you enjoy quoting celebrities. And you're in luck, because there are some fantastic saree quotes by celebrities of Bollywood about the timeless saree!
I enjoy the sari. I think it's the sexiest garment ever. It shows you the right amount, it covers the right amount, it's extremely versatile, it suits every body type, it suits every face. –Vidya Balan
I want every woman to have at least one saree in their wardrobe. In India, this beautiful garment has a special place. Like dialects, it changes from state to state and I wanted to bring four different techniques under one roof. –Rajesh Pratap Singh
That's what the sari is about. Everything is covered, yet a peep of an ankle can be a turn on for men. –Kajol
Learning Indian mannerisms, how to wear saris, and the language were a challenge. –Amy Jackson
To be very honest, I cannot drape a saree myself. I have never draped one on my own, ever. But it has been done on me so many times, that now I have memorised all the steps, and if someone challenges me, I will surely be able to do it. –Sonakshi Sinha
I feel more comfortable in sarees than gowns. –Amy Jackson
If a girl wears a shirt and a skirt, does she become more sensuous? I think a girl in a sari is more sensuous than a girl in a skirt. In my opinion, a wet sari is the most sensuous. –Bipasha Basu
Saree is a power suit. You walk into a room wearing a saree and you know what the men are talking about – it's a 'socio-psyche' thing. –Lakshmi Rebecca
I think, if you tell me that you do not know how to wear a saree, I would say shame on you. It's a part of your culture, you need to stand up for it. –Sabyasachi Mukherjee
Indianness in the form of a saree or a chaniya choli or jeans with something interesting, matches my style of singing. –Shreya Goshal
It's a most natural way for me. I can tell people I can run in a saree and I can do five sequences in a saree. I can romance in a saree and I can do everything in a saree. For me, it's a most versatile garment…it's extremely sensuous and at the same time it is strong, there is an elegance and at the same time, it teases your imagination. It's very powerful. –Vidhya Balan.
Celebrity endorsement was absolutely what pushed the traditional handloom. But I have had celebrities who have come to me for the joy of wearing a saree. –Gaurang Shah
I feel women are strong and I feel the metal sarees, the steel wire sarees, are a good metaphor for strong yet sensitive. –RimzimDadu
Quotes about Sarees and Traditional Look
Saree is the most exquisite and traditional Indian outfit. If you want to show off your traditional look on social media, use these traditional saree quotes with your photos. You can promote the saree and your culture around the globe by your saree photos accompanied by saree traditional quotes. Let's look at some saree look quotes in the below section:
The saree I wear may be traditional, but I am six yards ahead of my time.
Get a taste of the traditional look with a saree. Traditional look is the latest and all time favorite of women.
Why look west? Wear your saree and pose as the Indian version of wonder woman.
Saree is the most attractive and safe for tradition.
I would love to wear silk sarees to make myself look gorgeous. Yeah! That's Indian heritage. –Jerlin Flower
Saree is not just a culture; its tradition. I believe in tradition. I believe in the idea of things being passed between generations and the slow transmission of cultural values through tradition.
If you think that traditional trend is gone, hold my pallu.
A girl in a traditional look with a saree and a bindi and with a smile is always devastating.
When grace and culture shook hands, the saree was born.
Let's flip over to Traditional.
More Sayings and Quotes about Sarees
The world has to adore you in your Indian traditional attire, whether you're wearing a lehenga or a saree! And your photo must be complemented by cool saree fashion quotes! Let's glance over some saree vibes quotes in the following section:
An uncut piece of fabric, handwoven with sheer skill, for the living goddesses.
A saree covers the right amount and exposes the right amount. It's such a tease!
Beauty is inhabited in the soul, the face will be bright with time. And what better way to bring it out gracefully the covering yourself in a saree.
No Indian girl can ever say no to the magic of saree!
A girl never buys her first saree that she wears. She chooses from the wardrobe of her mom.
I love wearing saree and what most I like about them is: They can be worn at all stages of life.
Never underestimate a woman who's wearing a saree. If she can sit without ruining her pleats, go hours without peeing, wrap six yards of fabrics around her and still show her cleavage, who knows what else she can do!
Let your blouse be a little too sexy and your pallu be a little too long! Life is too short to blend in.
The memories and sarees connected to a particular saree makes us nostalgic.
If clothes could speak, my mother's saree would have told my mother, how much I love to wear them.
You Indian without saree, can not experience life.
Life is not a Bollywood movie & my saree doesn't get entangled in your watch! But, I still look like a heroine in it.
If beauty is a thing, it would be a red saree.
Chubby. Short. Tall. Fair. Dark. The list of labels is endless, but the endurance of a Saree is timeless. Be it a relentless 9-yard or a mesmerizing 6-yard, it recognizes no labels.
Final Thoughts on Quotes about Sarees
We hope that your journey through our amazing collection of quotes about sarees was a memorable one. It is the biggest collection of the most beautiful and handpicked saree quotes for Instagram through which you can express your feelings and use them for all moods and occasions.
We frequently wear sarees to weddings, parties, and other social gatherings. However, something will be missing if we do not post images of our sarees on Instagram or other social media. To show up, we should select precise and accurate saree lover quotes. As you may be aware, quotes about sarees are one of the most common ways to express yourself to the public.
You should also be aware that it is one of the simplest techniques to get the attention of your followers. You can choose one of the greatest and perfect quotes from our amazing collection if you want to impress your friends and audience.
How Can You Become Wiser by Understanding the Wisdom in Contradiction?
Meditation is beneficial for both the body and the mind. Many studies have established its role in bringing about various health benefits, including improved memory, mental quickness, boosting the immune system, and reducing cellular inflammation.
Besides its mental and physical benefits, meditating also helps in the process of becoming wiser by empowering you to identify wisdom in contradictions. Life is full of them, and what you generally perceive as the truth may be false.
The best way to gain deeper insights into this topic is by taking online meditation classes consisting of step-by-step instructions from an experienced meditation coach who will help you grasp the contradictions of life and how to overcome them.
But what are some things you can expect to learn from lessons on this topic? Read on to find out.
What Are Contra-Wisdoms?
For example, up might sometimes be down, light could be dark, and good may be harmful in disguise. However, when you understand and embrace these differences, you achieve connection rather than perfection.
Sounds confusing? The way out is to learn the art of seeking connection over perfection since the latter always brings disconnection, leading to a state of mental and physical unrest within yourself.
What Lessons Does a Session Consist Of?
You can learn to seek wisdom in contradiction through eight lessons, each focusing on a different aspect of it.
The lessons are:
Preparing your consciousness.
Seeking connection.
Giving what you receive.
Perceiving your brain.
Relationship between suffering and freedom.
Doing nothing.
Losing your values.
Being a lifelong student.
Here is a look at some to give you some idea about what you might expect.
Preparing your consciousness
It focuses on helping you tune in to the state of being and consciousness rather than the things you want to do. It is essential to focus on the consciousness rather than the content.
Your physical presence has the most impact rather than anything else. It's also about creating an inner shift in which you feel good about yourself rather than wait for someone else to do that for you.
Sitting comfortably, closing your eyes, you would focus on a particular situation. But rather than focusing on what you would do, the emphasis would be on being present in that situation and what experience you would like to have.
Seeking connection through perfection
Through the process of connection emerges perfection. When the focus is solely on excellence, it leads to disconnection. Connecting is about seeing the inherent beauty in things and how it comes from them.
Wanting to be perfect comes from thinking, while connection emerges from a deep sense of oneness and wishing well. When every aspect of your life is influenced by connection, and you connect to a larger purpose, almost every obstacle is surmountable.
A small concentration exercise helps you shift your mindset from trying to perfect things to achieving oneness with them. You put yourself in a space and time (at the home, office, etc.) where you seek the best outcome by tuning in with the people and genuinely trying to establish a relationship with them.
Giving what you receive
It is a good idea to give whatever you seek to receive because that is the best way of receiving it. Loving-kindness, compassion, appreciative joy, and a balanced mind are within you.
What you seek to get from others is already present within yourself. Before you seek anything in the world, you should seek it on the inside. Sitting in a comfortable meditative posture, you focus on giving, sharing, appreciating, and experiencing all that is good and beautiful.
The path to becoming wiser lies in understanding the contradictions of things called contra-wisdoms and developing a oneness with them. However, you can do that after receiving the proper guidance from a qualified spiritual coach.