11 Employee Motivation Tactics That Lead Profitability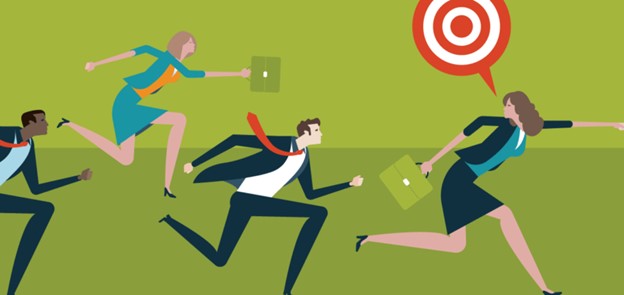 Employee motivation has recently become the most concerned issue for the employer. The lower motivation level in employees can cost them $300 billion annually.
Majority of employees are demotivated and unengaged at their workplace. Motivated employees are visibly distinctive from other employees due to their higher energy level and passion.
Imagine a workplace where every employee is motivated and love what they do? It seems too good to be in a true situation, but it is possible.
Even in this full of chaos year, organizations like; Bain & Company, NVIDIA, In-N-Out Burger and Google have proved it possible.    
Some strategies can derive motivation in your employees. Read the complete article, and you'll be able to motivate your employees by the end.
Why Is Employee Motivation So Important?
We all have heard professionals giving stress on the employee's motivation. The question here is, why exactly employee motivation?
When there are other aspects, also that can create an impact on an organization.
Let me explain it to you. Employee motivation is a root cause that is connected with other factors. It works as a cycle; if employee motivation is affected, the whole process will be affected.
Highly motivated employees can increase their profitability by 21% as your employees perform 20% more than their average performance.
The reduced absenteeism rate and employee turnover will create a financial and productive impact on the organization in the long term.
Therefore, the element of motivation among employees is important, as it can be directly impactful on the organization's profitability.  
How Leaders Do It?
Getting the outmost from employees is the core responsibility of every executive leading the management.
But there is a difference in between a leader and a manager's practices, which I believe we all knew.
When it comes to the motivation of employees, leadership practices are different from managers. Thought ultimate boss also struggle with motivating employees, but being constant is the ultimate key to success.
Role of a manager is crucial because 2 in 10 employees believe managers are important for their workplace motivation.
The point where managers believe that there is no way left to motivate their employees; leaders can use some tactics to motivate employees.
I have extracted a few of these strategies, mentioned below.  
1. Set Meaningful Goals
The first role leader's play in increasing employee motivation is setting up a practical goal for employees.
As a leader, you should provide them with day to day roles. The employees who have a proper goal setting are 3.6X more engaged and motivated than others.
What you can do is to;
Make them realize the importance of their contribution to the organization.
Support them in visualizing their success.
Elaborate on them clearly what the organization wants from them.
2. Celebrate Their Achievements
Leaders are found to celebrate even the smallest milestone achievement of their employees.
It is not only the bigger milestones required to be celebrated; smaller ones can also impact employee motivation.
Focus on your employee's daily and weekly goals. Do not benchmark it with KPI or bigger goals, just smaller social and official behaviors can also work.
Celebrating achievements will also depict the real factors that create obstacles for your employees in achieving their goals. Recognizing their contributions puts their effort and skill in the spotlight, which helps boost their confidence. It motivates them to consistently put their best foot forward, knowing that the company values their work. When you give them award ribbons, appreciation certificates, excellence plaques, and other physical awards and rewards, it immortalizes their hard work and provides a tangible testament to their successful career.
Well, appreciation and celebration don't go for lavish parties, as it will not be possible every time.
An email appreciating their positive approach or effective communication will also work effectively. This can increase the employee's productivity by 12%-20%.   
3. Some Meaningful Feedback
Praises are always appreciated; it is human nature. But, what you have to do is to make it valuable with your feedback.
Make a combination of praise and feedback and strengthen your words.
For instance; 'it is a wonderful idea' feel common praising lines, instead say it in this way 'it is a wonderful idea, especially the Green approach we should use it'.
The feedback will also reflect on your employees that you are paying attention to their work. But do not praise them even on wrong things.
Follow the principle of 5:1 if you give five positive responses; give them one negative response also.
4. Let Them Solve Their Problems
Guide your employees and support them with valuable suggestions, but let them own a situation completely.
This will enable them to solve problems by using their ideas and solutions; this will also gauge their value and skill set.
Working on instructions may cause lower satisfaction and boredom for many employees; they start feeling like robots.
Almost 42% of employees accept that they are willing to switch their job because they cannot reflect their skills and abilities in this job. The easy steps to do this are;
Actively listen to their ideas.
Appreciate their stance on an approach.
Accept their unique skill set.
Stimulate self-directed learning among employees.
5. Fulfill Your Promise
Remember that being at a leading position you represent your organization, your promises can be directly impactful on an employee's motivation level.
Keep your promises, and don't be among fake people. Make an environment of trust and steadiness in every tier of employees.
In normal circumstances, employees do not differentiate in between the promises made by manger or organization.
It depicts that losing trust in a manger means losing trust in the organization. This can even increase employee burnout, making it 2.5 times more potential to leave an organization.
It can increase employee turnover, creating a negative impact on the profitability of the organization.   
6. Be Experimental
It may sound a little weird to many of you; one size doesn't fit in all. Same is the case with employees.
You can never have a complete formula to motivate your employees; there will always be some changes required.
The change is also justifiable because every human being has a unique nature and different needs. You will be required to be experimental for kept on motivating your employees.
You can have few approaches in your mind, but do not depend upon these approaches completely.
So keep on looking for unique ways to keep your employees motivated and engaged in the workplace.
How to Do It, Facilely?
I believe that you all have completely acquired the idea of using the above-mentioned tactics. The motivation of employees is the responsibility of executives of every organization.
But what if you are an entrepreneur and lack some experience to motivate employees? Or your organization is low on budget and do not want to spend a penny on it?
Don't worry; I will elaborate you strategies that will support you in motivating your employees effortlessly.
7. Acknowledge Their Personal Growth
Around 63% of employees are in direct conflict with the manager or do not prefer that individual as their manager.
If you are struggling from a similar problem, then give a personal touch to your employee-manager relationship.
The convenient and appropriate way is to do this by acknowledging their personal growth. Employees feel motivated and more engaged when their personal growth is being discussed and prioritized by the manager.
Employees are curious to know about the level of opportunities they have for growth in their current professional role.
8. Maintain Your Management Practices
To hire an employee is not an easy job; it will cost you around $4,129 for this purpose, along with the loss of work and other expenses.
Therefore, it is adequate to retain your employees by increasing their motivation. One way of doing this is by creating an adequate management system.
Invest some time creating a proper management system through which you can recognize their achievements and appreciate them for their outstanding performance.
Grabbing others' credit on work is a common practice in organizations, which can cause a significant impact on employee motivation.
Your system should discourage all of such activities, as losing an experienced employee can be a huge profitability loss.  
9. Assure Job Security
Job security tops employees' preference list; only 22% of the employee's population has job security.
It is believed that job security is a more valuable factor in motivating employee than financial benefits. Majority of employee admit that they are more scared from being fired rather than cut off in their wages.
Consider an individual who is in continuous threat of getting fired; does their attention level and motivation be adequate?
I guess no because they knew they would be at home at any time. One of the best ways to tolerate this issue is to support your employee's role in every situation.
You should be at the front line facing executives on any mishandling rather than employees. 
10. Be There Mentor
The easiest and beneficial way of all that I have mentioned above is mentoring. Make your employees believe that you are there to guide them and increase their motivation whenever they need you in increasing their self-management.
It is not only about being a mentor for the official issues, but any other associated factor that bothers them shall also be given space to be discussed.
Even if they are having any personal issue that may affect the profitability of your organization should be discussed. If they have trouble to buy research papers, you should help them.
Though it will take your time and effort, it is worthy enough.
11. Show Respect
Showing respect to your employees is always important, not only for increasing motivation but for maintaining consistency at work.
Throwing tantrums and making them feel unworthy is not an option in the modern world. With time, increased diversity has included people from diverse cultural and religious backgrounds.
Only 55% of employees believe their organization caters workplace diversity; it is your responsibility as a manger to respect all of them.
Wrapping It up
With the rapid changes in organizational culture, the value of employee has been increased even more.
The motivation of employees can be directly affected by the profitability of your organization. Therefore, if any additional expense is being incurred considered it an investment for your organization.
I hope the tactics that I have mentioned above will support you in achieving your desired goal.
Understanding Commercial Cleaning: A Comprehensive Overview
While many of us are acquainted with residential and workplace cleaning, commercial cleaning may be a less familiar term. So, what exactly does it entail, and how does it differ from other cleaning services?
On the surface, the difference between domestic and commercial cleaning might seem straightforward. Yet, as businesses adjust to the new normal, it's crucial to comprehend the myriad of cleaning services available to select the right one tailored to your establishment. Delving into the Different Types of Cleaning Contracts:
Domestic Cleaning
Definition: Essentially, domestic cleaning refers to services aimed at maintaining homes and is generally contracted by the residents.
Scope: Whether you're an owner or a tenant, if you hire a service to manage tasks like window cleaning or installing internet, it's still categorized as domestic cleaning. The usual services here include daily household chores, possibly extending to washing dishes or changing bed linens. Key tasks comprise dusting, vacuuming, and sanitizing kitchens and bathrooms.
Special Note: For those adapting to the work-from-home culture, your home office still falls under the domain of domestic cleaning. However, suppose you operate a specialized business from your residence. In that case, you might require the expertise of commercial cleaners to maintain your professional environment optimally.
Commercial Cleaning
Definition: The term 'commercial cleaning' is an umbrella phrase, covering cleaning services for various business premises, ranging from retail spaces to retirement homes.
Tools and Specializations: Commercial cleaners are armed with a plethora of advanced equipment, such as floor buffers and industrial-grade cleaning tools. However, it's noteworthy that commercial cleaning services Chicago can be highly sector-specific. For instance, the cleaning requisites of factories, data centers, and healthcare facilities differ substantially from those of entertainment venues like nightclubs. Several commercial cleaning firms narrow their focus to cater uniquely to these varied demands, channeling investments into specialized equipment and staff training to deliver optimal results.
Office Cleaning
Focus Area: As implied by the name, office cleaning specializes in maintaining office environments. At a cursory glance, cleaning an office might seem rudimentary. However, offices are intricate spaces comprising fragile electronics, server rooms, pantries, restrooms, elevators, staircases, diverse surface materials, and a constantly moving populace.
Complexity: This dynamic environment is a challenge to sanitize without causing disruptions. The continuous footfall impacts the longevity of office amenities. Over time, even durable office carpets can exhibit signs of wear and tear. Leveraging specialized commercial carpet cleaning can rejuvenate them, prolonging their lifespan and enhancing the ambiance and aroma of your workspace.
Evolving Workspaces: Is It Time to Reassess Your Cleaning Schedule?
As the global workforce pivots towards hybrid work models, combining remote and in-office work, businesses' cleaning requirements are undergoing transformation. Certain enterprises might consider reducing their cleaning frequency due to decreased on-site staff. Conversely, some are intensifying their cleaning cadence as a protective measure against illnesses.
Even with diminished office attendance, the health risks remain—ranging from COVID-19 to other commonplace germs reintroduced as workers return. Therefore, in these evolving times, prioritizing cleanliness is paramount, ensuring a gradual and secure reintroduction to the workplace for everyone.
Workplace Accidents Have Significant Costs for Businesses
Businesses put a lot of effort into building and maintaining a great reputation, but it can only take an unfortunate incident to damage it. In the workplace, nothing comes before employees' safety and well-being. Or at least this should be the norm in every organisation. Unfortunately, many ventures fail to understand the importance of having clear health and safety policies in place.
Not prioritising this aspect can lead to workplace accidents, which have costly consequences, including compensation claims, lost productivity, damaged property, and tarnished reputation. It's worth noting that such incidents don't only cause suffering to the injured worker – they also affect the bottom line of a business. Therefore, it's crucial to take employees' health and safety seriously and avoid the significant implications of workplace accidents on your company.
Safety failures have a considerable impact on workers
According to the ILO, around 340 million work-related accidents happen annually. If employees are injured, the human costs are significant. But the costs of replacing the injured employee aren't to be neglected either. The workload of the individual must be shared among other team members, and although this may be manageable in the short term, it can cause stress in the long run if the worker's recovery is lengthy. Ongoing absence requires replacement, but recruiting new talent can become difficult when your business' reputation is damaged due to failures in health and safety practices.
Workplace accidents leave only one impression on employees: they are not valued. On the other hand, hiring new employees means allocating resources (namely time and money) to provide effective training for them. But more often than not, in-store colleagues are the ones to deliver this training, and unfortunately, this is inefficient, as they don't have a detailed understanding of OSHA violations. In this situation, two scenarios are possible: either the training isn't fully delivered, or the new recruits fail to comprehend it entirely. This only causes more health and safety issues, adding to the pressure on employees to carry out their duties.
Workplace accidents can affect customers' experience, too
If an employee is injured, customers can also experience the effects of such an incident, impacting their loyalty to your business. Even if employees try to cover multiple tasks, they can still miss some of the most important ones. In a store, this could mean empty shelves due to employees' lack of time to restock or waiting too long for a checkout because only a few cashiers are available. Or, the negative experience could simply be due to an interaction with a stressed employee. Customers can easily get frustrated if such things happen, likely determining them to look for a better experience elsewhere.
Investing in health and safety: where to start?
According to https://www.how-to-sue.co.uk/, as an employer, you owe a duty of care to your employees. In other words, you are legally obligated to ensure they always work in safe conditions. This is important if you want to run a lucrative business and ensure both employees and customers have a positive experience at your company. After all, you depend on them to succeed! Employees who feel that their well-being matters are more likely to stay committed to their work. Having a health and safety plan in place is key to creating a positive work culture and boosting employee morale, which in turn, will result in reduced turnover rates and increased productivity, saving your business money in the long term.
Businesses are under great scrutiny, and a workplace accident can instantly ruin their reputation. Investing in health and safety is a way to demonstrate that you prioritise the well-being of employees, thus protecting your reputation. Here are some actionable steps you can take to reduce workplace accidents at your company:
Carry out a risk assessment. This means evaluating the possible risks and hazards in the workplace that may cause harm to employees and brainstorming solutions to reduce them. Risk assessments are crucial for all businesses, as they can not only protect employees but also save your business money.
Conduct regular inspections. It's important to inspect equipment on a regular basis, as this helps ensure everything works properly. For instance, in the construction industry, workers use heavy machinery, so conducting inspections regularly can save lives.
Provide effective training. As a business, you must legally train your employees on health and safety practices. However, more often than not, ventures treat training as if it were nothing but a box-ticking exercise. Unfortunately, this has significant consequences. It's crucial to take this aspect seriously and provide employees with effective training. For instance, you can use mobile learning to offer them informative and engaging content on the best safety practices.
Offer personal protective equipment to employees. Personal protective equipment, or PPE, is necessary to reduce exposure to workplace hazards. This equipment can include gloves, face masks, hard hats, and high-visual clothing, and it's very effective in decreasing workplace injuries.
Encourage workers to report accidents. Accident reporting allows you to determine whether the safety measures in your company are working. Moreover, it enables you to investigate how an accident happens, so you can remediate the problem and prevent similar incidents in the future. However, it's important to ensure the process is accessible and efficient and provide training to workers on how to report accidents.
Promote open communication. In many instances, businesses don't include employees when implementing health and safety practices. However, since they are directly impacted, involving them in the process is essential. So, you should encourage open communication at your company and ask for honest feedback on what is and isn't working. Using surveys can be incredibly effective because you can easily disperse them to workers and tailor them to your needs, making it easy to collect and evaluate the results.
Takeaway
Workplace injuries have consequences for employees and employers alike, so safety is a critical investment every business needs to make to avoid costly consequences. Ventures that use their resources to ensure workplace safety do better than those that don't, both on a financial and organisational level, so it only makes sense to prioritise this aspect.
5 Common Machine Learning Interview Questions and Answers
Machine learning is a rapidly growing field, and many companies are looking to hire talented individuals with expertise in this area. If you're preparing for a machine learning interview, it's essential to be familiar with common questions and how to answer them. To help you prepare, we've put together five common machine learning interview questions and their answers.
Question 1: What is overfitting, and how do you prevent it?
Overfitting occurs when a machine learning model becomes too complex and begins to overfit the training data. This results in poor generalization performance, where the model doesn't perform well on new, unseen data, as it has become too specific to the training data.
Several techniques can be used to prevent overfitting:
Cross-validation: This involves splitting the data into training and validation sets and using the validation set to evaluate the model's performance. It helps to identify if the model is overfitting or underfitting.
Regularization: This technique involves adding a penalty term to the loss function to discourage the model from fitting the training data too closely.
Early stopping: This involves stopping the model's training when the performance on the validation set starts to decrease, indicating that the model is beginning to overfit.
Question 2: What is cross-validation, and why is it important?
Cross-validation is a technique used for evaluating the performance of a machine-learning model. It involves splitting the data into training, testing sets multiple times, and evaluating the model's performance on each split. This technique helps to ensure that the model generalizes well to new, unseen data and is not overfitting.
Cross-validation is essential because it provides a more accurate estimate of the model's performance than a single train-test split. It also helps to identify potential issues with the model, such as overfitting or underfitting.
Question 3: What is the distinction between supervised and unsupervised learning?
Supervised learning involves training a model on labeled data, where the output variable is known. The goal is to learn a function that maps input variables to the output variable. The model can then be used to predict the output variable for new, unseen data.
On the other hand, unsupervised learning is training a model on unlabeled data with an unknown output variable. The goal is to learn the underlying structure or patterns in the data without any specific target variable in mind.
Question 4: What is gradient descent, and how does it work?
Gradient descent is a popular optimization algorithm used in machine learning to find the optimal values of the parameters of a model. The basic idea behind gradient descent is to iteratively update the parameters in the direction of the negative gradient of the loss function, which represents the rate of change of the loss concerning the parameters.
The following are the steps involved in gradient descent:
Initialize the parameters with some values.
Compute the loss function for the current values of the parameters.
Compute the gradient of the loss function concerning the parameters.
Update the parameters by taking a small step in the direction of the negative gradient.
Repeat steps 2-4 until convergence, i.e., the loss function no longer decreases.
Question 5: What evaluation metrics would you use to evaluate a classification model?
Evaluation metrics measure how well a machine-learning model performs. In the case of a classification model, the following evaluation metrics can be used:
Accuracy: This metric measures the proportion of correctly classified samples.
Precision: This metric estimates the proportion of true positives among all predicted positives.
Recall: This metric measures the proportion of true positives among all actual positives.
F1 score: This metric is a harmonic mean of precision and recall that provides a balanced view of the model's performance.
Confusion matrix: This metric provides a detailed view of the model's performance by showing the true positive, true negative, false positive, and false negative values.
Take Away
Preparing for a machine learning interview requires a deep understanding of the position. By familiarizing yourself with machine learning interview questions and practicing your answers, you can demonstrate your suitability for the role and increase your chances of landing the job.
However, it's not just about preparing for the interview itself. Another critical aspect is to develop your knowledge and skills in machine learning to demonstrate your commitment to the profession and make yourself a more attractive candidate to potential employers. One way to do this is by enrolling in machine learning certification courses offered by top institutes in India. These courses can help you acquire new skills and knowledge to enhance your resume and make you stand out in a competitive job market.