How Does a Smart Thermostatic AC Keep Homes Greener?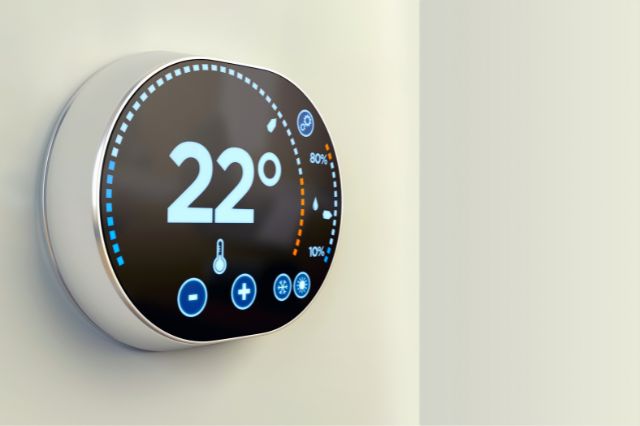 People are finally starting to take steps towards the betterment of the environment. With the ever-growing technology, homeowners can reduce their carbon footprint by choosing smart devices. One option that few people have turned over to is the smart thermostat air conditioner. Even the Department of Energy has recommended its various environmental advantages.
A smart thermostat comes in use during the humid summers and extreme temperatures. It connects to the HVAC system and offers you control over the home's temperature would be well-suited by connecting to the WiFi and sensors. Apart from protecting the environment, here's how a smart thermostatic HVAC can keep the home greener.
Why Should You Choose a Smart Thermostat for Your HVAC Unit?
Helps in Saving Energy and Money
Smart thermostats are designed in a way to manage your home's HVAC system efficiently. Using a smart thermostat can help you save energy by modifying the temperature before reaching home. Smart thermostats can also keep track of your energy usage and inspect changes and trends over time. It will provide you with the freedom to check and take the help of the reports to see how much is your spending.
Notes Your Schedule
The smart thermostat takes hold of your schedule and learns when you are at home or not. It can determine when people are at home and can also learn patterns for adjusting as per the seasonal changes.
Better Control of the Temperature
By choosing a smart thermostat and related app, you get more control over the home temperature. You can easily control the temperature of your home.
Reduction in the Usage of the Resources
Reducing the dependency on a resource is one of the vital parts of living in a green home. Smart thermostats can help to increase comfort without wasting energy. As you can set the temperature before reaching home, you won't have to keep the HVAC unit running all day. It will further help in reducing the energy consumption.
Reminder of Maintenance
With a smart thermostat air conditioner, you won't have to worry about keeping a schedule and checking when it's time for maintenance. It will constantly monitor and remind you whenever you require an HVAC maintenance check or a regular tune-up.
The smart thermostat will also inform you if anything certain requires attention that is not visible to the bare eyes. However, calling a technician from time to time in case of an HVAC repair or replacement can become costly. The easiest solution here is to invest in a home warranty.
You will be benefited as a home warranty company covers all the major repairs and replacements of HVAC that occur due to normal wear and tear. But, before investing in it, you should read the fine print and user reviews of the popular home warranty companies in your area. It will help you make an informed decision and save you money.
Tracks Weather
Some smart thermostats are designed in a way to track the weather and make adjustments according to the temperature outside. With the help of this technology, your home will remain comfortable all during the seasons.
Older Homes Made Energy Efficient
Smart thermostats are making their way to make older homes, even more, energy efficient. Not only it helps the residents to keep control of the temperature at home, but it also helps in saving a lot of energy and carbon footprint.
Conclusion
Smart thermostats make a great addition to any home and help in the reduction of carbon footprints which leads to a healthier environment. As there are different options of smart thermostats available, you should learn which thermostat is suitable for your HVAC and make a smart decision accordingly.
What Are the Most Common Roof Types?
It's essential to ensure the endurance of your roof for the safety of your family members and yours.
If you are building a new home or need roof repair services, it's a smart move to explore the roof types available in the market before starting the work. Also, many of us forget that our homes' roofs need just as much maintenance as the house's interior. They frequently become discolored, grimy, or sometimes seriously damaged.
If you choose to look at your roof, you may notice it is composed of metal or asphalt shingles. Here is a list of the five most common types of roofs in case you want to do additional research.
1. Asphalt Shingles
Asphalt is one of the most widely utilized roofing materials that roofers use while constructing roofs. They are accessible in practically every store and are also reasonably priced. The most advantageous aspect of asphalt is its vast array of hues and designs.
Shingles made of asphalt are incredibly robust and long-lasting. It may keep your house dry and stop many leaks if placed correctly. Asphalt may be composed of organic materials or fiberglass. In the former, asphalt is applied to fiberglass to prevent water leaks.
To reflect UV light, ceramic surfaces can also be covered with asphalt. Primarily composed of recycled paper, organic asphalt carries a marginal price premium over its counterpart. This is a wise alternative if you want to get something environmentally friendly.
2. Metal
Metal roofing is becoming increasingly popular, while it is still somewhat less common. They require painting just when they start to appear drab and are easy to maintain.
Repainting may be significantly less expensive than replacing the item entirely, but it's still advisable to get professional assistance.
It has long been an expert in residential building projects and even possesses a collection of louvered roofs. Metal roofing is becoming increasingly popular since it is aesthetically pleasing and environmentally friendly when combined with rain gutters.
3. Ceramic
Because ceramic tiles endure so long, they're also a terrific choice for your roof. With careful maintenance, these tiles have a 50-year lifespan!
Ceramic is an excellent alternative because it is both long-lasting and attractive on the outside. The tiles essentially block out water because they overlap.
However, this might not be the best choice for you if you reside in an area where the weather fluctuates. Because of this, pottery is often used in Spanish architecture. This is because weather variations are rarely felt in Spain.
4. Wood
The environment-friendly option is cedar or wood shake roofing. They can withstand extremely harsh temperatures and are also highly robust. You won't need to replace or repaint these frequently because wood only has to be replaced every thirty years.
Because ezoic cedar is a natural insulator, it can help lower the price of your electricity bills. However, installing wooden shingles is difficult, so it's best to enlist assistance.
When thinking about roofing options, selecting materials that will increase your home's visual appeal while also offering durability is critical.
5. Slate
Slate is a fantastic option if you want to look elegant and refined. Slate has a 100+ year lifespan since it doesn't decay.
You can, therefore, choose slate with confidence if your home is situated in a region that experiences a lot of rainfall. It also comes in various shapes and colors to complement the overall design of your home. Slate installation is more expensive than other options, which is one of the drawbacks of utilizing it.
Conclusion
Builders, architects, and homeowners need to understand the various types of roofs. Every kind of roof has benefits and things to keep in mind, like weather appropriateness, longevity, and visual appeal.
The traditional gable roof, the energy-efficient green roof, or the contemporary flat roof—whichever option you choose—you must carefully consider your unique requirements, your financial situation, and the climate where you live.
The variety of roof styles facilitates personalization and customization, empowering people to make decisions that improve their home's aesthetic appeal and long-term structural soundness.
No matter the type of roof, extending its lifespan requires prompt repairs and routine care.
Knowing the most prevalent types of roofs can help you make decisions that suit both your practical needs and your aesthetic tastes in the ever-changing world of construction and design. Ultimately, a well-chosen roof improves a building's overall style and offers the required weather protection, resulting in a cozy and safe living area for years to come.
Changing Up Your Kitchen? Check Out What Colors Are Trending
Often traditional colors are used for kitchens because they make it easier to add those individual touches that make it your own unique kitchen. However, sometimes you can go wrong and the outcome is boring and outdated.
There are some kitchen colors that never become dated whist others become truly out of date. Ultimately, however, color trends and choices are subjective and there are really no colors that you shouldn't use if they make you happy. Perhaps you can use the Red Stag casino bonus codes to help you in this endeavor. Below, we'll look at what the experts say.
Many people find choosing colors for their kitchen, and their home generally, daunting. However, it doesn't have to be such a difficult task. There are lots of books, and websites that deal with color schemes that can be very helpful and inspiring. "The Perfect Kitchen" by Barbara Sallick offers lots of ideas and images from which to choose and inspire you in your design.
Go for subtle greige rather than overall grey
Cool-toned grey was very fashionable in the noughties and many homes were decorated with this color. However, warmer tones are now becoming more popular.  The go to color scheme today is greige, a blend of grey and beige. Greige works well with almost any other color so is very practical, hence its growing popularity. It could even be replacing white.
Replace vibrant red with a warm terracotta
Even though red is a favorite of many designers, we are seeing a move towards a softer version. Terracotta is the new go to color, a warm paprika. Interior Design Manager at Neptune, Simon Temprell says "The warm, earthiness of Paprika is a blend of red and orange tones but with an emphasis on the red. It works beautifully with warm neutrals, natural timbers and darker shades of green."
The Director of Veere Grenney Associates, Natasha Grieg agrees saying "A color like this feels both cozy and uplifting. It has great depth, so when used in small kitchens, it makes the room feel more generous. For our work as designers, it is a perfect backdrop to almost all colors."
Ditch contrasting colors and choose two tones of the same color
Using contrasting colors in your kitchen was considered really fashionable in the noughties. Today, and the forecast for 2024, is a shift to tonal color combinations. This means using different shades of one color to introduce interest and depth. If you have difficulty combining colors then this is a solution for you.
The director of Nicola Harding and Co., Nicola Harding says "A two-tone kitchen scheme allows extra definition and interest without overcomplicating. Most paint charts are arranged in families of colors, making it easy to find two shades that work together or contrast." She goes on to say, "Remember that dark colors take up more space visually. Use darker shade below eyeline, and a lighter shade that closer to the wall color above; it will help break up expanses of cabinetry and feel calmer and less blocky than a high contrast scheme."
Choose pastels over loud primary colors
Pastel colored kitchens were a favorite in the 1950's. They are having a comeback and especially the color pink. The use of very subtle pastel pink variations is trending for 2024 and the latest Barbie phenomenon is proof of that.
Pastel tones were a favorite in the 18th century Rococo period. Pastel tones are characteristically romantic and feminine and invoke the image of flowers and beautiful gardens. Nostalgia is occupying the imagination of many kitchen designers today and therefore pink is taking a front seat.
Jennifer Welch of Jennifer Welch Interior Design when referring to pastel pink that it has a calming rather than energizing effect. "This subtle tone works perfectly in a kitchen that is rather dark, or which suffers from a lack of natural light. Not only does it inject a space with brightness and joy, but it will also bring out and highlight any accent colors in the room."
Ditch stark white and opt for gentler off-whites, beige and sand
As versatile as white is, designers are moving away from this color and choosing softer versions of the color like ivory, linen, stone and sand. True, white kitchens are still very popular even though sometimes thought of as too stark and clinical. But according to Design Director at DesignSpace London, Richard Atkins, "There are many ways to "warm up" the design, one of which is to consider introducing warmer tones."
Becca Galbraith, Interior designer for Becca Interiors says "The search for the ideal neutral is not as easy as it would initially appear. Pure white can often be too cold and sterile, while trying to warm it up means possibly straying into the magnolia territory. Instead opt for a softer, warmer white and cream that grounds and lifts at the same time."
Off white and cream kitchens are definitely trending. They represent a more toned- down luxury. Simple and elegant these creamier color schemes are a basic ingredient in the world of interiors and especially good for modest homes.
Fluorescent Light Filters: Which One Will Help You Shine Brighter?
Fluorescent light filters are essential for anyone who wants to upgrade their lighting experience, whether you are working from home or in a corporate setting. These filters offer numerous benefits, enhancing mood and productivity while reducing eye strain and other health concerns.
But with so many fluorescent light filters available in the market today, it is essential to understand which one will best suit your needs. In this blog post, we'll explore some of the most popular types of fluorescent light filters and help you decide which one is right for you.
What Are Fluorescent Light Filters?
Before we dive into the different types of fluorescent light filters available, let's take a moment to understand what they are and how they work. Fluorescent lamps emit harsh blue-white light that can cause eye strain, headaches, fatigue, and hormonal imbalance by disrupting circadian rhythms or sleep disorders.
Fluorescent light filters work by altering the color temperature of the white harsh blue-white bulb lights into something more relaxed. Doing so effectively transforms any physical space exposed with these filters into more inviting and productive.
Different Types of Fluorescent Light Filters
1. Full Spectrum Fluorescent Light Filters:
Full-spectrum fluorescent lights allow you to imitate daylight indoors accurately. These bulbs come closest in resemblance to natural sunlight, making them an excellent choice. It reduces visual problems threatened by other artificial bulbs and lighting environmental issues faced mostly while working inside such close quarters all day!
2. Tinted Fluorescent Light Filters:
If you're looking for a simple way to alter the hue or color change in your room's ambiance, try using tinted fluorescent light covers! This collection would range between any shade coloristic choices, i.e., yellow warms up tones giving an indoor sunny feel. Pink may substitute slightly warmer pink tone effects similar to early sunsets or more ambient indoor lighting appeal. Green and blue often improve concentration levels because they mimic typical "sunrise to sunset" mood changes.
3. Diffuser Fluorescent Light Covers:
Diffusers are made from a frosted plastic material that evenly distributes light across an area, effectively stopping unwanted glare that may cause eye strain, headaches, and other severe visual problems! Not only do diffusers have health benefits for your eyesight, but it also provides additional benefits, such as lowering your energy bills while preserving the lifespan of your fluorescent bulbs.
Making Your Decision
Now that you know about the different types of fluorescent light filters available, let's take a moment to decide which one is appropriate for you. You must first examine what kind of environment you are working in or which mood stage you want to set within living spaces before choosing any product like Tinted Filters and Full Spectrum filters.
If you're looking for something that resembles natural sunlight indoors, go with full-spectrum fluorescent lights. If concentrating or setting a certain mood- tones in activities make tinted covers a priority! And if given a choice between glare protection and improved working conditions, opt-in diffuser-style covers ensure cost-effective longevity towards luminosity use!
Final Thoughts
In conclusion, fluorescent light filters can drastically enhance the lighting ambiance around you. Whatever filter type suits you best, impact on reducing these hazards related stressors like eye strain & inducing productivity will always be worth exploring brighter horizons!
So, don't hesitate to invest in a fluorescent light filter suitable for your specific needs. With the right filter, you can create a more inviting and productive environment that brings the right vibes. Whether studying for exams or working towards project deadlines, using the correct color temperature will improve your mood and performance.