How to Design Your Guest Bedroom Suite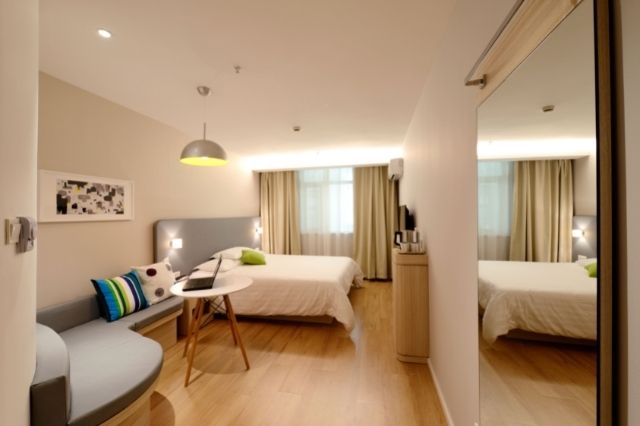 Spring and summer are always a time of transition for families. Young children prepare to go to school for the first time, preteens look forward to high school, and teens prepare to head off to college. When one of your children flies the coop, you are faced with a world of possibilities for the newly emptied space.
One of the best ways to use a spare bedroom is to make it a guest room. This will give your adult children a place to sleep when they come home on weekends or for visits. But, unlike just leaving their room the way it is, you can also use the room to board guests of your own.
Here are some great tips for designing the perfect guest bedroom suite.
Choose an interior design style and theme
While some people like to design a simple guest room that appeals to anyone, this is also an opportunity to impress your guests and bring some of your own style and flair to the room. The most popular interior design styles for guest rooms right now are:
Modern minimalism – if you want the bedroom to seem clean, efficient, and more spacious choose this interior design style. A dresser with mirror is a good option here, as well as any other multifunctional furniture.
Bohemian or eclectic – If you don't want a matched bedroom set, give the guest room a bit more flair. Mix and match different pieces within the same furniture collection to build your own unique bedroom suite.
Go retro – Design trends continue to bring back the best of the 80s and 90s. Decorating your retro guest bedroom with items is a great way to share your interests, have some fun decorating, and make the guest room completely genderless but still fun.
Choosing the right bedroom suite
There are a few things to keep in mind when you go to choose a bedroom set for your guest room. Save yourself a lot of time and effort and look through these https://www.1stopbedrooms.com/bedroom/bedroom-sets
bedroom suites. Look for ones that have a queen- or king-sized bed to be suitable for all guests.
In addition to the bed itself and other items already mentioned, you should carefully consider adding these items from the matched bedroom set:
Two nightstands – Most furniture collections only come with one nightstand by default, so you'll want to add one. Having a table on either side of the bed makes it more functional for couples and families using the room.
Bedroom storage bench – A bedroom bench provides your guests with a place to sit to dress. Getting a bedroom bench with storage makes that bench functional with the ability to store extra bedding, toiletries, and other items your guests might need without cluttering the room.
Small desk and slim accent chair – Keep in mind that your guests may need to do more than sleep while using the spare bedroom. Including a small desk and chair meets the needs of your guests, and doesn't have to take a lot of room. This is, of course, not part of the actual bedroom set.
Looking for more ideas? Browse the furniture store for inspiration.
A Plunge Pool: Why Should Your Resort Invest in One?
When you speak of luxury resorts and retreats, creating an exciting and unforgettable guest experience is of immense importance. It is the slight of details that often make the most massive difference. One such feature that has acquired a lot of popularity in recent years is the Plunge Pool.
This private, compact oasis promises a host of benefits that not only enhance the overall guest experience but even uplift the status of your resort in the contemporary competitive hospitality industry. This post will share with you why you must have this type of pool in your resort. 
What Is a Plunge Type of Pool?
A plunge type of pool is just like a small, private pool. Most of the time you can see them in fancy resorts or even nice homes. It is not meant for swimming like big pools but it is more for unwinding. You can simply sit in it and chill out.
Plunge type of pools are cozy and can be warm or even cool, making them wonderful for different seasons and weathers. People can feel private and relaxed in such areas. 
Immense level of Exclusivity and Privacy
You should have this type of pool in your resort because then you can get an unparalleled sense of exclusivity and privacy that it provides to all your guests. Contrary to the communal swimming pools, plunge type of pools are characteristically reserved for specific kind of accommodations, ensuring that guests have their own personal and exclusive sanctuary to unwind and even relax in complete seclusion.
Such sort of premium exclusivity fosters a sense of indulgence and even makes guests feel truly loved and pampered.
Ultimate Relaxation
The intimate size of plunge pools promotes a serene and tranquil atmosphere. Guests can fully immerse themselves in the calming waters, free from the hustle and bustle often associated with larger pools.
The soothing effect of the water combined with the seclusion of the space creates an oasis of relaxation, allowing guests to escape from the stresses of everyday life.
Provide a Great Aesthetic Appeal
There is no doubt that plunge kind of pools are like beautiful, even eye-catching features in the outdoor area of your resort. They are available in different shapes and designs that can conveniently fit in with the general look of the buildings.
No matter they are surrounded by lots of green plants, even have a stunning view, or are a part of a fancy city setting, these are the pools that make your resort appear even more fascinating.
This makes a robust and positive impression on the folks staying at your resort. You can even check out option of lap pool dubai for your space for added charm and chic.
Amazing Health and Well-being Perks 
You know what, other than the obvious leisurely benefits, these pools even offer a range of health benefits. The hydrostatic pressure of the water in them helps in improving blood circulation and even drops the overall swelling, making it a brilliant therapeutic option for your guests seeking relief from any sort of muscle tension or joint pain.
Additionally, the soothing impact of water has been proven to drop the overall stress and endorse a sense of mental well-being.
Enjoy Temperature Control and Versatility
Plunge type of pools offer the advantage and ease of being able to control the water temperature. Hence, such a thing provides a refreshing respite from the heat in warm and humid climates or a cozy retreat on chilling days.
This versatility ensures that your guests can enjoy the pool year-round, regardless of weather conditions. It even adds up an extra layer of comfort as well as convenience, further uplifting their overall experience.
Remarkable Romantic Escapades
You have no idea that For couples seeking a romantic and loving getaway, a plunge kind of pool can be the epitome of immense love and intimacy. The seclusion and even tranquillity it offers create a perfect setting for couples to reconnect and even create cherished memories together.
A beautiful candlelit evening by the plunge pool, having the sound of water gently cascading, sets the entire stage for a truthfully magical experience. of course, your guests are going to love this exclusive personal time with their partner or loved one.
Unique Selling Proposition or USP
Ah, in the realm of this saturated market, it's essential for your resort have a unique selling proposition that sets it apart from competitors. A plunge type of pool is a distinctive feature that can be a robust marketing tool.
It turns out to be a key selling point in promotional materials and even entices potential guests looking for that additional level of luxury and exclusivity.
You Get Positive Guest Reviews and Reputation
Happy guests are more probable to say nice things about your resort and share with their friends why they should go there. Having a special pool can be definitely something guests really like and speak of in their reviews. This can make other fellows who might visit in the future desire to come too.
Once people get to say great things about your resort online or to their overall friends, it makes your resort even more in limelight and special to people who care a lot about where they choose to stay when traveling.
Enhanced Revenue Potential
Though it is true that the initial investment in installing type of plunge pools may seem substantial, the returns they bring you can be significant in terms of better level of room rates and overall revenue.
Guests are most of the times willing to pay a premium for accommodations that owns private plunge sort of pools, viewing them as a sign of lavishness and even an elevated level of service. Such an additional degree of revenue stream can contribute substantially to the financial success of your amazing resort.
Enhanced level of Guest Loyalty
Making sure your guests have a really good time is definitely important for making them want to come back. Once you have a proper and special pool, it can make their stay really special and even something they'll always remember.
Guests or visitors who've had the luxury of a private plunge pool are more probable to come back to your resort again. All this helps you in building a group of loyal clients.
Conclusion
To sum up You should talk to the experts who can install pools in your resort. Since you have an idea about the charm and importance of having a plunge type of pool, make sure that you speak with landscape companies and get the perks it has to offer to your resort.
Changing Up Your Kitchen? Check Out What Colors Are Trending
Often traditional colors are used for kitchens because they make it easier to add those individual touches that make it your own unique kitchen. However, sometimes you can go wrong and the outcome is boring and outdated.
There are some kitchen colors that never become dated whist others become truly out of date. Ultimately, however, color trends and choices are subjective and there are really no colors that you shouldn't use if they make you happy. Perhaps you can use the Red Stag casino bonus codes to help you in this endeavor. Below, we'll look at what the experts say.
Many people find choosing colors for their kitchen, and their home generally, daunting. However, it doesn't have to be such a difficult task. There are lots of books, and websites that deal with color schemes that can be very helpful and inspiring. "The Perfect Kitchen" by Barbara Sallick offers lots of ideas and images from which to choose and inspire you in your design.
Go for subtle greige rather than overall grey
Cool-toned grey was very fashionable in the noughties and many homes were decorated with this color. However, warmer tones are now becoming more popular.  The go to color scheme today is greige, a blend of grey and beige. Greige works well with almost any other color so is very practical, hence its growing popularity. It could even be replacing white.
Replace vibrant red with a warm terracotta
Even though red is a favorite of many designers, we are seeing a move towards a softer version. Terracotta is the new go to color, a warm paprika. Interior Design Manager at Neptune, Simon Temprell says "The warm, earthiness of Paprika is a blend of red and orange tones but with an emphasis on the red. It works beautifully with warm neutrals, natural timbers and darker shades of green."
The Director of Veere Grenney Associates, Natasha Grieg agrees saying "A color like this feels both cozy and uplifting. It has great depth, so when used in small kitchens, it makes the room feel more generous. For our work as designers, it is a perfect backdrop to almost all colors."
Ditch contrasting colors and choose two tones of the same color
Using contrasting colors in your kitchen was considered really fashionable in the noughties. Today, and the forecast for 2024, is a shift to tonal color combinations. This means using different shades of one color to introduce interest and depth. If you have difficulty combining colors then this is a solution for you.
The director of Nicola Harding and Co., Nicola Harding says "A two-tone kitchen scheme allows extra definition and interest without overcomplicating. Most paint charts are arranged in families of colors, making it easy to find two shades that work together or contrast." She goes on to say, "Remember that dark colors take up more space visually. Use darker shade below eyeline, and a lighter shade that closer to the wall color above; it will help break up expanses of cabinetry and feel calmer and less blocky than a high contrast scheme."
Choose pastels over loud primary colors
Pastel colored kitchens were a favorite in the 1950's. They are having a comeback and especially the color pink. The use of very subtle pastel pink variations is trending for 2024 and the latest Barbie phenomenon is proof of that.
Pastel tones were a favorite in the 18th century Rococo period. Pastel tones are characteristically romantic and feminine and invoke the image of flowers and beautiful gardens. Nostalgia is occupying the imagination of many kitchen designers today and therefore pink is taking a front seat.
Jennifer Welch of Jennifer Welch Interior Design when referring to pastel pink that it has a calming rather than energizing effect. "This subtle tone works perfectly in a kitchen that is rather dark, or which suffers from a lack of natural light. Not only does it inject a space with brightness and joy, but it will also bring out and highlight any accent colors in the room."
Ditch stark white and opt for gentler off-whites, beige and sand
As versatile as white is, designers are moving away from this color and choosing softer versions of the color like ivory, linen, stone and sand. True, white kitchens are still very popular even though sometimes thought of as too stark and clinical. But according to Design Director at DesignSpace London, Richard Atkins, "There are many ways to "warm up" the design, one of which is to consider introducing warmer tones."
Becca Galbraith, Interior designer for Becca Interiors says "The search for the ideal neutral is not as easy as it would initially appear. Pure white can often be too cold and sterile, while trying to warm it up means possibly straying into the magnolia territory. Instead opt for a softer, warmer white and cream that grounds and lifts at the same time."
Off white and cream kitchens are definitely trending. They represent a more toned- down luxury. Simple and elegant these creamier color schemes are a basic ingredient in the world of interiors and especially good for modest homes.
Fluorescent Light Filters: Which One Will Help You Shine Brighter?
Fluorescent light filters are essential for anyone who wants to upgrade their lighting experience, whether you are working from home or in a corporate setting. These filters offer numerous benefits, enhancing mood and productivity while reducing eye strain and other health concerns.
But with so many fluorescent light filters available in the market today, it is essential to understand which one will best suit your needs. In this blog post, we'll explore some of the most popular types of fluorescent light filters and help you decide which one is right for you.
What Are Fluorescent Light Filters?
Before we dive into the different types of fluorescent light filters available, let's take a moment to understand what they are and how they work. Fluorescent lamps emit harsh blue-white light that can cause eye strain, headaches, fatigue, and hormonal imbalance by disrupting circadian rhythms or sleep disorders.
Fluorescent light filters work by altering the color temperature of the white harsh blue-white bulb lights into something more relaxed. Doing so effectively transforms any physical space exposed with these filters into more inviting and productive.
Different Types of Fluorescent Light Filters
1. Full Spectrum Fluorescent Light Filters:
Full-spectrum fluorescent lights allow you to imitate daylight indoors accurately. These bulbs come closest in resemblance to natural sunlight, making them an excellent choice. It reduces visual problems threatened by other artificial bulbs and lighting environmental issues faced mostly while working inside such close quarters all day!
2. Tinted Fluorescent Light Filters:
If you're looking for a simple way to alter the hue or color change in your room's ambiance, try using tinted fluorescent light covers! This collection would range between any shade coloristic choices, i.e., yellow warms up tones giving an indoor sunny feel. Pink may substitute slightly warmer pink tone effects similar to early sunsets or more ambient indoor lighting appeal. Green and blue often improve concentration levels because they mimic typical "sunrise to sunset" mood changes.
3. Diffuser Fluorescent Light Covers:
Diffusers are made from a frosted plastic material that evenly distributes light across an area, effectively stopping unwanted glare that may cause eye strain, headaches, and other severe visual problems! Not only do diffusers have health benefits for your eyesight, but it also provides additional benefits, such as lowering your energy bills while preserving the lifespan of your fluorescent bulbs.
Making Your Decision
Now that you know about the different types of fluorescent light filters available, let's take a moment to decide which one is appropriate for you. You must first examine what kind of environment you are working in or which mood stage you want to set within living spaces before choosing any product like Tinted Filters and Full Spectrum filters.
If you're looking for something that resembles natural sunlight indoors, go with full-spectrum fluorescent lights. If concentrating or setting a certain mood- tones in activities make tinted covers a priority! And if given a choice between glare protection and improved working conditions, opt-in diffuser-style covers ensure cost-effective longevity towards luminosity use!
Final Thoughts
In conclusion, fluorescent light filters can drastically enhance the lighting ambiance around you. Whatever filter type suits you best, impact on reducing these hazards related stressors like eye strain & inducing productivity will always be worth exploring brighter horizons!
So, don't hesitate to invest in a fluorescent light filter suitable for your specific needs. With the right filter, you can create a more inviting and productive environment that brings the right vibes. Whether studying for exams or working towards project deadlines, using the correct color temperature will improve your mood and performance.