28 Legit Online Jobs That Are Easy and Pay Well
The working conditions post-pandemic have drastically changed. Offices are now moved to our very homes, and this new normal is making people search for legit online jobs vigorously!  Working from home has brought so much diversity and a rapid increase in the job opportunities that every skill and talent is getting hired.
Working online is not just for full-time working; freelance, part-time jobs are also a significant new trend that has picked up rapidly in recent times. There is something for everyone, whether you are a student, a house-wife or just someone who wants to make a couple of extra bucks. You can find your talent and identify your skill, do some practice and training and hope on the bandwagon of online working.
You too can earn online as the working trends online are quite positive right now. After some research and hard work, you can find a well-paying online job that gives you a sense of purpose. We have compiled a list of the most popular online jobs categorized based on industries that grow during COVID-19. You can undoubtedly get some motivation from the following list.
Online Jobs Categorized, for Your Ease
Below are some online jobs, categorized for you to find the one that matches your skills easily.
1. Online Jobs for Moms
Internet research
This job is quite suitable for women who are staying at home and also looking after house chores and kids. Maintaining work-life balance while doing online research can be relatively easy as you can select your working hours and workload.
Blogger
Blogging about any passion, cause or even documenting your daily life through blogs is great for moms in general. You can tell the world your own story, in your way. Blogging is a great way to connect with people while making some cash on the side.
Mystery shopping
Many people like to order mystery boxes online that come with a specific price-tag, but the contents are a surprise for them. You can start putting up mystery boxes for people to buy in various categories such as beauty, health, fitness and wellness.
Influencer
Being a social media influencer is considered a full-time online job nowadays as a lot of hard work goes into it. It is quite time consuming, and a perfect social media post can take up to days to get in the final stage. Carefully taking up pictures, writing interesting captions and taking up collaborators and sponsors on-board are all the tasks that require intense dedication and business sense.
2. Online Jobs for Students
Virtual assistant
Many students look for work from home jobs to earn some extra bucks and supporting their lifestyle. Virtual assistant online job is quite exciting and easy for students as all you have to do is to look after the online affairs of your boss. Sorting and sending emails, marking the dates in the calendar of all the important occasions, making appointments and subscriptions are all the tasks performed by the virtual assistant.
Product reviewer
Reviewing products is an online job that students can do as you just have to express yourself and explain some key points about the products given to you. This job pays sufficiently, and the pay-rate is decided in lump-sum or a fixed amount per product is determined.
Freelance writing
Students can also opt for writing on a freelance basis as per their convenience. They can register for projects, assignments and essays of other students as there are many dedicated websites for this job too. 
Data entry
Data entry is a simple task and can be done part-time for a few hours every day. All you have to do is to enter the data provided by your employer into his specified format. This work is relatively mundane and can be done by students in their spare time.
3. Online Jobs for Teachers/Online Teaching Jobs/Tutoring
Virtual teacher
Covid 19 aftermath has forced schools to shut all over the world. Putting children and teachers at risk was discouraged by everyone, so schools shifted online. Online classes have made a huge demand for virtual teachers to teach students and give lectures online.
Translator
Teachers are often in search of second jobs to supplement their income and give their lifestyle a boost. If you are a teacher who is familiar with another language, then you can use your skills as a translator and earn from it while working online.
Proofreading
Teachers are often quite literary-minded. They like to read and get knowledge about new topics. You can work as a virtual proofreader for any publisher and earn quite a much from this side-gig.
4. Online Jobs for Specialized Skills
Graphic designer
Graphic designing is a well-paying job that can be done very quickly online. Getting clients from online working platforms and completing tasks is not at all heard if you are a skilled graphic designer.
Medical assistant
Providing medical assistance online is getting very typical nowadays. You can charge for consultations online and deal with your regular patients efficiently.
SEO specialist
Search engine optimization is a phenomenon that is highly popular right now. You can self-teach by reading up helpful material online and be an SEO specialist if you are passionate.
Animator
You can sign-up on the online freelance platforms and publish gigs as an animator.
Accountant
If you have certification as an accountant then getting a well-paying job online is very easy for you.
5. Simple Online Service Jobs
Travel agent
Travel agents can conveniently work online and provide their regular services to customers.
Call agents and virtual receptionist
Working online from home as a call agent or a virtual receptionist is totally doable and very normal nowadays.
Customer service representative
Many businesses have shifted their operations online so hiring customer service representatives is almost crucial for them, a perfect time for you to get hired.
6. Online Writing & Editing Jobs
Content writer
The freelance content writing industry has turned into a multi-million dollar industry in just five years. If you have a passion for writing and reading, you are expressive while writing and have a unique writing style; you should go for it.
Copywriter
Writing copies for marking and advertisement agencies is a full-fledged online job nowadays.
Transcriptionist
You can search for how to become a transcriptionist online as the employers very well pay for this skill. Transcription of audio or video files can land you a couple of hundreds of dollars in days.
7. Online Marketing & Social Media Jobs
Social media manager
Managing social media accounts of brands, businesses, and famous personalities is a handsomely paid job nowadays, the best part is you can do this job while staying at home. Conceptualizing and creating their posts and captions, increasing their reach and subscribers are the duties of social media managers.
PR specialist
A PR specialist is a job that is very well paid and brings financial stability as well.
Online seller
You can be your boss and start your own business as an online seller.
8. Miscellaneous Online Jobs
Chat agent
A chat agent provides customer service by answering questions and queries of potential customers
Virtual recruiter
Many companies hire virtual recruiters for searching and hiring new talent. You can be a virtual recruiter too, by applying for this post.
Bookkeeper
Overlooking accounts and keeping clients' records is a thing professional accountants can do as a part-time job in their spare time.
Tips for Working from Home
Below are some tips that can help you work efficiently while staying at home.
Sign up on websites that are specifically made to provide work for freelancers. The employers and recruiters are also on these websites in search of their desired person. Freelancers need a website can be easily found online with lots of work opportunities.
You don't need to have any specific degrees and certification for working online as your talent and skill can be the stars of the show. Do the research and polish your skills continuously, learn new things and implement them in your life.
You don't need any separate office or working space while working online as your virtual business address can be your home as well. Set up your home office in a different room, set up a work station desk and a comfortable chair. Entering this space every morning will trick you into thinking that you are in a working zone now. In older days relocating for a job was considered pretty normal but now moving into a separate room of the house is enough.
Set up a routine that makes your productivity increase. If you want to be serious in your career, working at odd hours with no interest will take you nowhere. You have to make your work schedule and follow it every day. Find a routine that makes you productive and active. Time management is critical.
Don't be discouraged if the work is slow or you are not getting enough clients, and you have to build your portfolio to get long term clientele.
Ending Note
Working online is new and considerably unknown to many if we go back for six months. Traditional offices and workplaces are also looking into options of online and remote working because they give priority to the health of their employees. A lot of job openings of online work have opened up, providing opportunities to everyone for trying their luck. The lockdowns have forced everyone to stay inside their homes, but you can turn this situation in your favor and start earning.
The freelance work industry is a multi-million dollar industry today with everyday transactions reaching thousands of dollars. You can work online just by recognizing your skills and a little effort.
Avoiding Common Mistakes During UPSC CSE Registration: A Comprehensive Guide
As a candidate preparing for the UPSC CSE exam, the registration process is one of the most important aspects to be mindful of. UPSC CSE registration is the first step towards realising your dream of becoming a civil servant. However, many candidates often need to correct their mistakes during the registration process, which can lead to disqualification or delay in the application process.
This blog post will share tips to help you avoid common mistakes during UPSC CSE registration. Additionally, I will provide a step-by-step guide to UPSC online registration, documents required, and frequently asked questions for the registration.
Common Mistakes Made During UPSC CSE Registration
The UPSC CSE registration process can be pretty daunting for first-time candidates. It is common for candidates to make avoidable mistakes during the registration process. Some of the common mistakes made include the following:
Incorrect personal details
Candidates often make mistakes when filling in their details, such as name, date of birth, and address. These mistakes can result in disqualification or delay in the application process. It is crucial to double-check all personal details before submitting the application form.
Uploading incorrect documents
Candidates are required to upload several documents during process. These documents include a passport-sized photograph, a scanned copy of the candidate's signature, and proof of educational qualifications. Candidates must upload the correct documents in the specified format to avoid disqualification.
Payment-related errors
Candidates often make mistakes while making the payment for the registration fee. Common mistakes include selecting the wrong payment mode, entering incorrect bank details, or paying after the deadline. These mistakes can lead to disqualification or delay in the application process.
Tips to Avoid Mistakes during UPSC CSE Registration
Read the instructions carefully
Before beginning the registration process, it is crucial to carefully read the instructions in the UPSC CSE notification. This will help you understand the registration process, required documents, and payment details.
It is essential to double-check all personal details, educational qualifications, and uploaded documents before submitting the application form. This will help you avoid any mistakes that could result in disqualification.
Use a reliable internet connection
During registration, it is crucial to use a reliable internet connection to avoid technical glitches. Slow internet speeds or connectivity issues can result in errors while submitting the application form.
Keep track of important dates
It is essential to keep track of important dates, such as the last date to submit the application form and the last date to make the payment. Missing these dates can lead to disqualification or delay in the application process.
Take a printout of the application form
After submitting the application form, it is advisable to take a printout for future reference. This will help you keep track of important details such as the registration number and application status.
A Step-By-Step Guide to UPSC Online Registration
Here is a step-by-step guide to UPSC online registration:
Step 1: Visit the official UPSC website
Access the UPSC website and select the "Online Registration" option.
Step 2: Select the UPSC CSE exam
Select the UPSC CSE exam from the list of available exams.
Step 3: Fill in personal details
Fill in your details, such as name, date of birth, address, and contact details.
Step 4: Upload documents
Upload the required documents, including a passport-sized photograph, a scanned copy of your signature, and educational qualifications.
Step 5: Make the payment
Make the fee payment using the specified payment mode.
Step 6: Submit the application form
After completing all the steps, submit the application form and take a printout for future reference.
Conclusion
UPSC CSE registration is a crucial step toward realising your dream of becoming a civil servant. By following the tips provided in this blog post, you can avoid common mistakes during the registration process and increase your chances of success. Additionally, it is essential to prepare for the UPSC CSE exam thoroughly to achieve your goal.
Frequently asked question
Q1. What exactly is UPSC CSE enrolment, and why is it important to avoid errors during the process?
A1. UPSC CSE registration refers to the application procedure for the Civil Services Examination, which is administered by the Union Public Service Commission (UPSC) in India. This test is a highly competitive and prestigious method to join the country's different civil service jobs. It is important to prevent errors during enrolment because they can result in disqualification or other issues that prohibit you from taking the test or reaching your desired score.
Q2. What are some of the most frequent mistakes people make when registering for the UPSC CSE?
A2. Common errors made during UPSC CSE enrolment include entering erroneous personal information, posting incorrect or low-quality photos and signatures, choosing the incorrect test location, failing to pay the application fee on time, and not thoroughly reading and confirming all information before sending the application.
Q3. How can I prevent making errors when registering for the UPSC CSE?
A3. To prevent errors during UPSC CSE enrolment, carefully evaluate and verify all data you enter into the online application, double-check that your photographs and signatures meet UPSC requirements, cautiously read and understand all guidelines before completing the form, and pay the application fee before the closing date.
Q4. Are there any websites or tools to assist me with UPSC CSE registration?
A4. Certainly, UPSC offers a thorough guidebook that includes all pertinent information about the test and registration procedure, including directions for filling out the application form and photo and signature requirements. There are also numerous coaching institutes and online resources that provide help and assistance for registration and preparation.
Q5. How long does it usually take for the UPSC CSE registration process to complete, and when is the ideal time to apply?
A5. The procedure usually takes several weeks due to numerous verification and handling steps. The best time to register relies on personal circumstances and exam readiness, but it's usually suggested to begin the process as soon as possible to account for any unforeseen problems or complications.
How to Find Online Job: Options that Require Little or No Work Experience (that are truly fun!)
In today's world, earning money online has become increasingly popular. For many years, commuting to the office and going out to work was the only way to make a living. However, things changed with the evolution of technology, as this resulted in tehnological advancements that were embraced by many industries.
Working from home now has become extremely popular. Many companies have implemented hybrid and remote models so that employees can enjoy the flexibility to work from anywhere.
Here, we will discuss online jobs that require little to no experience to get started – and they can be fun as well!
These are jobs for absolute beginners as well, so if you have the right skill set but no prior work experience, we've got your back! So, let's see the different online jobs you can consider, and hopefully, we'll help you narrow down your choices when making applications.
OnlyFans
You don't need any special expertise or work experience to be part of the OnlyFans community. You just need to sign up on the platform, create the content and start connecting with your fans.
Even as an absolute beginner, you can earn pretty well. The living proof is the fact that even OnlyFans amateurs earn a lot on this platform by creating content and interacting with their fans.
So, don't worry if you lack social media experience or have very limited knowledge regarding the platform or the type of content you should post. All it takes is thorough research, a willingness to keep up with the latest social media trends, and a compelling niche to keep your fans interested and entertained.
Web Design
Working in the web design industry comes with some challenges. Having said that, even though you need a certain set of skills to start working as a web designer or web developer, you can land a job even without prior working experience.
If you've just finished college or a web development academy, but you have no work experience on your resume, start applying for small web design jobs online. You can then build a portfolio, and once you've created a portfolio, you can start applying for bigger projects.
The first step toward becoming a web developer is using coding boot camps to fast-track the learning process. The practical advantages of such boot camps are numerous, as you can:
Network with like-minded individuals
Expand your horizons
Work on your problem-solving skills
Improve your communication skills
As you continue diving deeper into the web development industry, you will need to choose a development specialization. The web development industry is categorized into:
Front-end development – pertaining to the "client-side" of the process, such as the design, layout, and functionality of the site
Back-end development – focuses on the "server-side" of the process, such as servers, hosting, networks, databases, and more
Full stack development – needs to have knowledge in both areas
But don't worry; you can choose a specialization and focus on one of these categories once you've started working in web development.
Content Writing
Content writing is another popular yet fun option where you can earn money online with little to no prior work experience. Let's get it clear from the beginning – you do need certain skills to be successful as a content writer, even if you don't have work experience.
Thus, if you're a self-motivated individual with a passion for creating content for the web, blogs, technical documents, reviews, advertisements, or scripts, this is the job for you.
Blogging
You don't need any particular experience to kick off your career as a blogger. If you have a topic area or a subject you're passionate about and would like to share it with others, you can start your own blog.
The most profitable blogs are those that provide value to the readers, so make sure you choose a relevant topic and create high-quality content. After you've created your blog, you can place ads on specialized blogs, promote the blog on various social media platforms, or even incorporate pay-per-click advertising.
According to Good Financial Cents, the best blogging niches are:
Investments
Cars and car repair services
Credit cars
Travel
Fashion
Real estate
Entertainment
As we mentioned earlier, make sure you choose a relevant topic that you are passionate about. This way, you can engage people and attract a larger number of visitors to your blog, which will turn your blog into a profit-generating one.
Advice to Get Started
All of these job opportunities require little to no prior experience to get started. Here are a couple of tips before you start applying for certain jobs:
Be persistent – do not even think of giving up
Make it happen – don't let all of that hard work you put into learning new skills go to waste
Keep hustling
This is your chance to generate a good income, so start applying!
Top Skills to Become a Full Stack Developer in 2023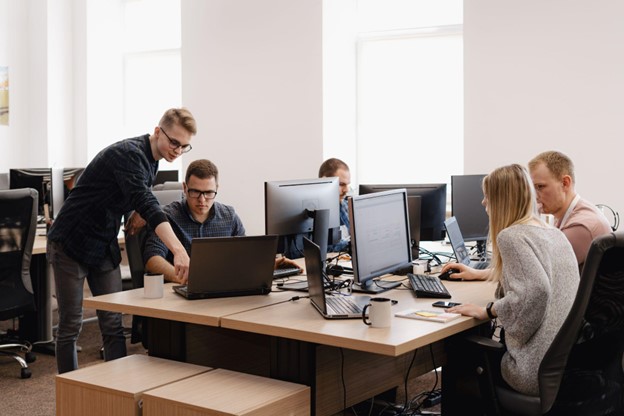 Interested in becoming a full-stack developer? One of the advantages of becoming a full-stack developer is that you have skills in multiple areas and can handle coding, design, development, and more all under one roof. Find out these diverse skills, how to use them to become a full-stack programmer, and why they will be the most important for adapting to industry changes in 2023!
Introduction to Full Stack Development
If you're looking to become a full-stack developer, there are a few skills you'll need to master. In this section, we'll introduce you to the world of full-stack development and some critical skills you'll need to succeed.
Full stack development is all about creating web applications that anyone can use anywhere. To do this, programmers must have a strong understanding of front-end and back-end development.
Front-end development refers to the graphical user interface (GUI) that users interact with when using a web application. This can include anything from designing the overall look and feel of the website to creating individual elements like buttons and drop-down menus. On the other hand, back-end development focuses on the server side of things. This includes everything from setting up hosting for the website to writing code that powers the application itself.
Most IT companies want to hire offshore programmers with professional skills. To be a successful full-stack developer, you'll need a strong understanding of both front-end and back-end development. In addition, you'll also need to be comfortable working with different web technologies and frameworks.
What Skills Do You Need to Become a Full Stack Developer?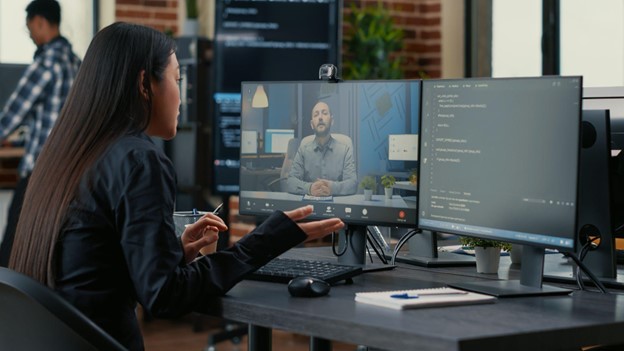 To become a full-stack programmer, there are a few critical skills that you will need to possess. Firstly, you will need to have a firm grounding in computer science concepts. This means understanding algorithms, data structures, and software design principles well. Secondly, you will need to be proficient in a wide range of programming languages. At the very least, you should know how to code in Java, PHP, and Python. However, being able to code in various other languages will give you an advantage when it comes to finding full-stack programmer jobs.
Thirdly, you must have experience with front-end and back-end web development technologies. This includes knowing how to develop user interfaces using HTML/CSS/JavaScript as well as being able to create database-driven websites using MySQL or MongoDB. Finally, it is also beneficial to have experience with DevOps tools such as Puppet or Chef to automate web application deployment and management.
HTML/CSS
To become a full-stack developer, it is crucial to have a strong foundation in HTML and CSS. These two technologies are the building blocks of the web and are essential for creating well-designed and responsive websites.
HTML (HyperText Markup Language) is used to structure content on a web page. It defines the meaning of elements on a page, such as headings, paragraphs, and list items. CSS (Cascading Style Sheets) is used to style the content on a web page. It defines how elements should look, such as their color, size, and font.
Both HTML and CSS are easy to learn, and there are plenty of resources available online to get started. Once you have a solid understanding of these technologies, you can begin learning more advanced web development skills such as JavaScript, PHP, and Ruby on Rails.
JavaScript
JavaScript – is one of the most important full-stack developer skills. As the programming language of the web, JavaScript is used to create interactive web pages and applications. While many different frameworks and libraries are available to help with development, knowing vanilla JavaScript is essential. In addition, being familiar with Node.js will give you an extra edge as a full-stack programmer.
Back-end languages
Knowing back-end languages is one of the most required full-stack developer skills. Among the most popular are PHP, Java, Python, and Ruby. Depending on the project requirements, a full-stack developer may need to be proficient in one or more of these languages. For example, if a project requires a lot of data processing, then a developer with strong Python skills would be ideal. On the other hand, if the project is focused on e-commerce, then a developer with solid PHP skills would be a better fit.
Full-stack programmers need to have a good understanding of how each back-end language works. This way, they can choose the right language for the job and also debug any issues that may arise. Additionally, full-stack programmers should be comfortable working with databases such as MySQL and PostgreSQL. With this knowledge, they can build robust and scalable web applications.
HTTP and REST
There's no denying that the world of technology has evolved at a breakneck pace over the last few decades. And as a result, the skills required to be a successful developer have changed significantly as well. Where once a basic understanding of HTML was all that was needed to get started in web development, today's developers need to be well-versed in a wide range of different programming languages and technologies.
One of the most important skills for any developer, regardless of experience level, is a strong understanding of HTTP and REST. Hypertext Transfer Protocol (HTTP) is the protocol that governs how communication happens between different systems on the web. REpresentational State Transfer (REST) is an architectural style for building APIs that takes advantage of HTTP's capabilities.
A strong understanding of HTTP and REST is essential for any developer who wants to build web applications that are scalable and maintainable. Without this foundation, it would be very difficult to create applications that can handle large amounts of traffic or complex data structures.
Database storage
A full-stack programmer should understand how databases are structured and how to work with them. There are many different types of databases, but the most common ones used in web applications are relational databases like MySQL, PostgreSQL, and SQLite.
No matter what type of database you use, there are some basic concepts that all developers should know. For example, you should be familiar with CRUD operations (Create, Read, Update, Delete), which are the four basic operations that can be performed on data in a database. You should also know how to query data from a database using SQL (Structured Query Language).
If you're working with a relational database, it's also important to understand relationships between data tables. For example, you might need to join two tables together in order to get the data you need. Knowing how to do this is essential for any full-stack developer.
Basic design skills
As a full-stack developer, you must understand fundamental design principles strongly. This includes understanding how to use color, typography, and whitespace effectively. You should also know how to create responsive designs that work well on mobile and desktop devices. These skills can be learned through self-study or by taking courses on graphic design.
NPM
NPM is a must for every full-stack programmer. It is the package manager for JavaScript and allows you to install, update, and manage your dependencies. NPM also provides a way to share your code with other developers through packages.
Soft Skills Needed as a Full Stack Developer
As a full-stack developer, you will need to have a strong set of soft skills to be successful. Here are some of the most essential soft skills that you will need:
Communication: As a full stack developer, you will need to communicate effectively with other team members, as well as clients or customers, if necessary. You should be able to clearly explain complex technical concepts to non-technical people.
Problem-solving: Full stack developers need to identify and solve complex problems quickly and efficiently. You should be able to think on your feet and come up with creative solutions to tricky issues.
Time management: As a full-stack developer, you will likely be working on multiple projects at once. Therefore, it is important that you are able to manage your time effectively in order to meet deadlines and avoid becoming overwhelmed.
Organizational skills: In order to keep track of all the different parts of a project, full-stack developers need to have strong organizational skills. This includes being able to create clear and concise documentation so that other members of the team can easily understand what needs to be done.
Conclusion
A skilled full-stack developer is in high demand, and the skills required to become one continue to evolve as technology develops. We outlined the top ten skills anyone can acquire to become a successful full-stack developer by 2023. Whether starting from scratch or striving to advance your current web development career, learning these critical skills will help you stand out in this thriving and ever-growing field. Get cracking on learning these