15 Best Places to Visit in Paris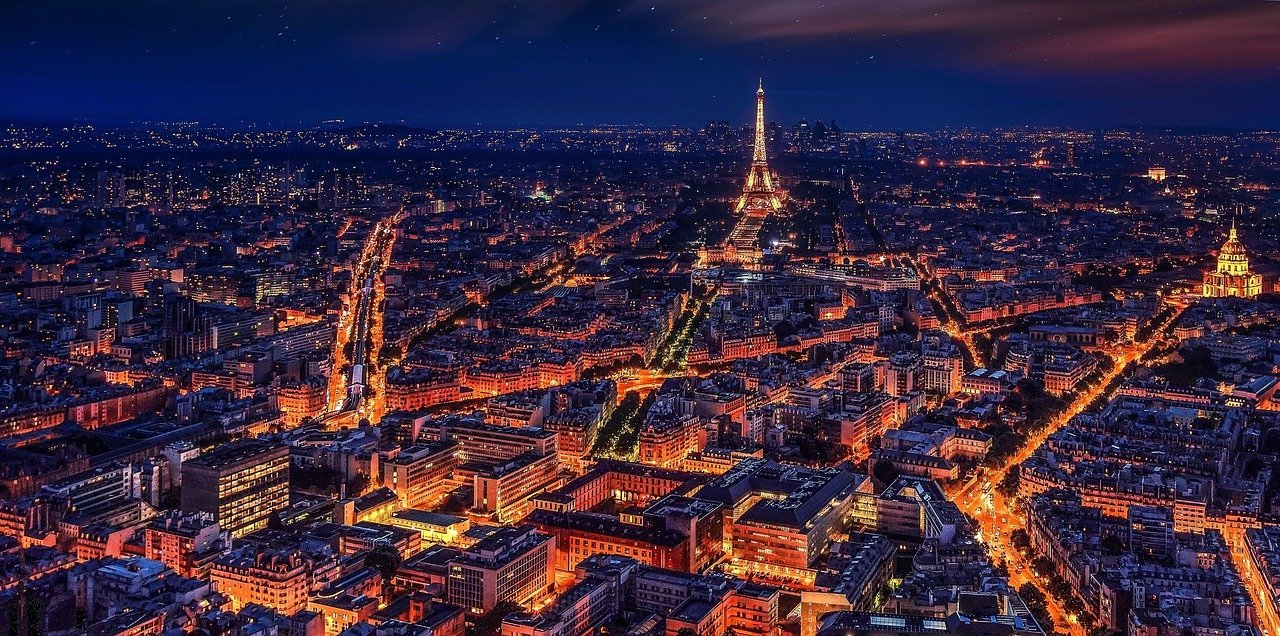 Romantic, tourist-friendly and the land of love – Paris is the inspiration of romantic novelists and the painters. The French capital is known for its scenic splendor, the magical trance of exuberant style and fashion, café culture, iconic fragrances and much more.
With the picturesque landscape and ideal landmarks, the city of lights itself speaks about its rich architectural history, heritage, eclecticism, nourishment of art, culture and exquisite gastronomy.
The magical Paris is lovers' and tourists' attraction for centuries. It is a perfect place for a unique gateway. From museums to monuments, from boat trips to parks and gardens, there are numerous options to choose from.
"All journeys have secret destinations of which the traveler is unaware."

——Martin Buber
What to do in Paris is the most often asked question. Here is your ultimate guide to give you a virtual tour of 15 beautiful must-see places, the best area to stay and things to do at night in this incomparable city.
1. Eiffel Tower
The masterpiece architectural feat is one of the most loved places. The iconic tower with its emblematic sight gives an exhilarating experience to its visitors.
The view from the first and second level is fabulous. Visiting the top level is a must for adventure lovers. An elevator ride from the second level is available to reach a bewildering rise of 276 meters.
If you want to enjoy an exotic meal and wine, then visit Jules Verne Restaurant located on the second floor. The expansive windows entertain diners with amazing panoramas.
2. Musee De Louvre
The home of Da Vinci's Mona Lisa, Eugene Delacroix's Liberty of Leading the People, Theodore's The Raft of Medusa is Musee De Louvre, the leading art museum in Europe. With its sleek glass pyramid entrance, the museum enchants its visitors with an enormous collection of 35000 works of art belonging to diverse cultures and periods.
The 3 hours guided tour allows participants to avoid long queues and directly enjoy the famous artwork with interesting information and explanation.
The museum is surrounded by the loveliest Jardin des Tuileries. The formal gardens include manicured trees, 2 ponds and statues by Giacometti, Maillol and Rodin. With its scenic beauty and availability of café-restaurants with outdoor seating, it offers a great opportunity for enjoyment and relaxation.
3. Cathedral Notre-Dame de Paris
The name takes to Hugo's famous classic "The Hunchback of Notre-Dame". The gothic cathedral with its stunning architectural details, rose windows, sculptures and carvings immediately attract visitors' attention and appreciation.
Do not forget to look for 21 figures in the Gallery of Kings who lost their heads during the revolution.
The seemingly endless sanctuary welcomes visitors with the light of flickering candles. The Rose window highlights 80 Old Testament scenes focused on Virgin.
The interior is closed for visitors these days because of fire damage that happened in April 2019.
4. Avenue des Champs-Élysées
The monumental boulevard was a desolate field until the 17th century. Now it is divided into 2 parts. Jardin des Champs- Élysées and Petit Palais fine arts museum are included in lower parts whereas the upper part is filled with cafes, cinemas, hotels, luxury shops and theatres to capture the gaze of many sightseers.
With its image of refinement, the boulevard offers many affordable options to cater to your needs within budget. The most noteworthy attractions are Starbucks, McDonald's, Burger King, Quick, Disney toy store and H & M clothing shop.
5. Musée d'Orsay
If you want to have an overview of impressionist art history, then the Orsay museum is an excellent choice with its collections from all masters of Impressionism.   It has works of Classic to Post-Impressionists and Bohemian artists.
The well-acclaimed pieces are The Magpie, Gare Saint-Lazare, Luncheon on the Grass and Poppy Field by Claude Monte, self-portrait and Starry Night by Vincent van Gogh and Dance at Moulin De La Galette by Renoir.
It has 2 cafés and one upscale restaurant with its gilded ceilings and shimmering chandeliers.
6. Seine River Cruises
Taking a boat cruise along the Seine is a perfect opportunity to soak up the enticing ambiance of Paris. It will give you a chance to enjoy things from a different perspective. The river bridges, Eiffel tower, Notre-Dame cathedral and Louvre museum impress the hearts of tourists from the sight of a riverboat.
A daytime cruise permits visitors to appreciate the eminence of monuments in the bright daylight whereas to have an exotic romantic experience, go for an evening cruise to see the illuminated landmarks leaving a magical impact.
Try Bateaux Parisiens Seine River Cruise that also includes a three-course meal along with a 4-hour sightseeing tour.
7. Luxembourg Gardens
An oasis that gives the simplest of pleasures with its ample green fields for sunny delights and people-watching with a lot of activities available for kids to keep them engaged. When bored with city haste, get yourself a comfortable treat in the park.
Children can float sailboats, ride ponies, spin on the merry-go-round, watch a puppet show and adults can find delight in Musee Du Luxembourg.
There are also basketball and baseball courts, you can enjoy playing there or simply sit on a bench or lay on grassy fields to admire the scenery. Garden tour is free but there is an entry fee for Musee Du Luxembourg.
8. Musical Concerts at Sainte-Chapelle
This classic work of Rayonnant Gothic architecture is not commonly used for the public but frequently serves as a venue for musical concerts. To have an awe-inspiring spiritual experience, listening to a choir here is a must to do thing.
Sainte-Chapelle is treated as a gem among medieval houses of worship and certainly is one of the foremost exquisite churches in Paris. To involve in the serene aura and iridescent glow, visit the sanctuary in the morning especially on sunny days to appreciate the breathtaking view of stained glass windows.
9. Centre Pompidou
In contrast to the historical building, this art and cultural centre highlights modern architecture. The main attraction of this place is The National Museum of Modern Art which shows a broad collection of more than 100,000 pieces of contemporary art.
There is also a book shop, souvenir store, casual café and a restaurant for the public to relish the beauty of high tech inside-out design of staircases and elevators.
10. Le Marais
To get a feel of medieval Paris, visit Le Marais. It gives the finest shopping experiences to young travellers at Rue Des Francs- Bourgeois and Rue Vieille du Temple with luxury boutiques and high-street flagships you wished for.
Merci is the most desired shopping area from where customers can buy everything from clothing to household items, stationery and gifts.
For fashion lovers, The Broken Arm and Tom Greyhound are the must-visit places in Paris.
This place has numerous small restaurants to taste local delicacies like falafel wraps and pastrami sandwiches.
11. Catacombs of Paris
These are the colossal collection of bones and ossuaries under the city. To explore horror, visit the empire of death where over 6 million people are buried.
This scary underground network of caves and tunnels is lined with bones and skulls only. It takes around 45-minutes to explore the tunnel although only a little more than a mile of catacombs is open for exploration.
12. Disneyland Paris
A tour to fairy-tale Disney land is a dream of everyone. We all want to connect with our favourite Disney characters. No other place than Disneyland (with sleeping beauty castle) and Walt Disney studios can help us to realize our dream of visiting the land of Mickey.
Space Mountain is another major attraction in this bucket.
13. Foundation Louis Vuitton
This striking building is a reflection of ultra-modern architecture. The exterior looks like an iceberg or a huge glass ship. The museum has 11 galleries and displays modern art collections from 20th and 21st centuries in four categories including Expressionism, Pop Art, Contemplative Art and Music & Sound.
The outdoor terraces give a spectacular view of the Bois de Bologne, La Defense quarter and Eiffel Tower. 1000 seat auditorium is used for musical and cultural performances.
14. Moulin Rouge
Today, Moulin Rouge is one of the most visited tourist spots in Paris, providing entertainment to thousands of tourists from all around the globe. Known as the birthplace of French Cancan and built-in 1889, Moulin Rouge is a cabaret located in the heart of Pigalle.
Inspired by nightclubs of various cities in the world, especially Las Vegas, its popularity reached new heights after the release of the 2001 movie that starred Ewan McGregor and Nicole Kidman in lead roles.
15. Sacré-Coeur Basilica
One of the most gorgeous locations in Paris, Sacré-Coeur is situated on the upland of Montmartre. Holding great spiritual significance, this location reflects Romano-Byzantine features and is often considered a place of mental and spiritual peace.
However, photography is strictly banned inside so make sure to leave your cameras behind when you visit this regal Basilica.
"Don't call it a dream…call it a plan."
Bottom Line
Often known as the city of love, Paris is filled with magnificent tourist destinations that hold immense spiritual and cultural significance. The magical ambience of the city has the power to romance its visitors which is why Paris is one of the most popular honeymoon destinations in the world.
One visit is all it takes to fall in love with the magic of Paris. With a history in every hidden corner, Paris stands as one of the most cherished cities that has inspired countless love songs and majestic paintings around the globe.
Top 5 Reasons Why You Should Travel to Australia With Friends
Oh, the beautiful land of Australia! The mysterious and various continent is something not to be missed by every adventurous tourist from all around the world. Experienced travelers claim that nowhere in the world it's possible to see a sunset that can be observed at Mount Uluru, and see a real penguin parade, like on Phillip Island.
Australia always has something to offer whatever your preference or budget, but it's best when you travel in a company. When you're free, young, and full of strength and energy. But before we start explaining our position that it's better with friends, let us give you some tips about your trip!
Short Recommendations Before You Go
First, and most importantly, you need to get the visa called ETA. It is a short-term visa for tourists. Don't worry if you are already at the checkpoint. You're able to generate it online.
Australia is so huge! Devote enough time to its observing!
Mind, when we have summer, Australians have winter as the continent is located in the Southern Hemisphere.
Get any 9 seater car hire in Perth and acquire enviable comfort throughout your path.
Common Trips Bring You Closer Together
The more you experience with friends, the stronger your relationships. How wonderful it's to share the memories, in a sense, it makes them more "alive". Quite often when people go on a journey alone, over the years it becomes difficult for them to remember any details.
Although one could indeed enjoy the journey, it might feel like there was no adventure.
Therefore, it's great when there's someone to whom you may say "Oh, do you remember that strange guy, who hoped we would fall for his gamble? Amusing!"
Of course, you could describe your trip to everyone like an annoying aunt, showing photos and so on, but with great probability nobody will really care, because they weren't a part of it. If you are going to travel with friends, and one of your destinations is in Western Australia, you can rent a 9-passenger van. Perth car hire offers multiple car rental opportunities, ranging from tourism, and leisure, to weddings.
It Makes a Trip Easier
From social interactions to usual things like sharing accommodation. This is nothing new, some people aren't good at communication, they are rather private. But when you travel to Australia or any other country, the ability to interact with others successfully and thus handle the situation comes to the fore.
Yeah, some people may perceive it as an opportunity to develop those essential skills, make new friends, etc. However, there are people who just want to take pleasure but don't step out of their comfort zone. Then, a sociable friend helps out a lot, by making calls, clarifying different situations with strangers, and things like that.
Besides, you can always count on your friend. They can be relied on to watch your bag, or remind you that cars drive on the opposite side of the road(we all forget about this, even once). You do not have to overcome any obstacle on your own!
You Can Afford More
As a rule, a group trip is cheaper than traveling solo. One of the most rational advantages is hefty savings. Moreover, this manifests itself in various aspects. Renting a vehicle or housing in clubbing will cost much less.
Multi-bed rooms, as a rule, are much cheaper than single rooms, and group discounts for a large company, in case of visiting museums and organizing other events, are very widespread.
Even the amount of your luggage can be reduced by using the same items collectively. Of course, we are not talking about a toothbrush or a towel, but here is a hair dryer, first aid kit, soap, shower gel, shampoo, hairspray or laptop – it is quite possible to share with someone.
Safety and Support
In a big company you often can meet a valuable companion or seasoned traveler, who has a lot of practical experience and speaks a foreign language. At least, there certainly must be a physically fit enough one, who can help to carry heavy suitcases.
In case of any unpleasant situation, for example, a loss of documents, money or means of communication, the support of a reliable friend is fairly important. If you get injured, there would be someone who can lend you a hand and simply help to get to a transport.
Activities Become Funnier
Hiking through unique wildlife forests, water rafting with doses of adrenaline, visiting marvelous national parks, and canoe camping, this is the list's smallest part of what you can enjoy several times more with mates. Planning unforgettable excursions and recharging the batteries together can bring more joy than ever!
Conclusion
Eventually, we all are different, and it's totally ok if you still prefer to travel alone. Whatever you choose, we wish you to have a nice time!
Is Delta 8 Vape a Travel-Friendly Product?
The transformation of the modern world has also brought an influx of travelers looking for a safe, quick, and easy way to satisfy their cravings. Whether you're looking to venture out on a road trip or want to enjoy with your friends after a long day of work, there's an app for that! The solution to all your travel-related problems has finally arrived: vaping and Delta 8 vape pen is one of the most popular vaping equipment on the market.
What Is Delta 8 Vape?
Delta 8 vape is a type of cannabis oil that is extracted from the hemp plant. It is a potent form of THC, the primary compound in cannabis. It is known for its potent effects, which can be felt within minutes of taking it. This means that you can save money by not having to purchase as much cannabis when you travel.
Is it a travel-friendly product? Let's find out.
Yes, Delta 8 vape pen is a travel-friendly product.
This shouldn't be a secret, folks. The iconic e-cigarette company has been around for a long time and when you consider the number of travels and different kinds of products that have followed since then, this particular product is no exception. That said, the fact that this product is also sold at convenience stores and even government-owned offices proves that it's a no-brainer when traveling with e-cigarettes.
Delta 8 Vape pen is a discrete product and can be easily used on a trip.
Delta 8 vape pen is a discrete product and can be easily used on a trip. The pen's hardware is concealed in its cartridge, so it's not apparent that you're carrying a cannabis product. And since it vaporizes rather than burns the cannabis oil, there's no smoke or smell to give you away. The pen is also easy to use: remove the cap, apply pressure to the cartridge until it clicks, and inhale. You can take as many or as few puffs as you like, and the effects will kick in within minutes. Delta 8 vape pen is a great way to enjoy cannabis while on the go.
Delta 8 Vape pen is easy to use
It's easy to use, too. The device comes with a single button that sets it on or off and a green wire that lights the wand when it's in use. You can also use the button to set a timer, which will set the timer for the next hour and allow you to take the vaper off to recharge. And when it's time to take the vape off, you take the pen out of your hand and place it on a table, where it lights up and is ready to be consumed.
Delta 8 Vape pen is easy to keep and carry
Portable vaporizers have become increasingly popular in recent years, as they offer a convenient way to enjoy cannabis without carrying bulky equipment. Delta 8 vape pens are the latest innovation in this field, and they offer several benefits that make them ideal for traveling:
Delta 8 pens are small and lightweight, making them easy to transport.
They offer a discreet way to consume cannabis, as they produce a slight smell and can be used without drawing attention to yourself.
Delta 8 pens require no particular setup or maintenance, meaning you can use them anywhere.
Whether going on a long trip or just taking a quick break from work, Delta 8 vape pens offer a hassle-free way to enjoy cannabis while on the go.
Delta 8 Vape pen has various flavors to make your trip more enjoyable.
Delta 8 Vape pens come in many different flavors, so you can choose the one that suits your taste the most. Some popular flavors include Blue Dream, Granddaddy Purple, and Sour Diesel. Each of these strains has unique flavor profiles that can enhance your Delta 8 experience. You can find Delta 8 vape pens in common flavors, such as Strawberry, Peach, Mango, Chocolate and Bubblegum. Regardless of which flavor you choose, Delta 8 vape pens can provide an enjoyable experience.
Delta 8 Vape pen is quite affordable to fit your trip's budget.
You might've heard that premium plain vapers are often on sale, which is true, but that doesn't mean that these are a terrible deal. The low-cost varieties of the Delta 8 Vape pen are pretty affordable. You can get some excellent value when you buy the pen at just under $30 for the basic version and just under $40 for the extra-basic version.
You can use a disposable Delta 8 Vape pen for a long trip.
Like the portable version, the dongle pen with the Delta 8 Vape pen is excellent for on-the-road use. But because it's connected to the vaper's phone, there's no way to take it on a long trip without worrying about it burning up. Disposable Delta 8 vape pens are an incredible choice for individuals who need to enjoy the benefits of Delta 8 THC while on the go. These pens can be used for up to two weeks before they need to be disposed of, and they offer a convenient way to get your daily dose of Delta 8. The pens are also relatively small and easy to transport, making them ideal for travel.
Conclusion
E-cigarettes are great when you're looking to get rid of those cravings after a long day at work. But when it comes to taking them to the next level, you'll need more than a conventional cigarette to satisfy your cravings. Luckily, there are various choices accessible today that can do just that. And with the rise of social media and mobile devices, you can follow your cravings and get in touch with the world around you. You can enjoy your free time as much as possible with your favorite e-cigarette. And when you're done, you can return to your favorite brand and see how they differ from the original, making it even easier to make the switch.
Delta 8 vape is a travel-friendly product you can easily carry around. It is small and discreet, making it the perfect choice for those who want to enjoy cannabis without drawing attention. Delta 8 vape is also a great way to consume cannabis while on the go, as it allows you to vaporize your cannabis without having to worry about the smell. So are you taking the Delta 8 vape pen to your trip this time?
Expert Tip: These Are the Best Places on the Plane
This post allows a clever choice of the seat.
More legroom, an unobstructed view outside or the first at the on-board service: The seat can strongly influence how comfortable you feel about a flight. We analyzed which seat on the aircraft best suits which needs and which places passengers should avoid.
Two commonly used aircraft types compared
The two aircraft types that are currently most frequently used on short and medium-haul flights were compared. Among insiders, seat 1A is considered the best seat in the Airbus A320, which is used by airlines such as Austrian Airlines or Niki on short distances, among others. Here there is more legroom, the best view from the window, which is not blocked by a wing, and the chance to be the first passenger to be served food and drinks. However, you should dress warmly – it is one of the more swender places on the plane.
Boeing 777: How to avoid the narrowest places
In the popular boeing 777 british airways, among others, the 44 and 45 series are the least recommended at the very back. So far, complaints have also been recorded most frequently via these seats. There is limited legroom and there is no space to fold the seat backwards. The seats in the last row are also considered the loudest places due to the proximity to the galley and toilets.
Interesting facts regardless of the type of aircraft
Air travelers place different requirements for their seat. Regardless of the type of aircraft, there are different interesting facts depending on your needs. On the seats at the emergency exit, passengers have more legroom and often the seats are quieter because no children are allowed to sit here. But adjusting the backrests is very often restricted in these places and in addition, hand luggage must always be stored in the luggage compartments here, which not every passenger likes to do.
The engine noise from the rows according to the center of the wing
Travelers who want to experience the flight as vibration-free as possible should select seats directly above the wings: there it wobbles the least. The quietest are the rows up to the center of the wing, behind it the noise of the engines can be heard more strongly. The last row of seats is completely avoided. There, the seat distance is often smaller than in the other rows and the backrests are not adjustable. The proximity to the toilet is helpful in urgent need, but due to the proximity to the galley, these are also the most restless and odorous places.
The early passenger sits best
Almost all airlines have set up a complete online booking system on which you can reserve the desired seats, often already at the time of booking – but often only for an additional fee. But then it's time to be quick, because the best seats are usually occupied months in advance. If the cabin plan is not deposited with the airline in question, then you can view the information about the respective aircraft on the Internet, for instance, on https://seatmaps.com/.
In order to secure the seat of their choice, passengers should check in as early as possible – for example by online check-in. Or reserve the desired seat at the time of booking. Some airlines such as Airberlin or Lufthansa offer this seat reservation free of charge – especially for frequent flyers. And often a friendly exchange with the airline staff at the counter also helps to sit well.
Bonus tip: If you are flexible in terms of time, you can use such overviews not only to find the best place on the respective plane, but also to generally find the best aircraft type for the respective route, as different machines are often used at different times and on different days.