How to Choose the Right Remote Control Vehicle for Your Kid?
Remote control toys are a ubiquitous part of our society, as they help teach kids about machines and how things work. There are different types you can choose from, for example, a remote control car, truck, or a drone. Each option provides its unique perks and challenges.
According to reports, some countries have enacted regulations regarding the safety of these toys with specific policies, and manufacturers come up with unique models and remote power to gain entry into the market.
So how do you choose the right beginner RC car for your kids? Read on to know more.
1. Look at Brand Name and Reputation
One of the best ways to figure out what is suitable for your kids is to look at branded items. Brands are created based on specific criteria, but parental reviews are critical. Many brands provide video reviews online, so be sure to check them out.
You can go over the brand website or find discussion boards where parents talk about the products they've used before.
2. Developmental Milestones
Children develop at different speeds and stages during their lives. While buying a remote-control vehicle for your kid, be sure to focus on their developmental milestones.
For example, if your child's coordination is not quite up to par with other kids their age, a car would make more sense than a helicopter. Furthermore, for a young child, you could buy a toy vehicle that operates automatically – all the child has to do is push a button to get it rolling.
3. Set the Right Price Range
Remote control vehicles vary in price range, so be sure to set a budget before buying one for your kid. You can check out different sources online, such as toy stores and brick-and-mortar stores in your area, to buy the right product that fits your budget. Get the right deal while also ensuring that you avoid spending too much on something your child will barely use or enjoy playing with.
4. Where to Play with It?
Remote control vehicles are meant to be played with outside. As a result, be sure to buy a beginner RC car suitable for outdoor conditions. Many brands come with accessories, allowing the child to have some creativity with their toy. If you plan to buy a  1/10th scale sized beginner RC car for your kid, ensure the toy is operated in an open space, as the child will have problems maneuvering the toy in the beginning.
5. Safety Tips
Remote control vehicles are not safe for kids under three years. Be sure to buy a product that comes with safety instructions and warnings and is appropriate for their age. Moreover, you should never leave your kid unsupervised while using their new toy, as some products can go quite fast and cause injury or may have small parts.
6. Check Warranty and Return Policy
Before buying a product, check the warranty and return policy. Many companies provide a warranty ranging from 90 days to one year, but you should always go over the fine print first. If possible, buy your kid's toy during their birthday as it'll be easier for them to get a replacement if something goes wrong within the warranty period.
7. Get the Right Gadget
Get a suitable remote-controlled vehicle for your kid. Your child needs to operate the toy properly to enjoy it, so be sure to turn it on and off carefully. Let the kid identify the working of the remote and explore the working options of the RC gadget. As they should understand how to change gear or move it forward or backward while playing with their new RC car.
8. Focus on Fun Part
While buying a remote-control vehicle for your kid, be sure to focus on the fun part. Look at toy options that allow kids to play with it differently or come up with their storylines while playing with them. Think about how you can invest in a product that will give your child the ability to hone their motor and cognitive skills and enjoy many weekends of entertainment with the toy.
Conclusion
A remote control vehicle is a great way to introduce technology to young kids. But be sure to think about what they like first. Check out the above tips and keep them in mind before buying a product for your little one.
Elevate Every Celebration: Give the Gift of Travel Memories with Gift Cards for Cherished Occasions
Gift cards have revolutionized the art of gift-giving and receiving, providing a flexible and user-friendly option that caters to all events. Gift cards offer individuals the flexibility to select a present that caters to their exact wants and requirements, regardless of the occasion – be it a birthday, festive holiday, or any other special event.
Gift cards offer a convenient solution by providing a preloaded value and extensive choices for redemption, enabling recipients to choose from a vast selection of products, services, or experiences. This eliminates any uncertainty and provides a more personalized gifting experience. Their popularity stems from the fact that they provide ease, adaptability, and a personable experience that appeals to both donors and recipients.
In modern times, gift cards are increasingly popular, as they help in streamlining the gift-giving process and allow the recipient to pick an item of their liking, making them a versatile present for all.
In the realm of gift giving, the use of gift cards has become increasingly prevalent due to their exceptional advantages for both the recipients and the presenters. They offer access to limitless opportunities, whether one is intending to plan a dream holiday, a quick weekend escape, or a remarkable adventure. This piece will explore the outstanding advantages of gift cards, emphasizing why they are the preferred option for individuals seeking unforgettable journeys and enjoyable escapades.
1. Freedom to Choose
Gift cards offer an exceptional advantage in terms of flexibility and independence. They provide the recipients with the authority to select from a diverse variety of travel possibilities, such as air travel, accommodations, vacation packages, and additional options. They offer the opportunity for travelers to tailor their trip to their tastes and preferences, whether that entails a tranquil beach retreat, a lively urban immersion in culture, or an exhilarating adventure. The ability to make choices guarantees that the gift card is not only a gift but also a chance to form valuable and lasting experiences.
2. Flexibility in Usage
Gift cards provide unparalleled flexibility when it comes to their usage. The recipients have the option to utilize these resources to schedule their trips, whether they intend to travel within their country or overseas. The gift cards have versatile applications, including but not limited to flight booking, hotel accommodation, discovering vacation packages, and arranging conveyance services. The gift card's versatility guarantees that it can be used for any service or place, which makes it very convenient for individuals to customize their travel arrangements.
3. Customization choices
Gift cards allow for customization options that enhance the overall gifting experience with a unique touch. Gift givers have the option to either add a personal message to the gift card or select from a variety of visually appealing designs that match the recipient's preferences. Adding a personal touch to a gift can transform it into a meaningful and distinctive present that showcases the giver's thoughtfulness and dedication.
4. Gain entry to exclusive deals and promotions
Through the utilization of gift cards, individuals can access exclusive promotions, reduced prices, and other special offers. By availing of these promotions, the gift card's worth is amplified, enabling those who receive it to reap added benefits and save more while arranging their trips. A gift card becomes an even more enjoyable treat with the addition of this delightful bonus.
Gift cards provide an exceptional gifting opportunity that enables the recipients to choose and grants unparalleled usage flexibility while being easy to redeem. They have gained immense popularity among those looking to offer remarkable travel experiences and adventures due to their customization choices, versatility for different events, and exclusive deals. They offer endless possibilities for creating unforgettable memories, whether it's a desired vacation or a quick weekend getaway. With gift cards, recipients can experience a world of adventures that they'll cherish forever.
Experience the gift of limitless possibilities with gift cards. Whether it's a dream vacation, a weekend getaway, or a memorable adventure, gift cards unlock a world of travel opportunities. With the freedom to choose, flexibility in usage, and an easy redemption process, gift cards are the perfect present for any occasion. Give the gift of extraordinary experiences and create lasting memories with gift cards.
80 Years Young: Celebrating Milestones with Memorable Gifts for Men
Reaching the age of 80 is a remarkable milestone and a moment that deserves to be celebrated with an unforgettable gift.
Whether it is for a family member, friend, or colleague, choosing the perfect gift for 80-year-old man can be challenging. However, with some thoughtful planning and creativity, you can find a gift to make this special occasion even more memorable. This article will help you out with that.
Gifts that Reflect His Personality and Interests
When it comes to gift-giving, it is essential to consider the recipient's personality and interests. A gift that reflects their passions and hobbies will likely be appreciated more than something generic. For example, if the recipient is a golf enthusiast, give them a golf-themed gift like a personalized golf club or a golf trip to a place they want to visit. If they are an art lover, a private museum tour or an original artwork by their favorite artist would work best.
Experiences to Cherish
Experiences can be one of the most memorable gifts for an 80-year-old man. Whether it's an adventure-filled activity or a relaxing retreat, they create lasting memories that will be cherished for years. Consider a gift like a hot air balloon ride, a helicopter tour of a scenic location, or a relaxed weekend at a luxurious spa.
Personalized and Customized Gifts
Personalized and customized gifts add a unique touch to any occasion. They show that you have put thought into the gift and have taken the time to make it special. Personalized gifts include custom-made jewelry, engraved watches, or monogrammed accessories. For a more sentimental touch, you could create a photo album or memory book that celebrates the recipient's life, including memorable moments with family and friends.
Tech-Savvy Gifts
Many 80-year-olds are tech-savvy and enjoy connecting with their loved ones through social media and other online platforms. A tech-savvy senior will appreciate a tablet or smartphone that is easy to use and keeps them connected with family and friends. If they already have a smartphone, select a wireless charging station, a smartwatch, or a set of noise-canceling headphones.
Gifts that Promote Health and Wellness
As people age, their health and wellness become more critical. Gifting something that promotes health and wellness is thoughtful and practical, for example, a fitness tracker, a personal training session, or a gift certificate to a yoga or meditation class. You might even think of a massage chair or a spa package that promotes relaxation and stress relief.
Books and Music
Books and music can be excellent gifts for seniors who enjoy reading and listening to music. You could select a subscription to a book club, a personalized book recommendation service, or a gift card to a favorite bookstore. Music lovers will appreciate a subscription to a music streaming service, a vinyl record player, or tickets to a concert by their favorite artist.
Gardening Gifts
Gardening can be a therapeutic and enjoyable hobby for seniors. A gardening tool set, a raised garden bed, or a subscription to a gardening magazine are all wise choices. Gardening enthusiasts will love a plant or a garden-themed gift basket that includes seeds, gloves, and gardening books.
Food and Wine Gifts
Celebrating an 80th birthday with food and wine gifts is an excellent idea. You can gift a gourmet food basket containing the recipient's favorite treats or a wine subscription service that delivers a new bottle to their doorstep each month. If the recipient is a foodie, a cooking class, or a gift card to a restaurant they frequent or have always wanted to try out can be an exciting gift idea.
A Personalized Piece of Artwork
A personalized piece of artwork can be an incredibly unique and meaningful gift. Commissioning a local artist to create a custom painting or sculpture that celebrates the recipient's life and interests is a thoughtful way to mark their milestone. A custom piece of art can be created in any style, from abstract to realistic, and can feature any subject matter. It could be a portrait of the recipient or a scene that captures their favorite memories or interests.
A Vintage Item
If the recipient is a collector, gifting a vintage item can be a great way to celebrate their 80th birthday. Vintage items have character and history that new items lack, making them unique and special. Some popular vintage items include classic cars, antique watches, and rare books. You must consider the recipient's interests and hobbies when selecting a vintage item to ensure that it will be something they will treasure.
A Subscription Box
Subscription boxes are an excellent way to give a gift that keeps on giving. They provide the recipient with a monthly surprise and are often tailored to their interests. There are subscription boxes for every hobby and interest, from gourmet snacks to skincare products and handmade crafts.
A Hobby-Related Gift
If the recipient has a hobby, gifting something that enhances their experience can be a great way to celebrate their milestone. For example, if they love fishing, you could gift a high-quality fishing rod, a set of lures, or a book on fishing techniques. If they enjoy woodworking, consider gifting a set of premium carving tools or a woodworking book. The options are endless, and a hobby-related gift is a thoughtful way to show that you appreciate the recipient's interests.
A Charitable Donation
Making a charitable donation in their name can be a meaningful gift for the person who has everything. This is a thoughtful way to celebrate the recipient while also supporting a cause that is important to them. Consider the recipient's passions and interests when selecting a charity or cause to donate to. For example, if they are passionate about animal rights, consider donating to a local animal shelter or rescue organization. To summarize, celebrating an 80th birthday is a momentous occasion and deserves a special and memorable gift. The key behind choosing a meaningful gift for an 80-year-old man is finding something thoughtful, personalized, and reflects the recipient's personality, interests, and hobbies. Whether it is an experience, a tech-savvy gadget, a book, or a gardening tool set, the gift should bring joy and happiness and create lasting memories.
Capture Timeless Memories and Decorate Your Home with Innovative Photo Tiles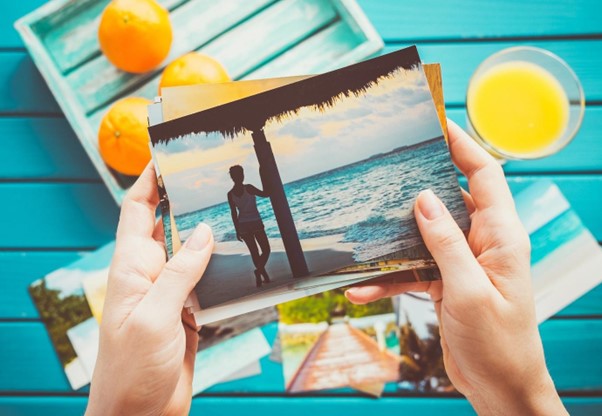 In the past, taking photos was exclusive to those who owned a camera. Somehow, the need to get a shot of people or objects was reserved for special occasions, such as having a baby, a graduation ceremony, or an annual family gathering. With the advent of smartphones, capturing photos is much more rampant. If there's one thing that smart phones had in common ever since their inception, it's the camera.
Capturing memories seems to have become a natural impulse to many, serving different people in various ways. For some, capturing a photo counter their fear of forgetting the highlights of a special event and allows them to fossilize the moment into a keepsake for the future. For others, a photo helps them track daily activities and possibly offer them some validation when they share said photo on social media.
Photos Fossilize Memories; Photo Tiles Crystallize Photos
There's something about photos that no other keepsake can offer. They capture moments in time, transport you into a place or event allowing you to relive certain life's experiences. No other token or memento can invoke such emotion. And https://www.storyboards.io understands this. That's why their product is centralized around surrounding yourself with such unforgettable memories.
The photo tiles offered by StoryBoards are more than an aesthetically pleasing product. One of the things that renders them a cut above the rest is the premium quality material they're made of: high-density PVC foam, which can survive the elements. Being water resistant, rainfall is not a threat either.
Bespoke Product with Unbeatable Value
Few things are more precious in this life than moments spent with loved ones and memories of tender exchanges. And who doesn't have special memories of events, objects or people that they'd like to see every day? This is exactly what makes photo tiles the perfect bespoke gift for anyone, be they your closest friend, a dear relative or colleague, and, why not, your neighbour or a newfound friend!
Although StoryBoards' tiles come in the same dimension and shape (8" high, 8" wide ½" thick, and weighing 3 oz), the photos you attach to them are unique to you or the gift-receiver. And don't be misled by the vendor's reasonable prices! The aim of this merchant is to make their merchandise as accessible as possible without compromising on the quality. In fact, it is not just their tiles that are unbeatable in value, but the printing of your photos too! By using high quality UV printing techniques, they ensure that the final image of your precious memory is flawless.
A Gift that Preserves the Planet
Giving a keepsake of special memories can be a very thoughtful and personalised gift, but as many of us already appreciate, if we fail to take care of our planet's limited resources, the challenges that await us will dwarf the challenges posed by the Covid pandemic. This is why you should invest in businesses who are committed to reducing their carbon footprint. StoryBoards are indeed committed to this pressing concern and that is why they allocate a percentage of their sales towards projects that remove carbon dioxide from our environment.
Classical and Adaptable
The simple and classic design of these photo tiles make for an elegant gift, but at the same their neutrality makes them adaptable to any arrangement, style or location. They can brighten up an otherwise dull space, introduce warmth to a common room or even inject an artistic streak to a room that lacks it. The sky's the limit as to the adaptability of this product; there is no such thing as a wrong arrangement.
Personalized and Immersive Customer Experience
This merchant is also up to speed with the latest technology, using a 3D virtual experience to mimic the real world, allowing you a clear idea of how the final product will look like. Enjoy full control over the end product with an enriched shopping experience from the comfort of your home, to accommodate your busy lifestyle. You can order as many boards as you wish and you can also arrange them in the way that strikes you most, be that in a creative shape, or a more classical, linear arrangement.
The FAQs on StoryBoards' website answers the most pertinent questions relating to their product and its shipping. But you can also find their email address and contact number in case you have a more specific question. Their socials are also regularly updated, for you to be inspired by their latest designs while keeping updated with the most recent offers and promotions.