How to Choose the Right Remote Control Vehicle for Your Kid?
Remote control toys are a ubiquitous part of our society, as they help teach kids about machines and how things work. There are different types you can choose from, for example, a remote control car, truck, or a drone. Each option provides its unique perks and challenges.
According to reports, some countries have enacted regulations regarding the safety of these toys with specific policies, and manufacturers come up with unique models and remote power to gain entry into the market.
So how do you choose the right beginner RC car for your kids? Read on to know more.
1. Look at Brand Name and Reputation
One of the best ways to figure out what is suitable for your kids is to look at branded items. Brands are created based on specific criteria, but parental reviews are critical. Many brands provide video reviews online, so be sure to check them out.
You can go over the brand website or find discussion boards where parents talk about the products they've used before.
2. Developmental Milestones
Children develop at different speeds and stages during their lives. While buying a remote-control vehicle for your kid, be sure to focus on their developmental milestones.
For example, if your child's coordination is not quite up to par with other kids their age, a car would make more sense than a helicopter. Furthermore, for a young child, you could buy a toy vehicle that operates automatically – all the child has to do is push a button to get it rolling.
3. Set the Right Price Range
Remote control vehicles vary in price range, so be sure to set a budget before buying one for your kid. You can check out different sources online, such as toy stores and brick-and-mortar stores in your area, to buy the right product that fits your budget. Get the right deal while also ensuring that you avoid spending too much on something your child will barely use or enjoy playing with.
4. Where to Play with It?
Remote control vehicles are meant to be played with outside. As a result, be sure to buy a beginner RC car suitable for outdoor conditions. Many brands come with accessories, allowing the child to have some creativity with their toy. If you plan to buy a  1/10th scale sized beginner RC car for your kid, ensure the toy is operated in an open space, as the child will have problems maneuvering the toy in the beginning.
5. Safety Tips
Remote control vehicles are not safe for kids under three years. Be sure to buy a product that comes with safety instructions and warnings and is appropriate for their age. Moreover, you should never leave your kid unsupervised while using their new toy, as some products can go quite fast and cause injury or may have small parts.
6. Check Warranty and Return Policy
Before buying a product, check the warranty and return policy. Many companies provide a warranty ranging from 90 days to one year, but you should always go over the fine print first. If possible, buy your kid's toy during their birthday as it'll be easier for them to get a replacement if something goes wrong within the warranty period.
7. Get the Right Gadget
Get a suitable remote-controlled vehicle for your kid. Your child needs to operate the toy properly to enjoy it, so be sure to turn it on and off carefully. Let the kid identify the working of the remote and explore the working options of the RC gadget. As they should understand how to change gear or move it forward or backward while playing with their new RC car.
8. Focus on Fun Part
While buying a remote-control vehicle for your kid, be sure to focus on the fun part. Look at toy options that allow kids to play with it differently or come up with their storylines while playing with them. Think about how you can invest in a product that will give your child the ability to hone their motor and cognitive skills and enjoy many weekends of entertainment with the toy.
Conclusion
A remote control vehicle is a great way to introduce technology to young kids. But be sure to think about what they like first. Check out the above tips and keep them in mind before buying a product for your little one.
5 Gifts to Say 'I Love You' This Christmas
You don't have to wait for Christmas to express your love and gratitude to the special people in your life. However, Christmas is an excellent opportunity to say 'I love you' to the most important people around you. But, spending a fortune on gifts isn't necessary to express your affection. You can do so by being extra thoughtful and getting something sentimental and unique.  
Here are five great gift ideas we hope will help you feel inspired…
1. Bake Something for Scrumptious
What better way to warm a person's heart than by filling up their stomachs with some sweet treats prepared with love? Make their Christmas memorable by whipping up something Christmas-themed, it'll surely put a smile on their face. There are so many different recipes to try out – whether it's a special home-baked cake, butter biscuits or icing cookies, or even gingerbread fudge – the list is practically endless!
If your significant other loves cooking, you can write their favorite recipes on pieces of paper, put them together into a book, and gift them the recipe book. But why stop there? Pick a recipe from the collection, create it and give them a taster!  
2. Wall Décor with a Twist
Another great way to express how much you love someone is through the gift of capturing memories, and what better way to do so than with some original wall décor? There are so many resourceful sites where you can create photo tiles, many of which don't break the bank!
Gifting a stylish photo wall tile is certainly unique. Try to brainstorm some of the best memories share and ask yourself: do you have a photograph of you and your loved one to commemorate this occasion? If so, simply give it to Storyboards and ask them to turn it into a wall tile.
Photo wall tiles bring to life the most unforgettable times spent with your nearest and dearest. And what's good about wall tiles is that you can easily stick them to any surface in a living room or bedroom without damaging the walls.
Storyboards uses sophisticated UV printing techniques to print the photos and high-density PVC foam to create each photo wall tile meticulously. Photo wall tiles are, therefore, weather and water-resistant.
3. Scented Candles
Does your significant other love a house that smells great? If so, they'll really appreciate a scented candle – or two. Heck.. why not go for three while you're at it. Any scented candle lover will agree they can't get enough of their hypnotizing aromas.
The gentle light and fragrance emanating from scented candles are romantic, soothing, and relaxing. And, of course, it doesn't hurt that they're really affordable home decor items that introduce color and warmth to a house.
Do you feel that a gift of scented candles is not enough? Pair your gift with a box of chocolates or an indoor plant – undeniably perfect combination and feast to the senses!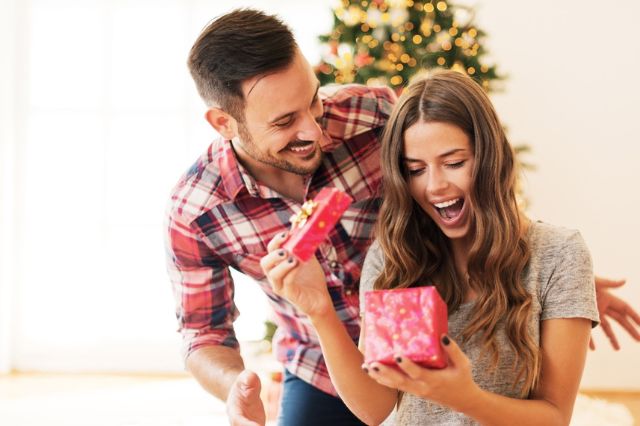 4. Give Them Something You Treasure
Has your loved one admired something in your house and expressed a wish to own it? They might have craved one of those old books on your bookshelf or some quirky Knick knack in your living room. Gift wrap it and give it to them this Christmas.
Make your gift all the more meaningful by promising to spend quality time with your loved one. Arrange a date night or coffee at your favorite place or a weekend trip.
5. Gift Them Something They Love
If you have the funds and want to spend a little extra, you should consider getting them a nice watch, perfume, bracelet, or a handbag. Don't just get them anything but take the time to find out what they really like. You can do this by sharing a few pictures of different watches or browse through a perfume store and get them to try a few testers and notice their comments.
If you're on a tight budget, then you can never go wrong when you gift a loved one a customized T-shirt or watch. But instead of wrapping the gift and giving it to them the traditional way, keep it in a place where they'll easily find it.
For example, you can hide the handbag somewhere in her wardrobe and make things more exciting by putting her favorite brand of lipstick in it. Alternatively, you can keep the customized wristwatch on his study table and see the smile on his face when he finds it. You'll discover that the element of surprise adds to the excitement and joy of gift giving.
Quarantine Gifts for Those You're Isolated with
It's been over a year since we started living in the harsh realities of the pandemic caused by COVID-19 or coronavirus as they call it. We've all been forced to social distancing and isolation.
We had to stay at home to protect ourselves and our loved ones to stop the further spread of coronavirus. That's why there are so many people around the world who voluntarily opted for social isolation.
Nevertheless, life still goes on, and sooner or later we'll surely fight this coronavirus!
Let's check our surveys on the most popular forums such as reddit and quora on how to give a gift to the ones you are self-isolated with.
Let's say you're isolated together with your loved one (boyfriend/girlfriend/spouse) whose birthday is coming in a few days or so.
What should I get for my birthday? And what good birthday gifts during quarantine can I give to my loved ones? Here's the answer.
Isolation Gifts for Quarantine by Quora Respondents
Replies to Quora post are quite diverse and creative. Nancy Campbell who's the Expert on Relatives believes a back and shoulder rub or even a full body massage is a "very welcome gift" for family members. She also advises to do household chores for them.
Nancy also suggests taking your giftee to an uncrowded park for a trip gift keeping the social distancing, of course. Such a present might be somewhat dangerous though. That's why you should be really careful if you decide to give it anyway. And it's not really recommended for the elderly people who are at the highest risk. It's better to save this gift for the time when the pandemic is over.
Some people also recommend a gift of personal space and privacy, which might be highly appreciated during social isolation. Warm and encouraging words are also good birthday gifts during quarantine.
Finally, there was a response on this quora post to give your time as a gift. In fact, time is undoubtedly among the most precious ones. Because time as well as gifts are among the five languages of love.
And it's really important to spare time for your loved ones. Especially now, when you have so much of it! You can watch movies together, play board games, give hugs and kisses, or even simply talk to each other. You might even like it after all!
Besides, you can give a call to your parents, relatives, friends or anyone else who's important to you. You can even set a face-to-face online meeting on Zoom. In fact, it's worth giving these time gifts not just on special occasions, but on a daily basis as well. That's a truly great way to show that you do care indeed.
Creative Quarantine Gifts for Him & Her by Reddit Users
Some people on Reddit say they'd simply offer to do chores for their roommate because cleanliness is the best gift for him or her.
Among other cool responses we can single out DIY gifts out of toilet paper or any other materials you can find at home.
Besides, some people suggested looking for the gifts that can be delivered. In fact, it's very easy, fast, and safe.
Top Things that You Can Consider When You Are Buying a Gift for Someone
It is one of the kindest things ever to give somebody a gift that has clearly had a lot of thought put into it. This can really make people feel special and is a great way for people to recognize just how much you care about them. As such, it is easy to understand why so many of us like to buy gifts, but that does not make the process of doing so any easier.
The process of buying a gift for someone can be a complex one as we massively don't want to get it wrong, and this can get in the way of our thought process quite a lot. We tend to find ourselves going over and over questions such as: what if they hate it? Does it look cheap? Is it even right for them?
If you are currently struggling to buy someone a gift, then be sure to consider the below when it comes to purchasing your gift, as it should hopefully make the whole process a bit easier.
Buy From a Shop You Like
Research suggests that stores that annoy us as well as crowds can make us immediately lose interest in what we are doing. As such, we are more likely going to end up buying the wrong gift with the ulterior motive of just getting out of there. One of the best ways you can avoid this situation is to avoid going to shops that you don't like. On the other hand, if you absolutely have to go to a shop that you don't like, go outside of peak hours so that you do not have to worry about too much of a crowd getting in your way. On the other hand, you could always look at their website instead.
Consider the Recipients Personality
When you consider the personality of the person, you are getting the gift for, ideas of what you can buy them become a lot clearer. Say they are big fans of gaming and enjoy spending a lot of their time playing online gambling games such as those that are available at Jackpotcitycasino.com/Canada, then you would be able to get them some kind of gaming phone or accessories that they will be able to use when on these sites. Slots are a great medium when played on mobile, so giving someone the ability to do that is great. When you take the time to fully appreciate what they are into and what they might like as a result, you will be surprised by just how many ideas come to mind. If you have a friend who is very adventurous, a gift which could always be with her/him  (for example, a wave ring, means the ups and downs of life) would be a perfect choice.
Think About a Return Policy
If you are starting to doubt yourself a bit, then you can put your mind at ease by getting a product that has a good return policy. This way, if for some reason your loved one doesn't like their gift as much as you expected they might, they are more than capable of simply returning it and getting something they'd prefer. They will still be moved by the sentiment and thought behind what you have bought. You are just covering your tracks with a returns policy.