How to Use Beauty Plus Photo Editor on PC
Not everyone can dig their pockets deep to buy a professional photo editing software like Adobe Photoshop. Of course, there are various ways through which you can get a free version of such premium software but that won't last long. Looking at the apps that Android has got, Windows users don't enjoy the luxury of having them. If you're too one of them who loves to edit photographs on your PC but don't want to spend much, you can go ahead and get Beauty Plus for PC right away!
This will not only give you various options to edit photos but you can do everything at free of cost. That said, it's essential for you to know the features of Beauty Plus app before you hit the PC with your editing skills!
Remove Unwanted Objects!
How many times you felt that a photo is perfect but there's some unwanted person or object that is ruining the photo? Well, we felt that a lot of times and we switched to Beauty Plus to get rid of such problems. Of course, it doesn't work as perfect as Adobe's Photoshop but it's decent enough to post those on Instagram or Facebook stories. You cannot ask for more when you're getting such a cool feature at free of cost!
Add Text and Stickers!
Adding text and stickers is very common these days and with Instagram Reels slowly gaining popularity after the ban of Tik Tok ban in various countries, the text and stickers feature is being used more by Instagram users by editing photos in Beauty Plus app. You can use the stickers option to show your present mood and can add some text if you want to convey a message through your photo on various social media platforms. It's a simple to use feature and a much needed one too.
A Complete Makeup Tool
Be it adjusting your eye lashes, eyebrows, hair color, lip color, eye color, and even eye smiles (which is a rare feature) are available in the makeup tool of Beauty Plus app. That said, you can easily apply the required changes based on your photo and the colors involved in them. Moreover, the teeth correction feature is also one of the best in Beauty Plus. It gives an ultimate glow to your teeth making you even more beautiful. If you see that your photos require further improvement, you may use a professional photo enhancer to tweak the colors and make other edits.
Beauty Camera!
The beauty camera feature might not work as good as it works on the Android devices, but if your computer's camera is of HD quality, there shouldn't be any issues using the beauty camera option to capture some stunning photos.
AI Sky Replacement!
AI sky replacement feature wasn't available in the earlier versions of Beauty Plus. But with the time, it added some amazing features and AI Sky replacement is one of those. Capture a photo and use this feature to replace the sky. It adjusts itself with respect to the photo colors and the sky color as well. Not all suggestions are perfect but there are few that just make your photo more captivating!
Colorful Filters!
Last but not the least is the color filter option. With a plethora of filters available like cedar, flame, ember, classic, natural, and more, you can pick your favorite filter and just apply on your photo. To be honest, these filters are far better than the Instagram photo filters. Of course, you can edit few pictures on Instagram and them save them to your gallery and make them even better with Beauty Plus app.
How to Install Beauty Plus on PC?
To make the most out of Beauty Plus app, you can download it on your PC. Wondering how you can do that? Here's a guide on the same!
#1. Download and install any Android emulator, say, MEMu emulator in this case.
#2. After the installation process, launch the emulator and sign in using your Google Account.
#3. Once done, launch the Google Play Store in MEmu emulator and search for Beauty Plus app.
#4. Click on Install now button once you find the Beauty Plus app.
#5. The installation process will be slow as compared to your Android devices. Once installed, open the Beauty Plus app, upload your photos in the app and start editing like a pro! That concludes the guide on how to use Beauty Plus Photo Editor on your PC.
Different Types of Cybersecurity and Why They Are Important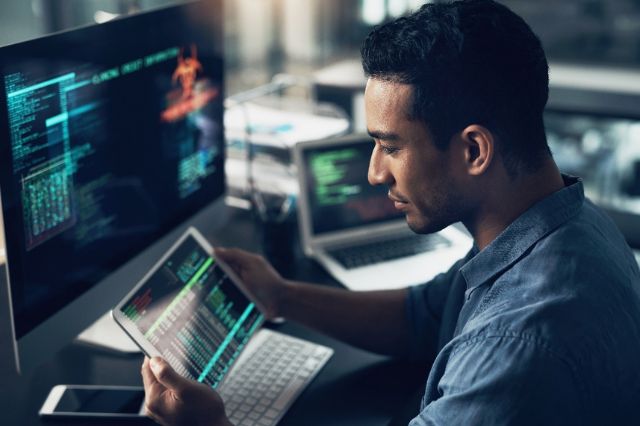 Data loss has become one of the biggest risk factors of inter-connectedness. The internet has made our lives convenient, but it has exposed businesses and individuals to malicious threats that can wreak havoc with a few lines of code.
Cybersecurity is paramount for businesses. If they do not protect customer data, they are liable for its loss. The average small business spends tens of thousands of dollars to ensure that customer data is protected.
Unfortunately, cybersecurity is one of those terms that is much used but little understood. It is often confused with IT security, which is an umbrella term for security for all things electronic.
What is cybersecurity?
Cybersecurity is the protection and security of connected devices. If a device is connected to another device, whether internally or externally, there is potential for harm. Cybersecurity attempts to eliminate risk using a variety of techniques to secure devices and networks.
Because of the number and frequency of attacks in recent years, cybersecurity professionals are highly valued. Businesses and other organizations are willing to pay six-figure incomes to individuals who have the skills to keep their networks and data secure.
You can become an expert by enrolling in an online computer science masters degree at Baylor University. You don't need to have a background in computer science or IT to join a class. So long as you have a bachelor's in a related field, you are eligible to enroll in the program.
The program takes about 15 weeks, and all classes are online. You will cover topics like databases, software engineering, data communications and management, operating systems and cybersecurity.
When learning about cybersecurity, you will discuss core concepts such as cryptography, cybersecurity tools, malware and reverse engineering. You will also be introduced to reverse programming and instruction detection and prevention.
What are the different types of cybersecurity?
Cybersecurity is a broad field that can be summed up in seven main elements:
This is the most common type of cybersecurity. It identifies and stops attacks that are designed to infiltrate networks from both inside and outside the organization.
It uses a variety of methods to protect networks while allowing authorized user access. One of the most common is a firewall, which works as a buffer between the network and untrusted connections that may introduce malicious bugs into the system.
Network security is key to keeping emails secure. It scans incoming emails to eliminate threats like phishing attacks.
This type of security has become vital as more and more businesses adopt cloud storage. Experts are in charge of developing strategies and protocols that govern how data is uploaded, accessed and protected.
These experts ensure that everyone in the organization has the right tools to access information when they need it, and they design software to prevent unauthorized access.
Cloud security experts are also tasked with identifying the best cloud solutions for organizations. They weigh different options to find out which one best aligns with the business' goals.
Businesses have become heavily reliant on apps, which have introduced convenience to everyday operations for both customers and employees. Application security is the process of securing all apps that are used within the business.
It uses features like two-step authentication and biometric identification. It also ensures that all data collected through apps is securely uploaded to databases and the cloud.
This is about securing end-user devices like PCs, laptops and mobile phones. It uses anti-phishing software, antivirus software and anti-ransom software. It also detects and eliminates threats using forensic techniques such as end-point detection and response.
A lot of corporate and business data is handled using mobile devices. A good cybersecurity strategy defines how such devices should be protected. It ensures that only secure and authorized devices are allowed to access the system.
Mobile security prevents attacks on mobiles, laptops and tablets using modern device management solutions.
Also called IoT (internet of things) security, it aims to protect devices that are connected to the internet. Hackers and other malicious actors seek out vulnerable devices and plant code to infiltrate systems and gather information.
The job of an internet security expert is to develop and deploy protocols to protect these devices and eliminate threats as soon as they are detected.
Common cybersecurity threats
The above methods are deployed to fight a variety of threats, including:
Malware – This is software designed to cause damage. The most common malware is a computer virus.
Ransomware – This is a new type of threat, but it has caught on fast. Hackers get hold of sensitive data or lock down systems and demand a ransom before they will restore normal operations.
Phishing attacks – These usually infiltrate through email and are designed to steal sensitive user information.
Social engineering – This involves manipulating people to divulge sensitive information.
What jobs are available for cybersecurity experts?
There are numerous job opportunities available to those who complete an online computer science master's. You can become a cybersecurity engineer or a cybersecurity analyst. Some people opt to become network analysts or engineers and oversee network security.
The master's qualifies you to work in vulnerability analysis. You can also be employed as a cybersecurity consultant or engineer to help design and implement security protocols for businesses.
If you would like to advance your career further, it is important to have your ear on the ground as far as cybersecurity is concerned. You should attend courses and seminars to learn about the latest threats and the best way to combat them.
If you are exceptional at what you do, you will eventually work in senior management as a director of cybersecurity.
Conclusion
Malicious cyber threats are an everyday phenomenon. Hackers have proved to be wily, finding ways to bypass security systems all the time. To prevent the loss of sensitive customer data, companies are willing to pay top dollar to professionals who can guarantee system safety.
An online computer science master's has the potential to take you to the top of the cybersecurity profession. It doesn't take a long time to complete, and you don't need to have a background in computer systems to enroll in a degree program.
Accessing the Metaverse on the Oculus Quest 2
With Facebook's parent corporation renaming to Meta, individuals are left with just one question: How can I enter the Metaverse? Virtual reality is growing, and Meta has emerged as a major player. While some individuals are excited by this topic, others just want to know more about it.
Then there are some who are seeking a way into this realm. If you own an Oculus Quest 2, you aren't far away from arriving there and experiencing the magic for yourself. Continue reading to learn how to join the Metaverse with Oculus Quest 2.
Before we take off with our guide to the Metaverse, we should place a tiny disclaimer here. All sorts of Meta-adventures can only be accessed if you're rocking a capable internet connection. For many of you out there that might not be an issue.
But if you find yourself in the pinch of a population that may have to struggle with their internet speeds then boy do we have a recommendation for you. Centurylink internet deals offer you and their vast assortment of customers a mighty selection of choices to choose from. What they all have in common is that neither of these lets you down in any capacity. So go ahead. Give it a try and unlock the Metaverse in all its glory.
So, what is the Metaverse? And how does it connect to the Latest Oculus?
Aside from being a fancy term today, the Metaverse is a synthesis of several technologies, including virtual, augmented, and material reality. It blurs the distinction between real-life and online activities. Doesn't it seem intriguing? This technological mix is a virtual world in which you may construct your avatar and recreate yourself in an online world.
It transports you to an entirely new virtual environment with money, assets, a neighborhood, and other features. The Oculus Quest 2 is a virtual reality headset that is ideal for folks who wish to play games and travel to interactive experiences in VR without having to use a PC or phone. It is sleek, thorough, and strong enough to provide you with an unforgettable experience. Additionally, The Oculus Quest 2 system has a plethora of notable apps and games. So, if you're utilizing it to travel to the Metaverse, you're doing it correctly.
Accessing the Metaverse
The appealing aspect of studying the Metaverse is that there are various methods to join its area. No, there is no specialized Metaverse application to the notion. Instead, it exists in many forms across several platforms, allowing you to explore the digital cosmos. Several games and applications allow you to enter the arena, play, and interact using your avatar.
If you want to visit the Metaverse and forget yourself for a bit, you must have at minimum one such app or game installed on your Quest 2. If you think that you're prepared to immerse yourself into Metaverse with Oculus Quest 2, let's talk about what you'll need to get the most out of this experience:
· Oculus Quest 2
You'll need an Oculus Quest 2 headset to fully immerse yourself in the Metaverse. Know that VR can provide the interactive experience you want. It finally propels Quest 2 on an incredible trip. Furthermore, make sure that the battery capacity of your Oculus Quest 2 is at its maximum or at least at a reasonable proportion since operating it for lengthy periods of time can deplete the battery and leave you unhappy.
· Have the Right App
There isn't a single app devoted to the Metaverse. There are numerous intriguing applications and games that might help you live the experience. You can find several popular applications and games that have the taste of the Metaverse idea and allow you to explore it. If you're still confused and want an absolute ground-up guide on how to get a taste, then keep on reading!
Best Apps for Trying out the Metaverse
This is one more item to double-check before proceeding to the Oculus Quest 2 Metaverse entry stages. We've compiled a list of the top 5 games and applications for experiencing Metaverse. Several of these games may be familiar to you if you are a gamer. Please keep in mind that some of these games may not be available in your area. But you may look them over and decide which one you want.
· Horizon Worlds
Horizon Worlds, a social software by Meta, is one of the most popular experiences that may bring you and your friends together to accomplish a variety of activities. Users in Horizon Worlds may join in as avatars and engage in activities such as chatting, visiting other locations, playing a variety of games, and so on. You may even enter the escape room using this app. You may unwind and live in the moment there. It is a terrific free platform for making everything you can conceive a reality.
· VRChat
This app was quite popular before the release of Oculus Quest 2 and continues to be so now. It is one of the greatest free experiences for getting a sense of the Metaverse idea. VRChat allows you to personalize your avatar and navigate between worlds. The nicest thing is that you may select from a variety of unique worlds set in various settings. So you might be sitting at your favorite street café one minute and dancing to your music the next.
· Rec Room
Rec Room transports you to a world filled with captivating visuals. Like the other games on the list, you may put on the masquerade of your avatar in this app and travel around seeking entertaining things to do. You can spend your time entertaining others or relaxing alone. Rec Room's strategy, which is more focused on gaming, sets it apart from the other possibilities. It features a diverse selection of games for Oculus Quest 2 users.
Conclusion
Metaverse is brimming with possibilities at the moment. Though it seems like a certain niche of people is currently interested in it, but with more streamlined opportunities inside its apps and integration of companies like Nike and TikTok inside of it, many more people will soon be flocking to it. It's best to go grab your Oculus now and be one of the first to be enjoying this booming industry.
Which Is the Best Possible Way to Fix a VPN Error on a Streaming Service?
Online streaming service is ruling the entertainment industry. But unfortunately, all of these streaming services are not available in many countries.
So, people use virtual private networks (VPN) to break the geo-restriction and stream the service. But unfortunately, a few VPNs may not work properly. That's why we are here with Recommendations for best-streaming VPNs.
Don't worry! Most of the issues are very common and easy to solve. If you are facing trouble while streaming online, this is the right place to know about the solution.
What Are the Best Ways to Fix a VPN Error during Online streaming?
If your VPN is not working properly, you can easily fix it after knowing a few basics about it. Most of these are related to VPN settings and Device settings. That's all.
Every solution is simple but a bit technical. So, without wasting time, let's find out the usability of VPN to improve your online streaming experience.
Check the Internet Connection
Most of the time, VPN does not work properly because of the poor internet connection. All the VPN helps you stream like butter, ensuring a better internet connection. However, the poor connection makes the connection unsteady and inconsistent.
To find the issue, run the internet speed test online. If it is showing a poor result, restart your modem or router. It will fix the speed or lost connection issues.
Device Date and Time
If your device's date and time are incorrect, then VPN will not work properly. There are only a few types of VPN. Check the date and time.
If you cannot set the date time, turn off the automatic update. Now try to select the date and time manually. Remember to check the region as well. Make it correct.
Different VPN Server
You might not know, but sometimes servers get overloaded or have other issues that make a VPN unstable. For that, connecting to different servers of different regions can solve the problem.
Try switching the protocols from TCP to UDP. It makes the streaming rules in other ways. Few streaming services can identify the IP address that VPN provides. It stopped instantly and ban it.
Reconnecting to another service in the same country allows streaming it properly. Best VPNs come with tons of options for the server. Here is the table to guide you about it.
| | |
| --- | --- |
| VPN Service | Working VPN Servers |
| ExpressVPN | Australia: Australia – Melbourne Canada: Canada – Toronto Japan: Japan – Tokyo UK: UK – London US: USA – New Jersey |
| PrivateVPN | Australia: Australia – Sydney Canada: Canada – Toronto Japan: Japan – Tokyo UK: UK – London US: USA – New York |
| Proton VPN | Australia: AU#19 Canada: CA#261 Japan: JP#77 UK: UK#52 US: US-NY#52 |
Disable Firewall
A firewall is one of the biggest culprits that block the proper way to run a VPN. To solve this issue, check your firewall setting first. Make sure the firewall is granted to connect the internet with a VPN.
If it is not possible, temporarily disable your firewall. Making your VPN in the firewall's whitelist also does the same work for you.
Sometimes, antivirus also conflicts with VPN. Do the same as you do with a firewall. Then, your VPN will be free to run smoothly on your device.
Change DNS
Are you installing a VPN for the first time on your device? Some VPN clients change the DNS of their VPN after the initial installation. That means the user needs to set it manually. It helps to improve the streaming speed and bypass geo-blocks.
Clear the cache and Flush DNS
Online streaming services like Netflix and Hulu use the value that comes from your ISP. Most of the time, it searches for the values of the previous session.
There is a chance of a conflict between the DNS and VPN. That's why flashing them is the way to solve this problem.
On the other hand, delete the cache from your browser. You will find the option to clear it from the "privacy and history" setting.
Reinstall the VPN
Reinstalling your VPN is also another way to fix some issues for streaming online. Uninstalling the VPN from your device will also delete all leftover files and the related setting. Reinstalling the VPN means you will get a fresh street for the VPN and stream online.
What Happens When All the Methods are Not Working?
Don't panic if all the methods we have discussed are not working. In this case, installing the VPN on a different device can work. In addition, it can help you to detect specific problems with the VPN or the streaming service that causes issues.
What Are the Best VPNs You Can Use for Streaming online?
There are tons of options available for the VPN. Some are free, and some offer a premium service with a paid plan. Unfortunately, to stream online, only a few do the best job. Here is the best recommendation for VPNs given below.
Surfhark
ExpressVPN
CyberGhost
PrivateVPN
HideMyAss
Conclusion
VPN makes the streaming smooth like butter from different countries. But there is no guarantee it will work on your device like others or not.
If it is not working, it is facing some unknown issues. After reading this article, you already know which possible issues you can face while using a VPN to stream online.
Always try to use a streaming-optimized VPN to avoid such problems. Also, keep clearing the cache, and change the server if it needs to be fixed. Most of the time, these two things make your VPN stable.